CAMPUS: Professional Development Workshops continue for Spring 2022
By Carolina Cruz
Bridge Staff Writer
Published Wednesday, March 23, 2022
TAMIU's Advancing Research and Curriculum hosts its Professional Development Workshops this spring semester from Jan. 28 to Apr. 27.
Through the Professional Development Workshops, ARC aims to provide graduate students, faculty and staff with training support on a variety of skills. The content of these workshops ranges from writing tips, presentation skills, new research technology, methodology and even insights on how to publish academic articles, such as for journals.
"ARC … it's a Title V grant that was awarded to us because we serve a predominately Hispanic population," Program Manager Tano Trevino said. "So, one of the objectives of our grant is to provide these Professional Development workshops."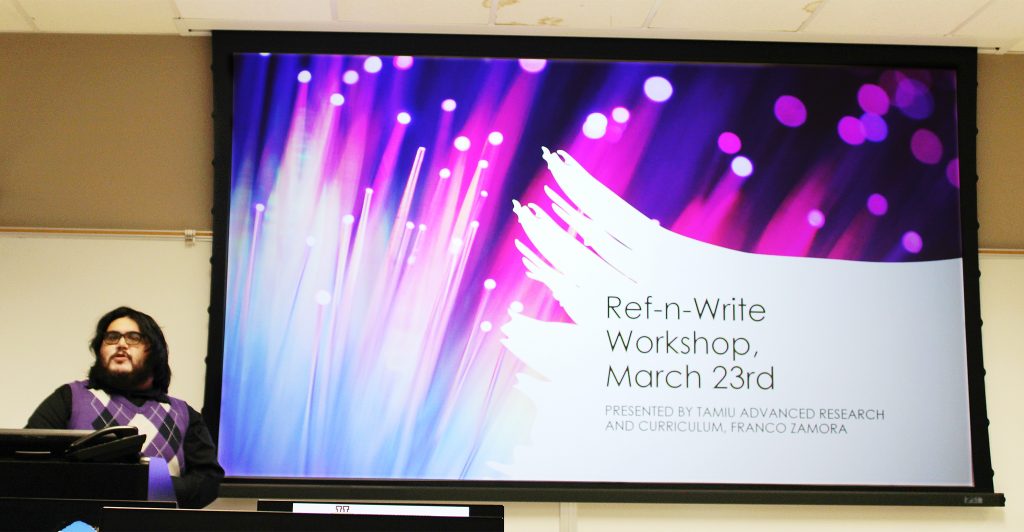 Trevino said anyone within the Texas A&M International University network is welcome to attend these events.
"We are concentrated mostly on graduate students," he said, "but we wanted to open up to–kind of–anybody else who wants to take advantage of these services."
The first workshop ARC hosted this Spring semester was the PROF Center Workshop for publications led by Executive Director for STEM Initiatives and Professor Kenneth Tobin and Associate Vice President John Kilburn. This workshop targeted junior faculty, although anyone doing research could benefit from it, especially if they want to present their work at conferences.
"The great thing about these workshops is that if you missed one, you can always access them online," Trevino said.
TAMIU ARC also recently held a Ref-n-Write Tutorial Workshop hosted by Franco Zamora.
"Ref-n-Write is an extension of Microsoft Word that allows you to search through a wide variety of files very quickly using its built-in software," Zamora explained to attendees during the workshop.
"Once you have files downloaded onto your desktop, Ref-n-Write allows you to search through them to make a database and then find key terms from there and pull those terms right into your document. That would be very powerful if you're working with, let's say, 30 different articles or even something small like five articles."
Ref-n-Write can be a helpful tool to anyone writing a research paper. It allows users to cross-reference past papers, paraphrase using an academic phrase bank and it also checks for plagiarism. Anyone in TAMIU can access this software in the computer labs on the second floor of the Anthony J. and Georgia A. Pellegrino Hall in Rooms 219 and 211.
ARC offers other resources in its workshops, such as Qualtrics, a survey tool to make surveys, and Python, a coding software.
There are still a handful of workshops left in the semester. Those who missed one, or those who want to know more about TAMIU ARC and the Professional Development Workshops, can find more information on the website at go.tamiu.edu/arc-workshops.