FEATURE: 'Oh, the Places You'll Go' with All Around Book Club at Dr. Seuss Day celebration
By Carina Galvan
Bridge Staff Intern
Published Tuesday, April 11, 2023
Despite its occurrence several weeks late, the All Around Book Club celebrated Dr. Seuss Day by giving away books to smiling children.
Although Dr. Seuss's birthday was on March 2, senior and All Around Book Club President Oralia Ramos wanted to make sure the Laredo community could enjoy the March 24 celebration and its activities.
"We wanted to do something where the kids … are encouraged to read and can also have fun," Ramos said.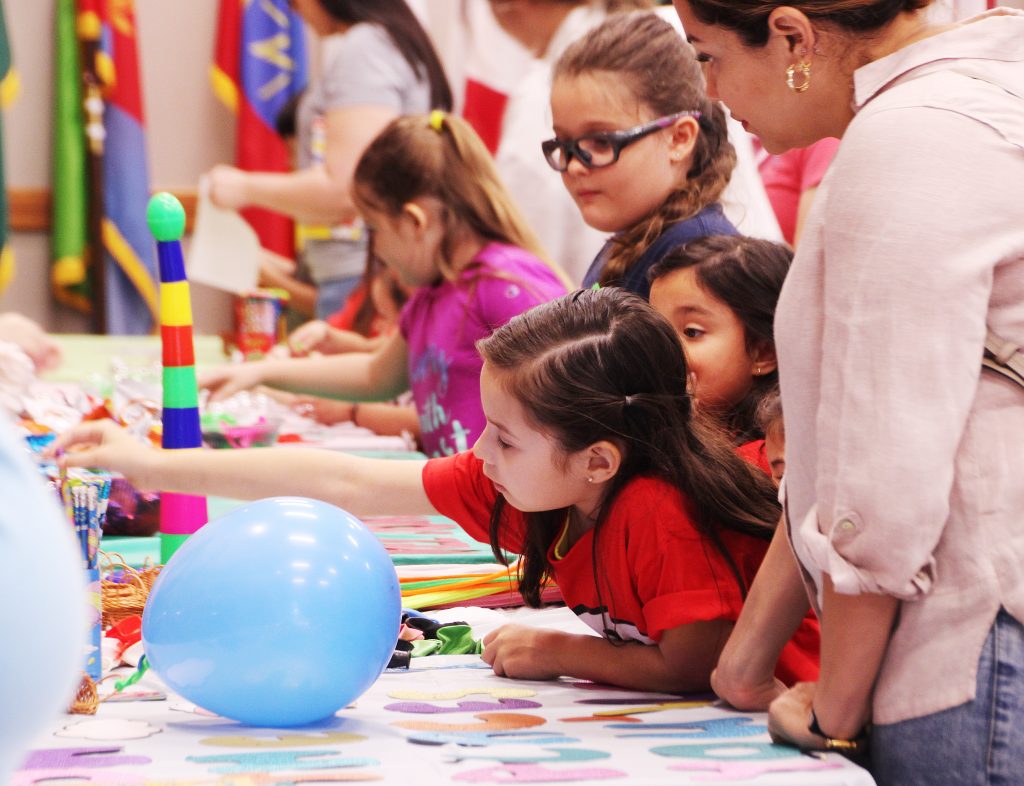 In collaboration with the Campus Activities Board and Sigma Tau Delta, All Around Book Club hosted Dr. Seuss-themed games like bingo and multiple tables of different arts and crafts activities for children to enjoy.
"We went with [Dr. Seuss's] six biggest books, which are 'The Cat in the Hat,' 'The Lorax,' 'Green Eggs and Ham,' 'Horton Hears a Who', 'Oh, the Places You'll Go' and 'How the Grinch Stole Christmas,'" Ramos explained.
Kids were able to paint, make hot-air balloons, eat snacks, select green eggs with mystery prizes, decorate Grinch-themed ornaments and take home small planners with stickers to decorate.
"The kids are pretty happy," Ramos said. "They're loving bingo and they're having fun with it … when we announced that the booths were open, they all ran straight to the booths."
AABC also set up a photo booth for parents and their children to take pictures to remember their time at the event.
TAMIU Instructional Associate Professor of Italian and French Melody Carriere brought her son to enjoy the event. Many parents brought children along.
"It's really cute and a good thing for the kids," Carriere said. "They're having a good time. My son is seven years old and he's really into it. I think it's a great thing and it promotes reading."
To successfully carry out this event, All Around Book Club started fundraising in January at the beginning of the semester and collaborated with the Department of Humanities to hold a book donation drive.
"We already had this planned since November of last year," Ramos explained. "All the funds that we were raising [were] for the Dr. Seuss event and we had a big turnout."
All Around Book Club wanted to see how many Laredoans would attend because they hoped to make Dr. Seuss Day an annual event.
"It was a success and I think this is something we would want to continue every year," Ramos said. "I'm really proud of my [club] members, my officers … they all pulled through. They're volunteering, helping out, having fun and I appreciate that."
Later this semester, TAMIU students and faculty can look forward to a proposed Blind Date with a Book event hosted by All Around Book Club and the Campus Ally Network as part of CAN's Pride Week activities.
Next semester, All Around Book Club plans to present two escape rooms for Halloween Fest for both children and adults. Until then, TAMIU and the community of Laredo can look forward to what All Around Book Club holds in store for the future.