ARTS: Classical musicians perform on campus
By Mireilly Gonzalez
Bridge Staff Intern
Published Wednesday, March 23, 2022
In TAMIU's softly lit Recital Hall, an applause welcomed Assistant Professor of music Yu-Mein Huang to the stage. She walked confidently to the center wearing a rose gold sequin dress, violin in hand and greeted the audience with a smile.
Huang invited two other professional musicians, violinist Miroslav Hristov and pianist Chih-Long Hu, as guests for TAMIU's Music and Friends event. Near the end of their master performance, Hristov expressed gratitude to Huang "for the invitation and for the amazing hospitality," during the March 4 performance.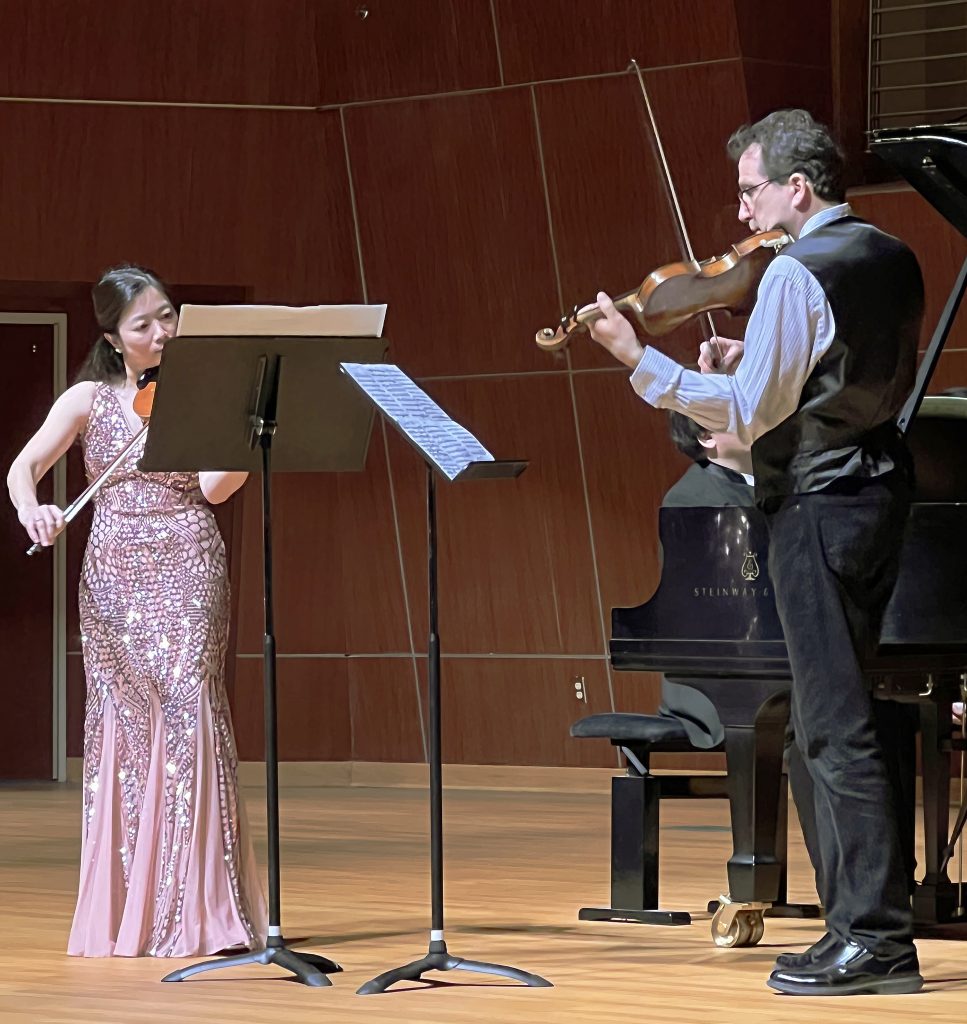 Hu and Hristov both direct for the School of Music at the University of Tennessee–Knoxville. Hu received the Teacher of the Year award from the Tennessee Music Teachers Association, while Hristov also contributed to Tennessee's musical community by founding the University of Tennessee's Ready for the World Music Series. Both musicians also performed internationally; naturally, they also previously took the stage together.
Huang opened for Music and Friends, accompanied by Hu on piano, with "Sanatensatz," written by Johannes Brahms in 1853, the romantic period. Characterized with an energetic nature, Brahms composed it at age 20. The diversely aged audience included some TAMIU students—their excited cheers at the end of the performance resonated the same soaring spirit with which Brahms wrote the score.
Following Brahms's work, a variety of romantic-era pieces followed—including a virtuosic piece "Morceaux de Salon, Op. 6, No.1: Romance" by Rachmaninoff, a two-themed work that resembled two heartbeats "Piano Sonata No. 2, Movement 2" by Brahms, a dramatic piece about heartbreak "Liebesleid" by Kreisler and Rachmaninoff, a lively yet intricate piece "La Campanella" by Paganini and Liszt, and the energetic final score "Navarra Op. 33" by Sarasate—as well as a Romanian folk dance by Bartok, a tango by Gardel and two pieces Hu and Hristov added as a bonus.
The recorded performance, Master Performer Series, can be viewed at TAMIU Fine and Performing Arts Center's Facebook page.