HUMANITIES: First-Year Writing Program holds write-in
By Gabriel Rodriguez
Bridge Staff Writer
Published Friday, March 18, 2022
A group of students gathered in the Academic Innovations Center computer lab to improve their writing for assignments.
The First-Year Writing Program held its first write-in of the semester on Saturday morning, Feb. 19.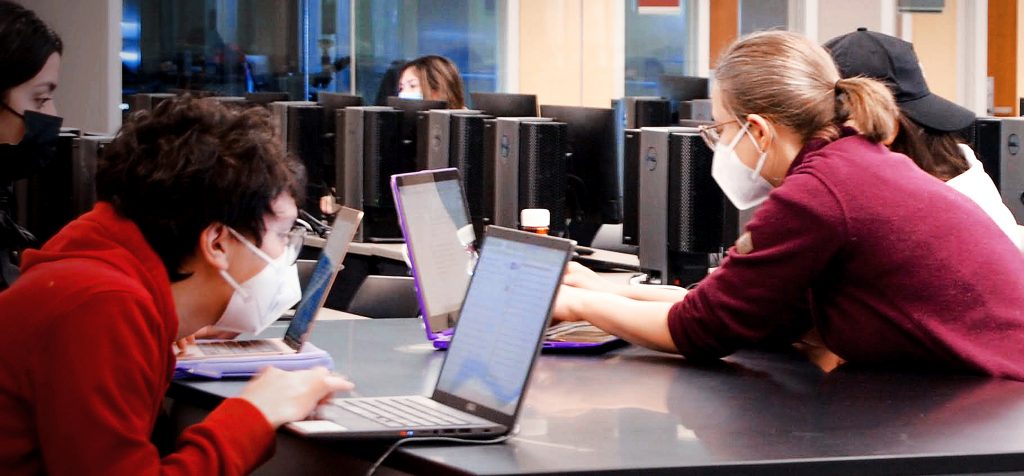 Moving back and forth between the computer lab and an area situated nearby with snacks and various compositional resources to aid the participants, Director of the First-Year Writing Program and Associate Professional of English Charlene Summers, Visiting Instructors Teresa Scott and Sharity Nelson, and their student volunteers in the Department of Humanities assisted those present by providing personalized assistance on how to clearly communicate and structure their thoughts and arguments via the written word.
"It's really all about our students," write-in organizer Summers said.
The event began as a means of giving students a quiet and dedicated space to work on their written assignments and get help from faculty and staff, including graduate student Felipe Rodriguez, who assisted with the event.
"We're mainly here to help freshmen students who are shy about asking for help," Rodriguez said.
While the write-in primarily aimed to help those going through the First-Year Writing Program–a series of core courses dedicated to help students develop a strong foundation in critical thinking, reading and compositional skills necessary for academic and professional work–the staff invited all members of the Dustdevils family to attend, regardless of classification.
"It really could be brought to the attention of more people," freshman business administration major Marco Vela Jr. said.
Interested persons may drop by the AIC computer labs in Rooms 203 and 204 on the following planned dates: April 9, 23, 30 and May 7. All events are expected to run from 8 a.m. to noon.