CAMPUS: TAMIU plans to expand Student Center courtyard
By Tiffany Luna
Bridge contributing writer
Published Thursday, Oct. 19, 2023
The Department of Safety and Planning has a vision to transform the Student Center Campus courtyard. Senior Director of Campus Safety Planning Trevor Liddle said he is enthusiastic about creating additional outdoor seating options.
"We want to add more seating in the outdoor area, providing an alternative to indoor dining," Liddle explained.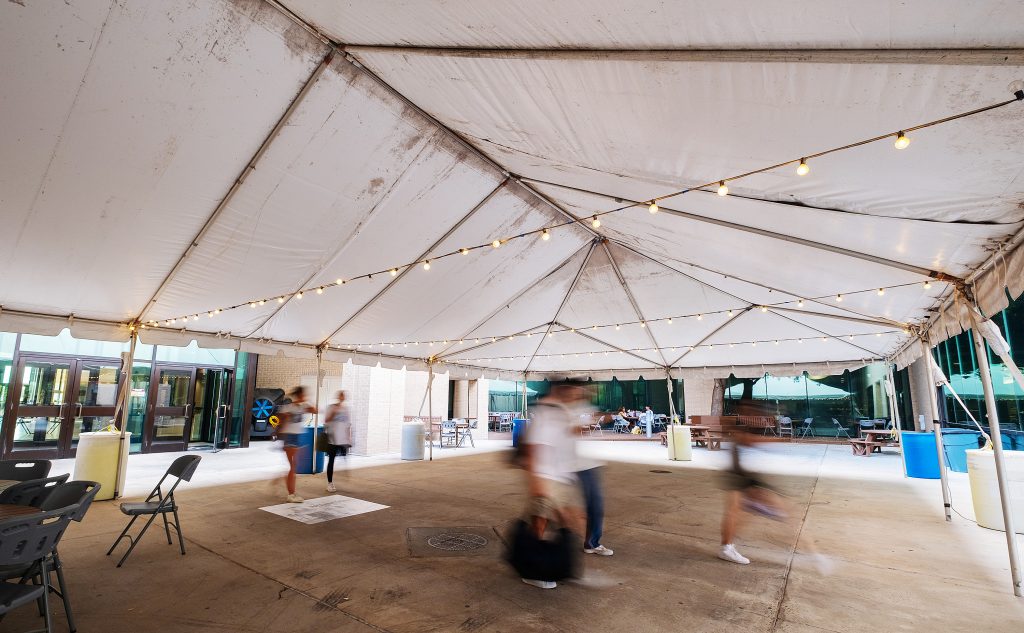 The unexpected popularity of a temporary tent among students inspired the pursuit of a permanent structure.
The department's goal is to craft a versatile space that caters to students' needs for outdoor study, dining and socializing, while improving building access without causing traffic bottlenecks.
"We have a general idea of where we want sidewalks to go," Liddle said, pointing to the west side of Cowart Hall as an example of their path placement strategy, based on student traffic.
To ensure student comfort and enhance study environments, former Instructional Associate Professor of theater Gil Martinez suggested more seating areas and the addition of shaded spots to make the campus more inviting.
Liddle acknowledged the invaluable input of the faculty, emphasizing the continuous evolution of the campus.
"It's a dynamic place," he noted.
Recent improvements, such as benches along the pathway between the Student Center and the campus water fountain, were already implemented to enhance the campus. However, students like Andrea De La Miyar had further ideas. She hoped for more diverse food options and convenient small cafes or food trucks scattered across campus. She would also like to see a splash of color with vibrant flowers to break up the greenery.
Liddle said campus expansions would be implemented gradually over the next few years. De La Miyar believed these additions would not only attract new students but also encourage current ones to explore new opportunities.
However, she couldn't ignore the disruptions caused by ongoing construction in certain areas.
"I hope any future additions to the Student Center courtyard won't be overly distracting," she noted.
Despite occasional disruptions, students and faculty could enjoy various amenities, from the Student Center's Food Court to newly installed benches. University officials expect to expand the campus further, with plans for a new entrance monument following the completion of ongoing roadwork.
Liddle encouraged students and faculty to share their ideas for future campus modifications, ensuring the University's continued status as a "gem" in Laredo.