SPORTS: Dustdevils season ends on positive note against Javelinas
By Cesar Oldham
Bridge Staff Intern
Published Tuesday, April 11, 2023
TAMIU men's basketball ended its season with a close 65-64 victory over Texas A&M Kingsville.
Due to Dallas Baptist University's win against University of Texas—Tyler on Feb. 25, Texas A&M International University was pushed off the playoff bracket for the Lone Star Conference Tournament, though coach Mac McConnell was proud of his players' efforts all season. Eight teams make it into that tournament.
"I think we started to believe in each other, play for each other, share the ball, fight through adversity and just believe when we say team, family and believe in the culture even though we went through our ups and downs," McConnell said. "This is the toughest league in Division II, and I truly hope the powers that be, the presidents and ADs, get together as soon as they can this summer and get it back to 12 teams going to that tournament.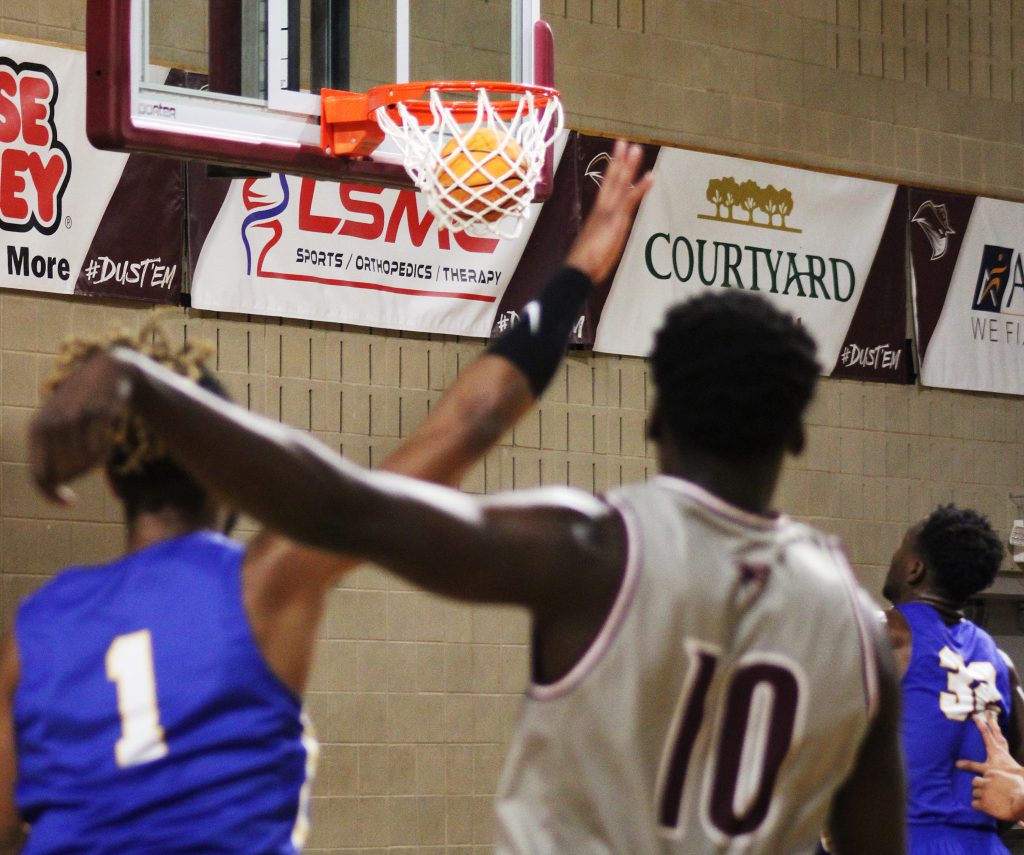 "You have at least two teams, or at least maybe three teams, in this league that can go and be in the regional tournament."
The Javelinas opened the game on an 11-5 run throughout the first seven minutes of the game, but the Dustdevils answered back to tie the game at 11-11 with more than 10 minutes remaining in the first half.
"I thought we did what we tried to build, as a culture in the preseason, all year long: who we are and what we stand for, that's defensive-minded people, team defense, team offense," McConnell said. "We wanted to be known for toughness, both mentally and physically, play with passion for TAMIU, be proud to go to the University and represent the A&M system."
TAMIU had a 55-48 lead with nine minutes remaining in the game until the Javelinas started to cut the lead. Less than 90 seconds left in the game, the Javelinas stormed back to tie at 63-63.
"That's what we did, that's what you have to have to win games like that," McConnell said. "The players did it, I didn't do anything other than jump up and down."
Dustdevil senior guard Jermaine Drewey drove into the lane relentlessly with only 20 seconds left and earned himself a trip to the foul line for his tough effort as he made one of two free throws to give the Dustdevils a 64-63 advantage. Drewey led the Dustdevils' offense with 16 points, six boards, three assists and one block.
"What we're preaching, the fans in the stands probably said, 'Man, he's mean,' but for us it's a way of language to get through to our players that you have to play extremely hard," McConnell said. "We always say that you have to go in there with an underdog mindset."
The Dustdevils ended their season with an overall win-loss record of 18-12.