SPORTS: Kenyan keeps eyes on prize
By Glenys Maldonado
Sports Editor
Published Tuesday, April 12, 2022
From Kenya to Tennessee to Laredo, no matter what location, one Dustdevil keeps her eyes on the prize.
Texas A&M International University junior Faith Kiprotich joined the Dustdevils cross country team two years ago. She previously attended UT Martin college in Tennessee. She is originally from Kapkoi, Kenya.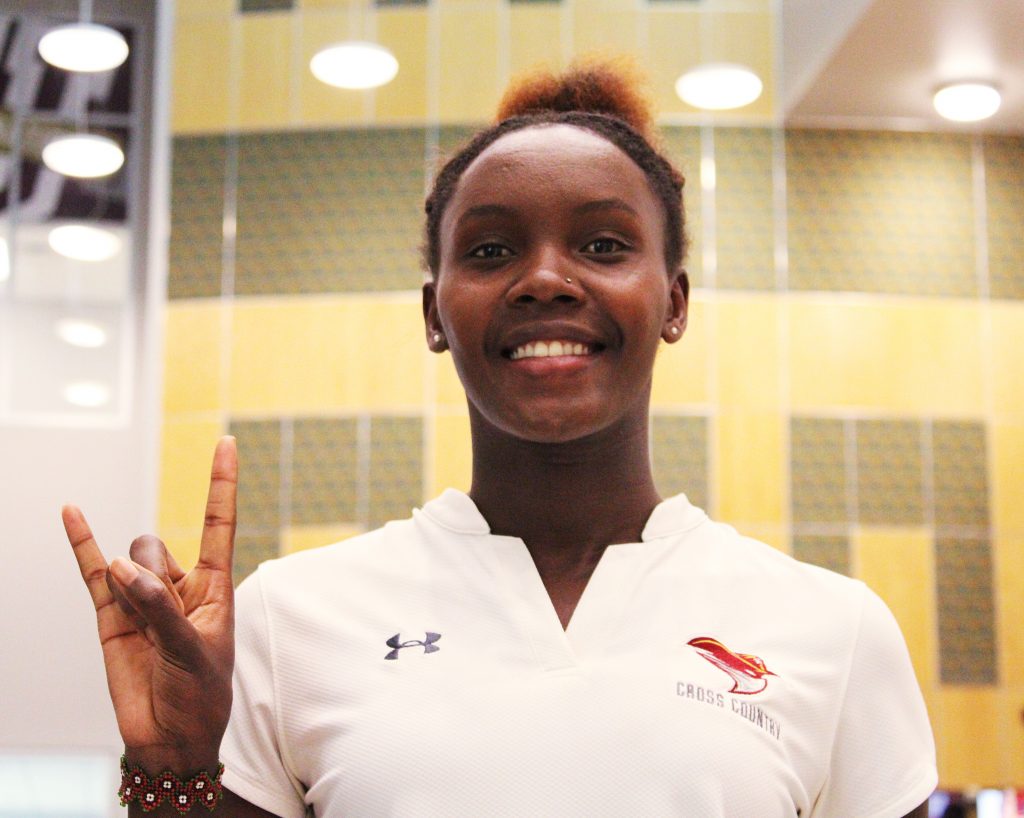 She arrived in the U.S. with many aspirations and a hunger for success.
"I wanted to work in the medical field since I was young," Kiprotich said. "I come from a place where we need those types of service. I couldn't afford it. So I was like, 'I'm going to play this sport so I can pay for my school.' What made me run was my goal for academics. I came to love the sport; I found passion for it along the way."
The U.S. culture remains quite different from that of her home country. For one, the food is quite different. While chai flavor makes it into some people's Starbucks drinks, it finds different usage in Kenya.
"Chai is what we drink for breakfast," Kiprotich said. "We also use it to welcome guests and it is common to make it for your guests."
With a driven mind and holding her dreams close to heart, it wasn't exactly easy leaving her family behind.
"I am really close to my family," she said. "I have 11 siblings. I have seven sisters and four brothers. Everyone is pretty close [in] age. I'm the only one that is six years apart. I'm the last one, I am the baby. The rest of my siblings are all about two years apart."
However, they do continue to motivate her daily and she pushes for her own success.
"I was supposed to go to a university in Kenya and got in for biochemistry, but that wasn't really what I wanted," she said. "I was like, 'I am going to try something else,' so I tried running and applying to schools in the United States, and I got it.
"[My family was] not up to it, they kind of doubted me a lot. It is because I am the baby and I used to cry a lot," she joked. "I push to prove myself."
Despite the distance and the big move, Kiprotich found a family of her own at TAMIU.
"I love my teammates," she said. "I've never had any issues with them. All of them are lovely. I was in Tennessee before and when I came here, I really loved my teammates. They are all so nice, we all hang out together a lot. They are all supportive."
Kiprotich sticks to a strict schedule in order to balance the responsibilities of her pre-nursing studies and those of a student-athlete. She learned the importance of time-management, as well as the core values that come from running.
"My favorite thing about running is that it helps you mentally," Kiprotich said. "It makes you strong and very disciplined. If you have never been disciplined in your life, running is the way to go. You have to wake up in time; you have to run a certain amount of miles because sometimes you're running and the route you took is 3.75 and you want to run 4 miles, so you keep going until you get it; it makes you disciplined and more focused."
Coach Benny Rodriguez works with the athlete.
"She is a quiet individual," Rodriguez said. "She is a sister-type to all of the other girls. She is very friendly. She is approachable, [and] level-headed. She is definitely very supportive of our team. She is a good, friendly young lady. She is a quiet leader [who] does everything that we ask, and I can't wait to see next year and we can hopefully bounce her back as All-Conference—that's the goal."