NEWS: Alumna becomes first female TAMIU police chief
By David Gomez Jr.
Editor-in-chief
Published Monday, Nov. 7, 2022
TAMIU installs an alumni member as its first female TAMIU police chief.
"She's a role model and truly represents our 'Go Beyond' vision for our campus, its students and its graduates," Texas A&M International University President Pablo Arenaz said in a press release. "We look forward to her leadership and service here."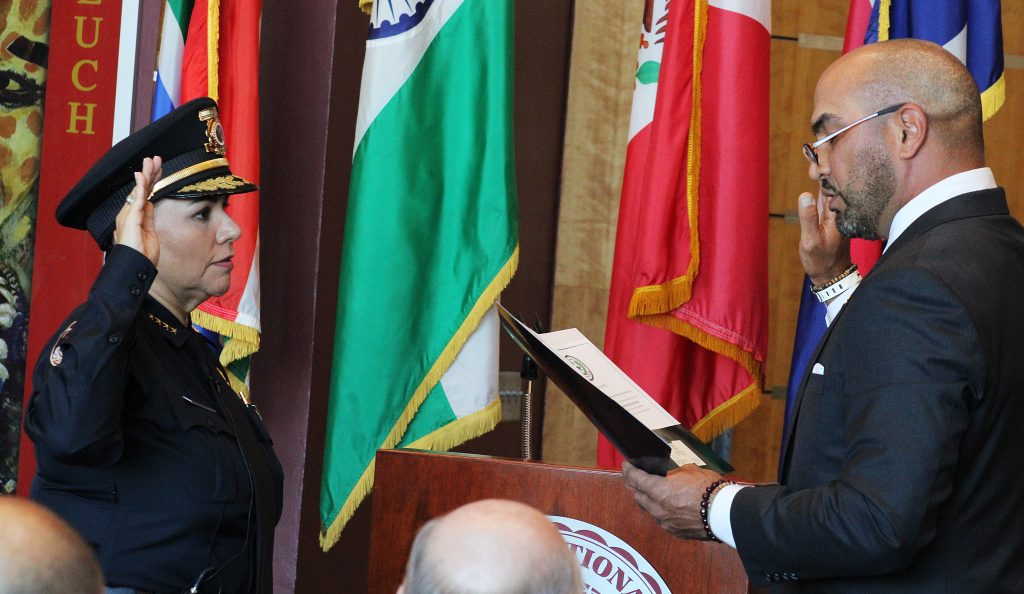 New TAMIU Police Department Chief Cordelia G. Perez was sworn in during a Friday, Sept. 30, ceremony in the Sue and Radcliffe Killam Library Great Room.
"I'm really excited to get started and we'd like to get out and spread our word among students, and the staff, that we want to build partnerships with them," Perez said. "It's all about unity policing."
Perez continued, saying she wants the University community to feel as safe as possible and that campus police, including herself, can be reached anytime.
"Whether they are working on a paper, they have a question or if they need someone to escort them late at night from the library to the dorm, we are here—we are here," Perez said.
When she spoke to her husband about the new job at her alma mater, Perez felt like she was working in a new city.
"That's why I call it TAMIU, Texas," Perez said. "I feel like this community is so engaging, and talking to different people who work or go to school here, like the sororities and fraternities—that's who I want to get together with and get things done."
She drove home the need for partnership between her department and every person on campus.
"It's important for us, as police officers, at any police department too, that we make sure we work with our community we service, and this is who we serve," she said.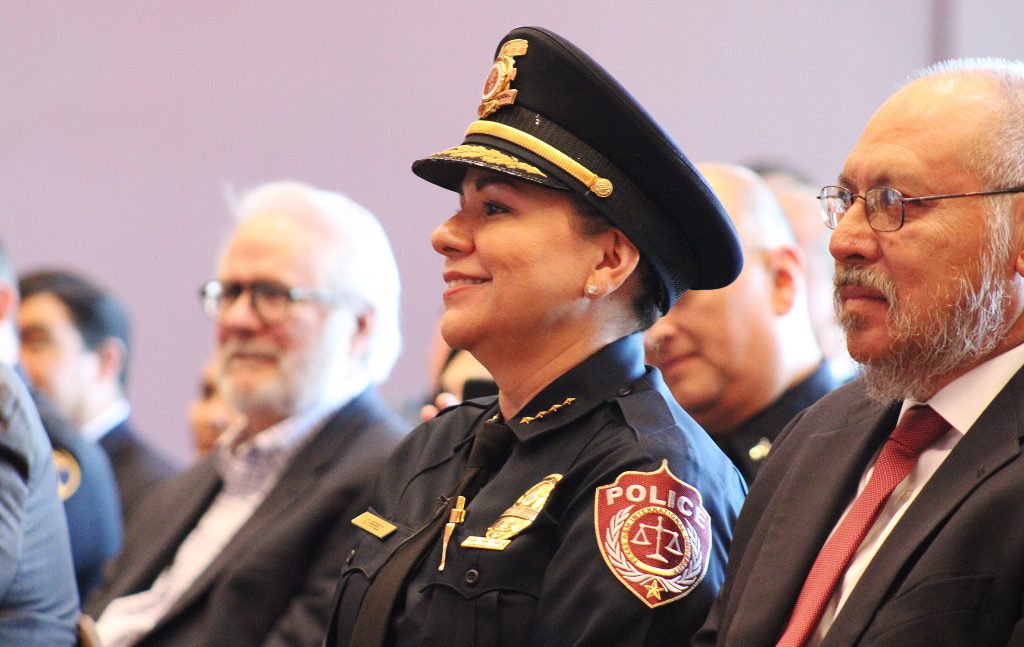 A standout individual at the event was her cousin, Webb County Judge Tano Tijerina, who had nothing but praise for Perez.
"First, I'd like to start by saying that your mother, my tia Maya, would be very, very proud of you today," Tijerina told the attendants.
Tijerina told an anecdote about when he wanted to go into law enforcement and what he wanted to do with it. Perez asked him a question that sticks with him today.

"'Do you have the heart for it?' she asked me," Tijerina told those present at the ceremony. "And I'm gonna ask you all today, with what you're doing, 'Do you have the heart for it?'
"Because I know my prima [cousin] here definitely has it, and I am so damn proud of her. Congratulations."
Investigator Joe Baeza of the Laredo Police Department attended the ceremony also.
"She has a good head on her shoulders and common sense, and I think that goes a long way in this field," Baeza said. "There has to be a lot of out-of-the-box thinking and approach. I think she'll take the department up to a new level."
District V Council Member Ruben Gutierrez Jr. also offered praise for her at the event.
"TAMIU having their first female chief, it's a wonderful thing and it's something we're gonna start seeing more and more now," Gutierrez said. "The [Laredo] Police Department just had [its] first female chief also a couple of years ago and it's a wonderful thing, not just for women, but as role models for the young female population.
"She's gonna do a phenomenal job. She really is the right person for the job itself and she's got a world of experience under her belt."
Gutierrez went on to add that TAMIU's a safe school, but will feel much safer under her watch.
The day of her ceremony, Perez jokingly admitted she had never taken so many photos in her life.