Spanish professor shares more than just novel
By David Gomez Jr.
Editor-in-chief
Published Monday, Nov. 14, 2022
Through his love of the Spanish language and storytelling, one professor practices what he teaches with the release of his newest novella.
Texas A&M International University Regents Professor of Spanish-American literature José Cardona-López not only promotes his latest short novel, La Vieja Ines, but also gives a peek into the life of his classroom.
At 6 p.m. tomorrow, Tuesday, Nov. 15, Cardona-López is scheduled to speak about his new book in the Academic Innovation Center, Room 126.
"My favorite type of literature at the moment are short stories or short novels because of the time," he said.
"We need humor."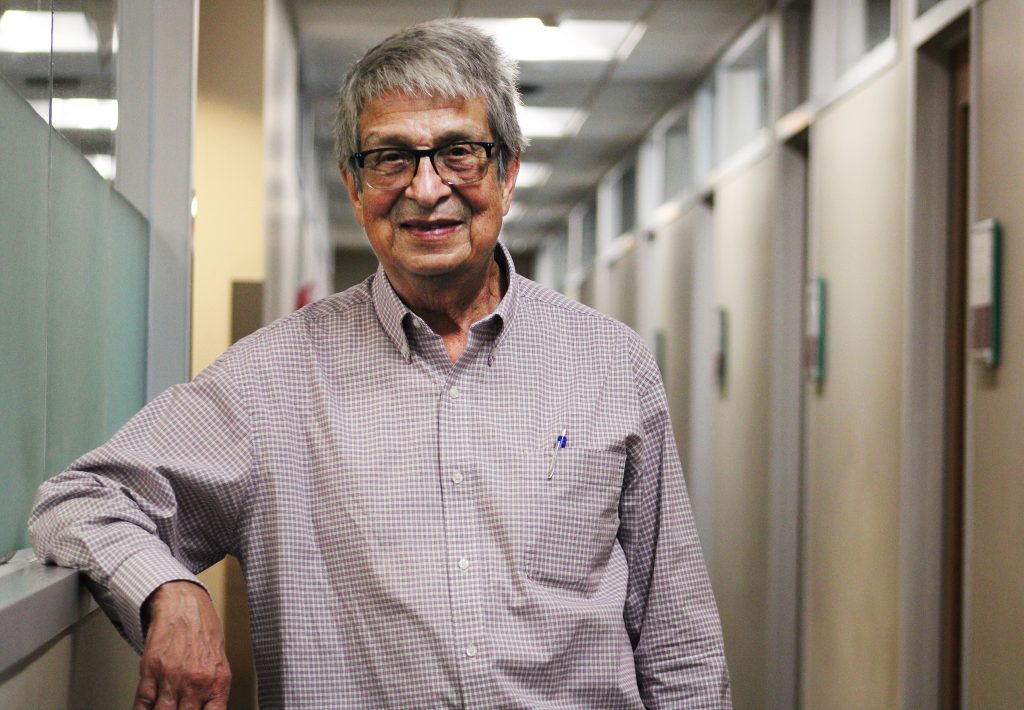 He said readers need to see things through the magnifying glass of humor in a TAMIU press release.
"If we watch it under the magnifying glass that is humor, the other side of things appears," he said in the release. "And we always need to see those other sides and language is very important to do it."
He summarized his short novel, which can also be found on the back cover of any copy of the paperback La Vieja Ines: A man is cheated on by his partner, whom he finds in a motel with his lover, but instead of reacting violently, the man brings pizza to their room.
From then on, his life becomes entangled with the judicial system, because according to the law, he should have exercised his right to kill blind with anger and intense pain. In the end, the man is convicted after a trial, which is presented as a spectacle: the accused, defense attorney, witnesses, prosecutor and others play their roles in an absurd and hilarious way. The short novel is narrated, first-person, by the defendant himself.
In Cardona-López's office, on a wall beside the seats where his students sit during office hours, is a photoshopped image of Rafael's famous fresco The School of Athens, including caricatures of English professors. One of his former students gifted the image to the Regents professor before graduation, as a token of appreciation.
He points to the right of the image where his face is placed, identifying that one as himself.
Another of his students, alumna Airam Bernal, shared nothing but praise of Cardona-López's teaching methods.
"Dr. Cardona made us improve ourselves in each class," Bernal said, as translated from Spanish. "He is a very intelligent person and, at the same time, humble."
When it comes to teaching, he prefers in-class lectures rather than a one-on-one basis, as many felt when the educational system turned on its head due to the pandemic and virtual learning.
"During the pandemic, it was fine, one-on-one," Cardona-López reflects, as translated from Spanish. "Working with students, an audience, [or] working in pairs is much better."
Bernal took with her more than just a passing grade.
"I greatly admire the dedication and enthusiasm he put into each of his readings," she said, as translated from Spanish. "I never left the classroom without learning something new.
"I am very grateful to have taken classes with Dr. Cardona."
And the professor also expressed admiration for the students who walked through his classroom door.
"I've had such great students," Cardona-López said, as translated from Spanish. "They are very intelligent, attentive and everything you could ask for."
Originally from Palmira, Colombia, Cardona-López began teaching at TAMIU in 1997. He earned his doctorate in Spanish from the University of Kentucky, a master's in Spanish from the University of Louisville, Kentucky, and a bachelor's in agricultural engineering at the National University in Palmira.
"I came here in 1997 and I've been here since then, but I never knew I was going to land in a place where a lot of Spanish is spoken," Cardona-López said in Spanish. "I can speak Spanish all day here and I don't have to speak a word of English.
"I'm comfortable at this university. It's a great home for me."