CAMPUS: El Grito returns to TAMIU
By Cassandra Villarreal
Bridge contributing writer
and
By Gabriel Rodriguez
Bridge Staff Writer
Published Thursday, Nov. 3, 2022
After a pandemic hiatus, El Grito returned to TAMIU to help celebrate Hispanic Heritage Month.
The sound of cumbia music reverberated from the Sen. Judith Zaffirini Student Success Center green as students, faculty and families gathered to celebrate El Grito de Dolores. A celebration of Mexico's Declaration of Independence from the Spanish Empire in 1810, the event was organized by the Campus Activities Board and had platters of food, friends and live performances from the University's own student musical programs, Mariachi Internacional and Ballet Folklórico.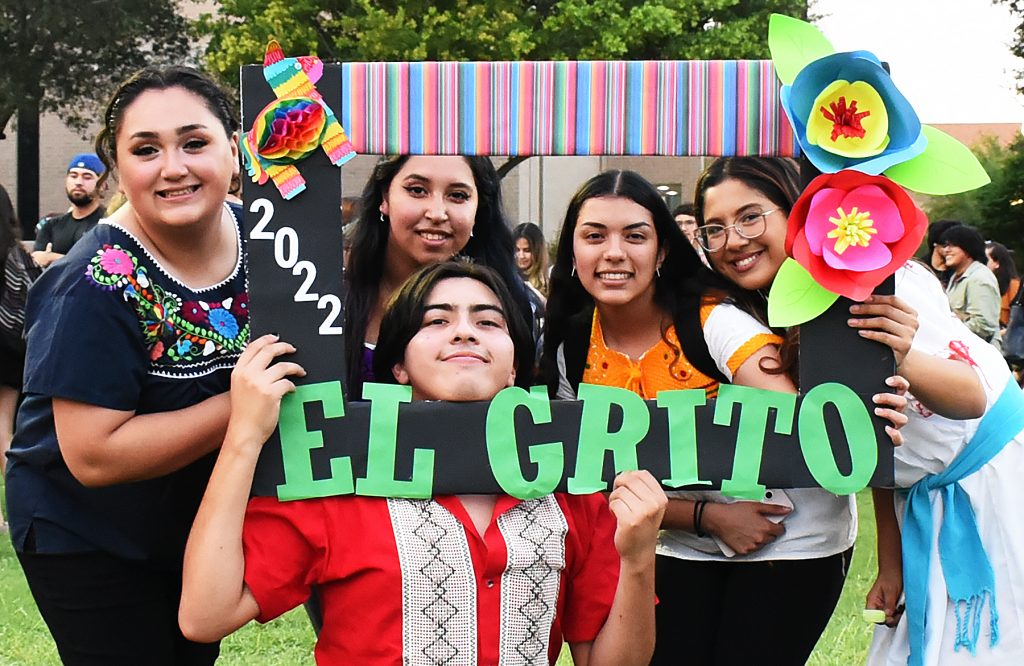 The Texas A&M International University Office of Student Orientation, Leadership and Engagement oversees student organizations like the Campus Activities Board, which hosted the Sept. 14 event.
"El Grito is a traditional event that we have here," SOLE Director Nicholas Hudson said. "It's really the kick-off of the Hispanic Heritage Month event."
The event kicked off with a student speaker giving a brief historical summary of the holiday and its significance, emphasizing the sacrifices made both by those who fought for freedom in Mexico, and those who struggled for a better life in America—using references to both historical events and current Mexican-American pop cultural figures to make a broader point about the importance of perseverance in the face of adversity. This was followed by the audience stampeding to the food stand for servings of tacos, churros, paletas and aguas frescas.
Most years, CAB hosts and plans the event, which usually includes TAMIU's Mexican heritage performers.
The Mariachi Internacional, directed by the husband and wife pair of Instructors William and Christina Hoffman, was the first to perform, crescendoing into a performance met with yelps of excitement from those attending.
"Our [CAB] enjoys showcasing the performing arts that we have here, and it really exemplifies what it's like to be Hispanic, Latino or Mexican as students here," Hudson said. "So they really enjoy showcasing our student artists in Mariachi Internacional and Ballet Folklórico."
They were followed by the Ballet Folklórico, led by Instructor Nayeli Lopez Diaz, dressed in colorful garments and performing a series of traditional dances to various forms of traditional folkloric music from various regions of Mexico.
"As a holiday, El Grito symbolizes a celebration," Ballet Folklórico student Cecilia Jimenez said, "not only of the traditional 'cry for independence' in Mexico, but a loud cry celebrating our cultural heritage as Mexicanos."
This year, El Grito had a big turnout; many individuals from the Laredo public showed up and learned about the background of the event.
"The event has been around for many years, but year after year, it continues to grow in attendance," Hudson said. "So this year, there were [more than] 400 individuals at the event. It's a unique opportunity to really showcase the pride and the history for a lot of the students—from a heritage perspective."
El Grito is a chance for the community to learn about Hispanic heritage.
"We were sure they wouldn't disregard their culture," CAB Education and Heritage Director Elena Cano said. "Especially being here from Laredo, it's easy to oversee the Hispanic culture. It's nice to honor where most of our parents came from. I hope they got a little hint of that. Even the internationals here from TAMIU—I hope they got a hint of our culture like seeing the mariachi and the folklórico dance."
Participants also joined in two competitions.
"One of the competitions was the El Grito competition where they did the origin of El Grito and did it on the microphone, and people would applaud, and whoever got the most applause would win,"' Cano said. "The other competition was for the little kids, and whoever won best-dressed would win based on applause and would win a TAMIU merch bag."
To many in the community, El Grito is more than an event and represents cultural identity.
"It's celebrating our culture, and if we keep this tradition up, it makes the TAMIU community a lot more engaged—a lot closer to each other because we get to realize we all come from the same place," CAB President Mayela Villarreal said. "We come from the same ancestors [who] fought for this land, and in regards to the community of Laredo, it shows we are a university at a border town, and look at how far we have come in the past years."
Besides the entertainment, many people new to TAMIU received an educational experience by attending.
"This event is targeted toward Hispanic/Latinx students, but it's also for students who usually don't live here, students who aren't Mexican or from that culture or that origin," Villarreal said. "So they can be exposed to the types of things we celebrate here at a border town community. It's more than Mexicans involved in a culture. It's also students that aren't from here."