FEATURE: Alumnus shares journey of pride association, activism
By Mireilly Gonzalez
Managing Editor
Published Tuesday, Feb. 21, 2023
TAMIU alumnus Jorge Quijano stepped onto school grounds again to talk to students about breaking ground in LGBTQ+ activism.
Students gathered at the STC 231, back in October 2022, to hear Quijano's discussion on activism titled Advancing Laredo's LGBT community. Quijano graduated in 2009 with a bachelor's in communication and a minor in marketing. Today, he's the founder and president of Gateway City Pride Association and a marketing manager at Sames Auto Arena.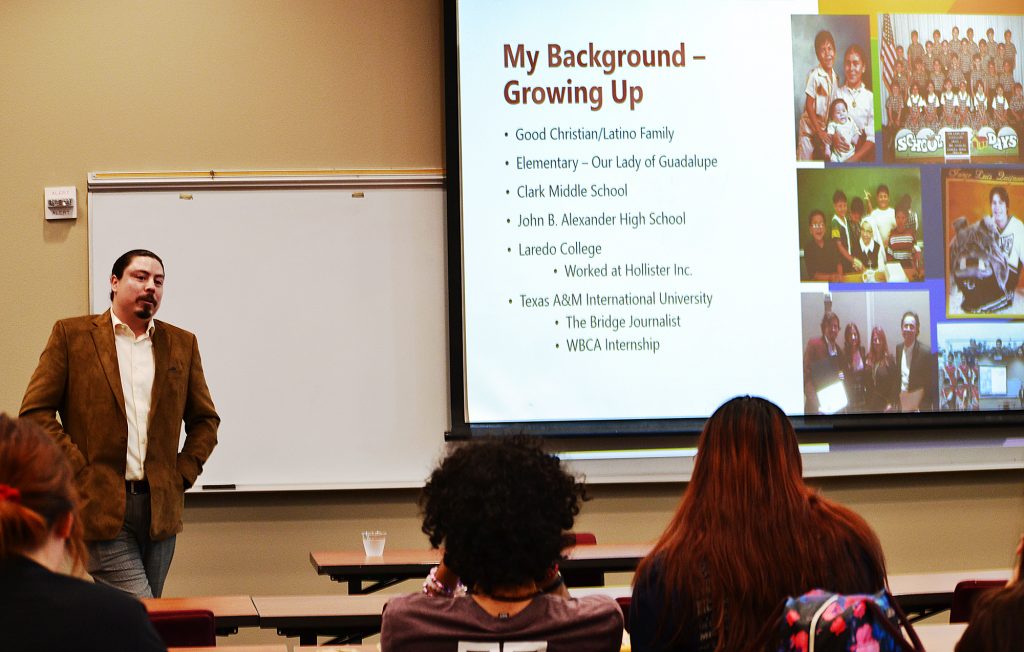 GCPA continued its pride parade and festival with drag performances, lip sync competitions, health discussions and coming-out stories. Although Laredo's pride festival is now three years old, the idea percolated for much longer.
"I wanted to coordinate a pride parade festival in 2012 but I didn't have the network, didn't have the experience," Quijano said.
Then, in 2020, Quijano established GCPA. That same year, the Laredo City Council proclaimed June as Laredo's Pride Month for the first time in history. For Quijano, it was important for Laredo to be seen as a city friendly toward the LGBTQ+ community.
"Everytime I would go downtown, I felt safe," he explained. "The bar owners, the bartender security, I felt safe just walking around there."
In contrast, the Human Rights Campaign declared Laredo one of the least LGBTQ-friendly cities in Texas.
"I was communicating with different organizations and businesses saying, 'Hey, do y'all want to host an event for Pride month?' and so we partnered up with Laredo Film Society, Laredo Border Slam [and] downtown bars," he said. "For me, this was a marketing strategy—where if we show the city of Laredo, we show the public 'Hey look what we did for Pride Month.'"
Before Quijano stepped in, he'd noticed that although local businesses already had Pride Month events, they weren't promoting it enough. For instance, the LFS showed LGBTQ+ films or Cultura Beer Garden held the pride event Frontera Amor.
GCPA continues to build a larger community and foster a greater understanding. Recent GCPA events these past couple of months include walking on the Washington's Birthday Parade with the the Drag Haus, participating in the Laredo College Fun Fest, and hosting a virtual mixer.
"Our next step aside from these awesome events, [which] are our educational mixers, is trying to really bring our community together," Quijano said.
"We would eventually love to have a parade like other cities," Quijano told The Bridge in an email. "We do need more funding to make the Pride Parade with vehicles and flatbeds happen. Our goal is to make the pride parades and festivals bigger and better with more color."
Activism in Mexican-American communities is unique because LGBTQ+ members face additional challenges, such as machismo and shunning by Christianity. The discussion made it clear that there's still a lot of work to be done in regard to LGBTQ+ rights.
"Being gay was a taboo back in '90s/early 2000s," Quijano wrote.
He quit sports to avoid bullying if he decided to come out; he became the school mascot instead.
"I think that helped a lot to change perceptions of a gay person. I respected my peers' boundaries as they respected mine," he said.
Although Christian devotion has decreased over the years—and with it Christian anti-LGBTQ+ attitudes—religious trauma is still a big problem in the LGBTQ+ community.