WEB EXCLUSIVE DECEMBER ISSUE
TAMIU chamber singers face coronavirus challenges
By Angeline Chavana
Bridge contributing writer
Published Sunday, Nov. 28, 2021
Despite being Back Together, TAMIU's chamber singers faces their own pandemic woes this semester.
After Texas A&M International University opened its doors to all students at the beginning of the semester, choir students wondered if it was safe for them to keep attending singing rehearsals.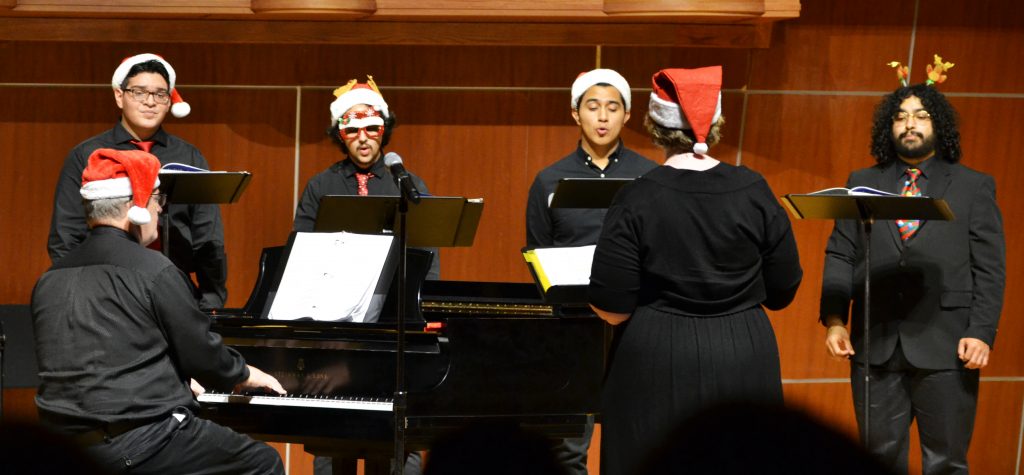 TAMIU's Back Together plan included students' return to face-to-face classes with some restrictions, such as a recommended use of facemasks, unavailable seats between students for social distancing and sanitizing stations upon entry and exit for every classroom.
But choir students said this is not exactly helpful regarding their need to be together in song.
"There have been students who are absent due to sickness, but they let me know their [COVID-19] tests came back negative," instructor of music Dana Crabtree, TAMIU choir director said.
The University reported no quarantine from any course this semester.
Chamber students remain at a greater risk while singing, according to a news release by HealthDay.
"Some droplets are so large they only move a few decimeters from the mouth before they fall; whereas, others are smaller and may continue to hover for minutes," Lund University doctoral student of aerosol technology Malin Alsved said in the release. "In particular, the enunciation of consonants releases very large droplets and the letters B and P stand out as the biggest aerosol spreaders."
The difficulties also affect the instructor's ability to effectively teach.
"It is harder for me to hear the students sing, harder to correct them or show them how they are supposed to enunciate," Crabtree said.
Singers said the masks greatly impact their performance and learning.
"It is harder to sing and hear myself," music performance major Yahaira Hernandez said. "I don't really know if I am doing it correctly or if Ms. Crabtree can even hear me."
After a year of virtual choir, TAMIU chamber singers say singing virtually was more difficult and embarrassing since they had to record their voices; anyone could listen to anyone separately and whenever they wanted to, without them even knowing.
Music performance major Paulina DeLeon said singing virtually is easier for her since Crabtree is able to listen to her recordings and make corrections.
In a big choir, it becomes more difficult to hear everyone's mistakes. Music students said the advantage of the recordings centers on Crabtree's ability to hear everyone separately and make corrections to incorrect notes or rhythms.
One piece of technology, though, may help chamber singers during this pandemic.
"We are waiting for some special masks, which are breathable and designed to contain our droplets," Crabtree said. "They have a bigger space around the mouth than a common mask."
This aid comes from the Department of Fine and Performing Arts Chair James A Moyer.
"We appreciate the efforts faculty [members are] doing to provide us safety, but it has already been over a month since school started and we haven't received the masks," DeLeon said.
Chamber singers faced multiple challenges this semester, from comfortable performance difficulties to learning limitations regarding mistake corrections to the fear of spreading or catching a coronavirus variant.