SPORTS: Dustdevils 'have fun' during comeback 
By David Gomez Jr.
Editor-in-chief
Published Tuesday, Nov. 1, 2022
TAMIU defeated the University of Arkansas-Fort Smith 3-1, in what was a close contest until they started having fun on the court.
"Our team is definitely a team that thrives on feeling and body language and our body language was down," coach Brittany Harry said. "It didn't look like we were having fun.
"And [assistant] coach Gilbert [Vela] said 'have fun.'"
Harry jokingly took credit for a timeout called by the Lions in the third period, which granted the Dustdevils the momentum to strive past them in a 13-1 run on Oct. 1 at the Texas A&M International University Kinesiology and Convocation Building gymnasium.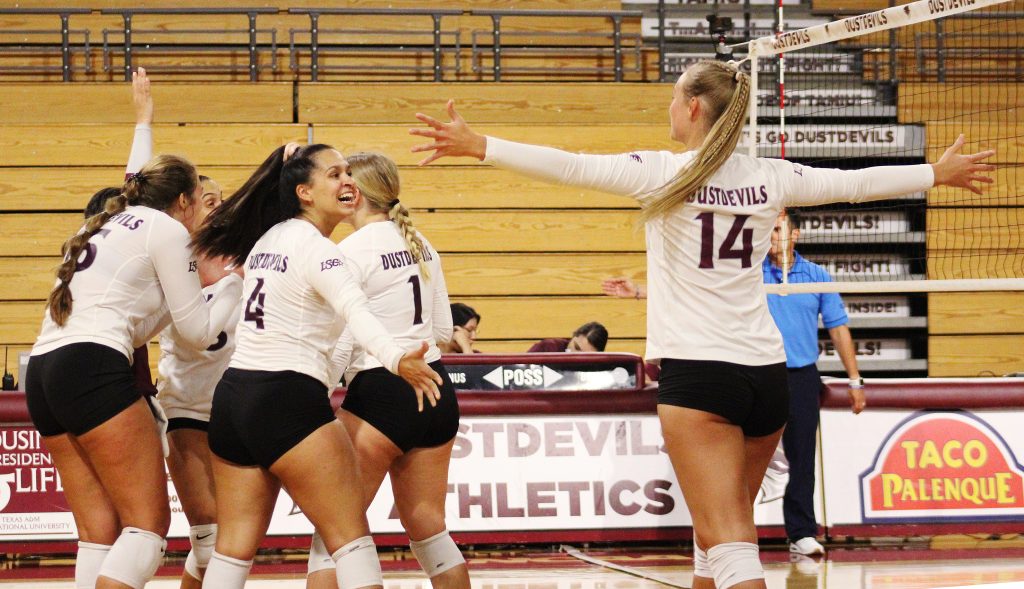 "A great timeout by coach Harry," she said, followed by a laugh.
After the words of encouragement from the coaches, the Dustdevils seemed to heed the advice of their coaches and played with the coordination, communication and aggression they lacked going into the third set. It was a 1-1 set before the third.
After a few substitutions, the bench helped chip away at the Lions' lead and never looked back. That included going into the fourth set where they continued to dominate and close the game for the win.
"I agree that this was truly a team effort," graduate student and accounting major Mackenzie Catalina said. "The bench did well, too, by giving us the momentum and positivity that was needed."
Catalina plays outside hitter for the Dustdevils.
"It really took all of us as we passed well, defended well and attempted well," Catalina said.
Director of Athletics Griz Zimmerman attended along with women's basketball coach Nate Vogel's children. Together, they hyped up the crowd by giving away free T-shirts and offering loud chants.
"I think the volleyball program has risen exponentially for the last couple of years under coach Harry at the helm," Zimmerman said. "Most importantly, the work the student athletes have done in the classroom, on the court and off the court throughout the community."
Catalina looks forward to the rest of the season.
"I feel really good about it and this is the best start so far," Catalina said. "And in my five years, this is the most fun I've ever had."