SPORTS: Esports team improves in communication, camaraderie
By Glenys Maldonado
Sports Editor
Published Friday, Oct. 28, 2022 
With esports on the rise, TAMIU's Rocket League team launched to a strong start this season.
With a variety of teams, Rocket League shined and put their name on the boards.
"Rocket League is a competitive video game which involves cars and soccer combined," coach Ethan Garcia said. "The point of the game is to outscore the opponent and win three out of five games to secure a win. My favorite thing about the game would have to be that it is unique and a very complex game to learn, but once you are able to understand the controls it gets really fun."
Texas A&M International University's Rec Sports esports program did not develop an accelerating and successful season just overnight, but through many rigorous hours of hard work and training they are able to implement high performance.
"Esports is very competitive as any other sport," Garcia said. "Our athletes put in a lot of practice time just as any other athlete would for a sport they play. The athletes are playing to win games. The games get very competitive since we all do want to try to win.
"The practice schedule works as any other sports team practice schedule would work. The athletes are supposed to attend mandatory practice when they are scheduled, which usually lasts around two to two-and-a-half hours. The environment we encourage is an environment that allows for everyone to be themselves and express themselves freely."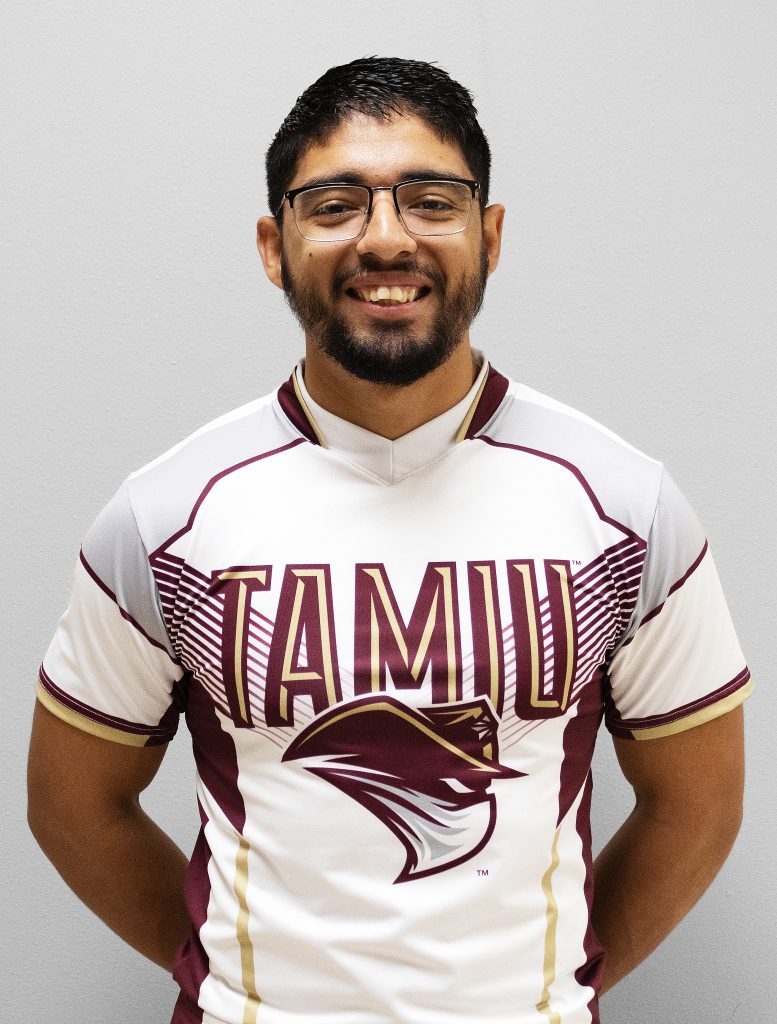 Senior criminal justice major and kinesiology minor Cristobal Cardenas competes on the Rocket League team.
"It is just as competitive as any other sport," Cardenas said, "especially mentality wise. You have to just be focused the whole time. It is five minutes of one game, so you have to be focused and constantly seeing what's going on. It can be mentally tiring as well."
Despite any hiccups that may come their way, the Dustdevils continuously nourish their bond to help persevere and stick together.
"The Rocket League team chemistry is great," Garcia said. "Our players from each of their teams are all friends and share a personal bond with each other, which helped lead to a great team chemistry. To bond, we would sometimes go bowling, eat pizzas and spend quality time together talking to each other."
Team bonding can also be dialed down to even their practice methods.
"Team chemistry comes from playing with one another," Cardenas said. "We do try to hang out outside of gaming. What does help a lot is playing in the game room at the same time. It is much better to be in person, rather than just speaking with one another online; it is a completely different environment—that's what really bonds us as well.
"Shoutout to my team. I think I have the most fun in college. I am glad I met them. They are teammates forever; we have created a strong family bond. Even though they are 'youngins' to me; they are my little brothers. I love seeing them and taking care of them."
Additionally to prioritize team bonding, the Dustdevils hold communication on a high pedestal. Esports not only demands complete focus, but constant communication among teammates.
"Communicationwise, it can be very intense," Cardenas said. "You always have to be focused on hearing your teammates and focusing on what's going on in the game too. Communication involves updating your teammates every second.
"There are a lot of strategies involved as well; you have rotations with your teammates. So we have our offense plays, our defense plays and we have to rotate. So sometimes you have to go play offense and then go right back to defense and then back to offense and back to defense—there's a lot of rotating around over and over again for the five minutes of the game."
With a lot of built-in trust, reliance and execution, the Rocket League team looks toward a bright future for the program.
"It is still so young and growing and we have so many people with a lot of potential of becoming good gamers and esports players," Cardenas said. "You can just see the talent here. There are a lot of people that have a lot of talent, it is very exciting."
With many victories on their belts and many more to come, fans can best support them on Twitch. Game days are every Monday. Interested persons who can't catch the livestream, can view video uploads after each game day.