SPORTS: Dustdevils keep tunnel vision in course, classroom
By Glenys Maldonado
Sports Editor
Published Thursday, Sept. 29, 2022
Women's cross country team members represent the Dustdevils on the course, in the classrooms, as they hone in on the Fall 2022 season.
Faith Kiprotich ran for Texas A&M International University for the past couple years.
"For us, our team is so competitive," Kiprotich said. "Today, you will see one girl be No. 1, the next day you'll be seeing another girl finish first. It is really competitive, which makes us really strong. It is not competitive in an ugly way, but in a good way that will push each other. I love that about my team; you never know who's going to get No. 1. Everyone is responsible for being No. 1."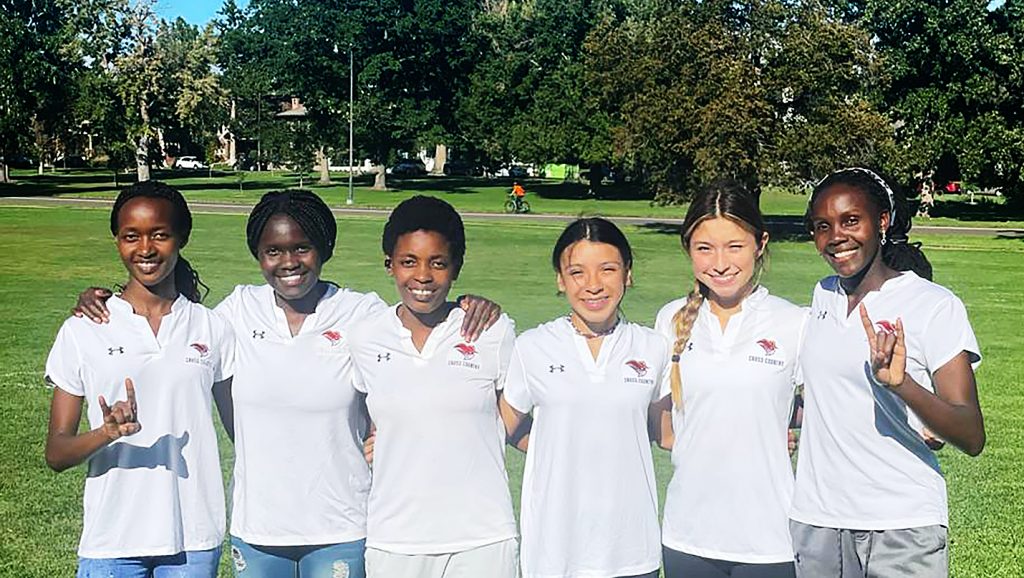 Coach Benny Rodriguez's athletes practice focused mindsets in order to keep everyone united and to aid them in performing successfully.
"Our coach always tells us, 'Look up to your teammate. Wherever she is, focus on your teammate. Don't even focus on anyone else; focus on your teammate.' So, we always focus on each other, that helps us be close to each other," Kiprotich said. "The closer you are to each other, the more points you get. That's how we got third in conference. Since we all finished 16th, 17th,18th and so on, the points fell into place and helped us win. We were able to get third [place] because of the teamwork."
Not only does Rodriguez encourage driven dedication in the course, but also in the athletes' studies.
"My coach can be tough, especially when it comes to business, practice and is even more tough in academics," she said. "He is always pushing in academics; he really knows what's good for you as a student (academically and athletically) and I love that about him. He always cares a lot."
Rodriguez ran for four years at Texas A&M Kingsville and ran professionally for Mizuno. He coached United South Middle School then moved to Memorial Middle School. He began coaching the Dustdevils cross country team in May 2005.
"My favorite thing about coaching is seeing my athletes be successful on the course and in the classroom," he said.
He says he is a proud Lardedoan and wants to give back to his community in any way he can. He would also like to be able to relay the knowledge he learned throughout high school and college to his athletes.
"If you care for [the athletes] individually—lead them the right way—they will reward you somehow," Rodriguez said. "You never know how you might've impacted that individual during that time."
While it appears they have big goals in the classroom, they also remain ambitious for this season.
"We are hoping to shoot for top-three this … season," Rodriguez said.
With a tight net and studious team, they expect things to fall into place this season.
Newcomer Alexandria Fisher recently switched over from the Dustdevils volleyball team.
"I am very grateful for the opportunity to be able to run for the cross-country team at TAMIU," Fisher said. "It was definitely a big transition being that the two sports are drastically different. I've had to run more and lift differently in order to better fit a runner."
She had no trouble feeling at home and part of the family as her new team gave her a warm welcome.
"Our team chemistry is amazing," Fisher said. "They were all very welcoming since I first joined the team. Not only do we bond a lot, but we stay pretty active around school. We have been doing a lot of community service especially at the Big Event and Discover TAMIU. I cannot wait to be in a cross-country atmosphere again after not running cross country since high school. With that, I know I have my coach and teammates to support me along the way."
After joining the team, Fisher ended up not attending TAMIU this semester.