EDUCATION: Laredo Film Society brings credentials to dying TAMIU club
By David Gomez Jr.
Editor-in-chief
Published Thursday, Sept. 29, 2022
[Editor's Note: Please see The Bridge's May 15 article about this club for additional information.]
Dusty Visions, a film club, merged into the LFS TAMIU Branch, bringing street cred from the Laredo Film Society and rebooting itself for a new generation of curious film connoisseurs.
The Laredo Film Society Texas A&M International University Branch is ran by President Lissette Montemayor Tristan and Vice President Tyler Dey Ortiz, who work alongside Treasurer Melissa Garza Rodriguez and Secretary Mireilly Gonzalez—all under the advisement of Associate Professor of filmmaking Angela Marcela Moran.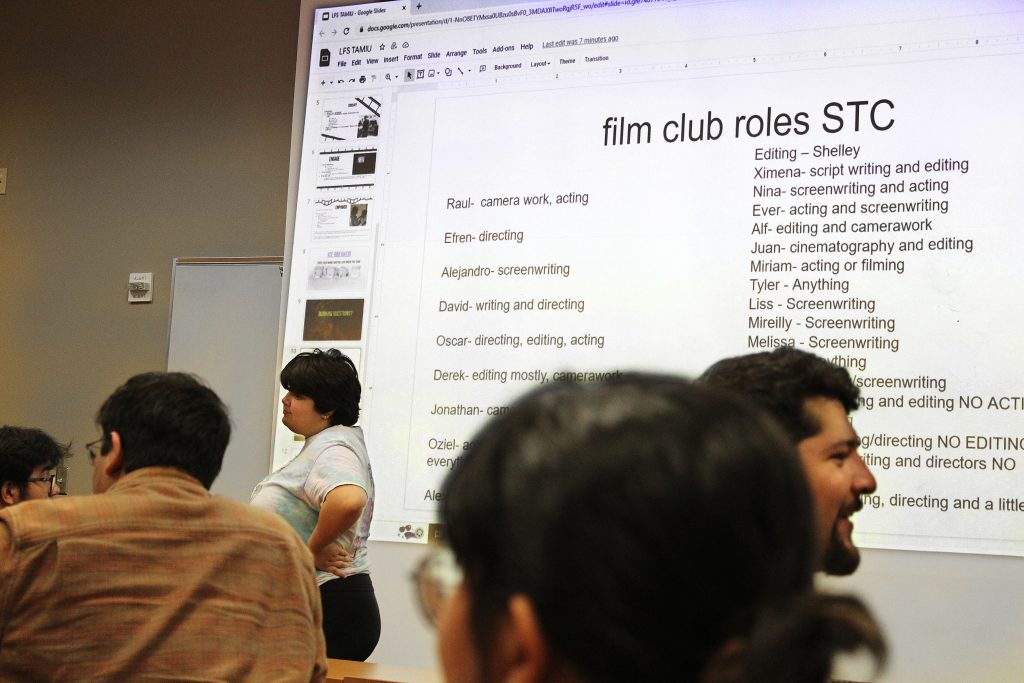 "I was an intern for the Laredo Film Society last semester and I was given the chance to revamp the film club and I took it," communication major Montemayor Tristan said.
She was the acting president of the Film Club during the Spring semester but was given the opportunity to remain president under LFS TAMIU this Fall.
"I had joined Dusty Visions when I first came to TAMIU, but because of COVID-19, it was basically dead," nursing major Ortiz said. "Then, last spring, Liss contacted the few of us to go to the last meeting of the semester and discuss the future."
Montemayor Tristan, Ortiz and two remaining members discussed what they wanted for the club. A few months into the summer, and due to the president serving as an intern the semester before, she told them they would revamp the club to become a chapter for the Laredo Film Society.
"I had already planned on making films by myself, but then I thought about how I could help other people make their own films … at least get their ideas out there," Ortiz said. "That's why I became a part of the [new] club."
Currently, the higher-ups in the organization are all women but are open to men applying for higher positions—which could soon be the case due to the overwhelming number of men who showed up to their first meeting on Sept. 1.
"I did get intimidated by the large amount of male audience we had," Montemayor Tristan said. "Now I'm a little more comfortable and able to speak and I couldn't have done that without the people around.
"It was a little scary at first, but after a few meetings, we've figured it out."
According to TAMIU Trailblazers, they currently hold more than 50 members. A vast difference from Spring 2022's four participants. Someone who wasn't surprised by the number of students was the vice president.
"No," Ortiz answered with a straight face of the influx of members. "I knew there would be people that enjoy films.
"Whether that'd be watching, or making them. I'm not surprised, but very proud that we managed to get a decent amount of people in here [who] are excited to make films with us."
Being in the nursing program and having little to no distractions, to Ortiz, the organization is her time to relax and enjoy what she does most—succumbing to anything related to movies.
"This past summer, I gathered a bunch of my friends from different educational backgrounds and created short films that were based around a student having trouble during college," Ortiz said. "The series is a progression of his insanity."
The short films Ortiz created with her significant other and friends, nearly 20 of them, dive into a state of mind where the protagonist can no longer differentiate between reality and imagination.
"It may not have come out super good, or look and sound great, but I'm proud of them," Ortiz said about her short films.
The organization looks forward to offering workshops throughout the semester that will inform, and prepare students who are curious about the film industry.
"I feel like I'm expecting to learn more about film," sophomore business administration major Evelyn Medina said. "Especially to expand my mind on what goes into making a film and how the end product is different from the process of making one."
The LFS TAMIU Branch holds its meetings at 5:30 p.m. Thursdays in Student Center Room 120.