A court 7,000 miles long 
By Cesar Neira
Bridge Contributing Writer
Published Friday, Feb. 12, 2021
Being a student athlete poses the challenge of having to balance studies with athletic responsibilities. Junior Texas A&M International University men's basketball forward Tom Higgins does all this while being more than 7,000 miles from home. 
Higgins, a criminal justice major, played basketball for most of his life. Born in Te Awamutu, New Zealand, he said his childhood was "great."
"You can go to the beach, mountains, cities in a heartbeat," Higgins said. "I was lucky enough to experience most aspects of life."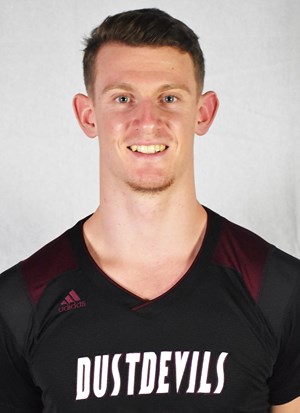 When the opportunity to play for TAMIU came, he and his family grew excited.
"It was my goal to play in America for a long time," he said. "So the reaction from myself and my parents was exciting because I had achieved one of my goals I had set for myself."
Higgins knew TAMIU was the place to call home after his visit.
"I liked the vibe the school had with the nature surrounding the campus," he said. "I liked the thought of there being a lot of international students attending the school so I could make connections all around the world."
Once living on campus, Higgins had the challenge of the culture shock of Laredo life.
"It was a bit of a shock for sure, the way Hispanic families and people go about their lives is a lot different from the way New Zealanders do," he said.
The time difference between Laredo and Te Awamutu led to the problem of not having the perfect time to communicate with his family. The culture shock, along with not being able to communicate with his family when he needed to, made things difficult.
Higgins credits his conquering of these issues to his great relationship with assistant men's basketball coach Jeremy Espinoza and how nice the people of Laredo and TAMIU are.
According to the TAMIU Athletics website GoDustdevils.com, "2018: Higgins played 26 games and started 12 games. Higgins had a season high of 8 rebounds against St. Mary's." Since 2018, the 6-foot-6 forward says his game progressed in many ways due to the fast-paced style of play he experienced here.
Higgins does not want his basketball career to end at the collegiate level.
"My goal is in the future to be able to play professional basketball all around the world," he said.
Former classmate Jose Rodriguez said, "He is a great student overall, isn't afraid to ask questions, and will always help someone if they need it."
Higgins said his experience at TAMIU went well.
"I've been able to meet so many people from all around the world and experience America with a hint of the Mexican culture as well," he said.
Once his basketball career is over, Higgins wants to utilize the criminal justice degree he is pursuing to join law enforcement.
"I aspire to help as many people as possible," Higgins said.