SPORTS: Brown sets new TAMIU record
By Cesar Oldham
Bridge Staff Intern
Published Thursday, March 9, 2023
After scoring 39 points in a single game, TAMIU junior forward Rai Brown broke a program record. Brown helped lead the Dustdevils in a 72-58 victory over the Rattlers.
"I mean, I knew she was having a really big game … I guess I didn't realize she was that close to setting a school record, but you know, obviously, I can't say enough about Rai," coach Nate Vogel said.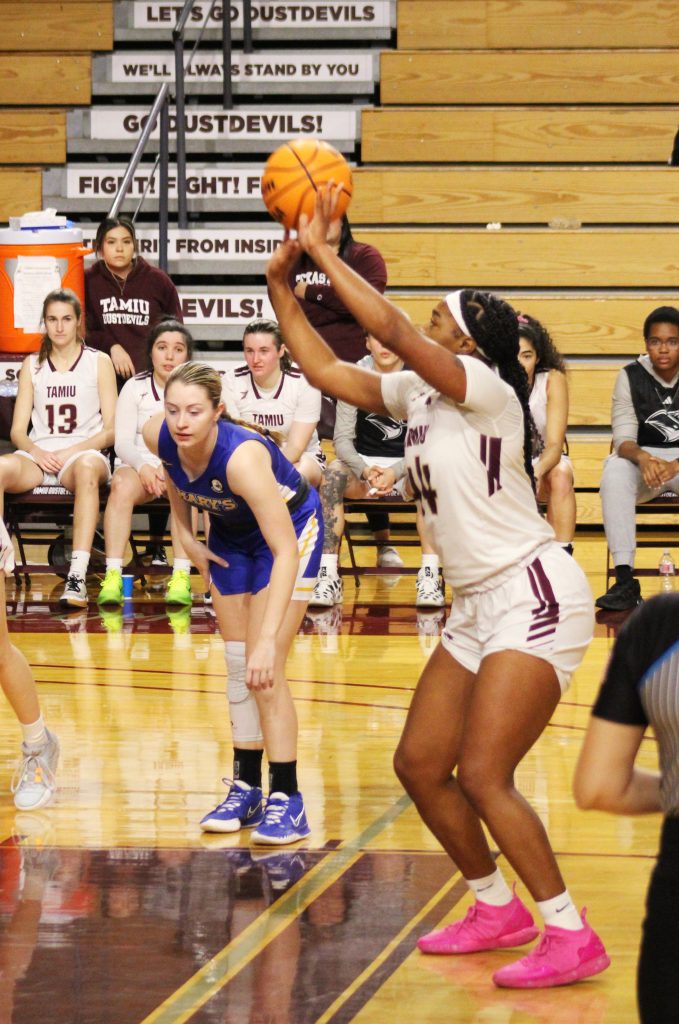 Brown surpassed a Texas A&M International University record previously set on Dec. 19, 2015, by Keiona Mathews, who scored 37 points. Additionally, she earned First Team All-Lone Star Conference on March 1.
"She does a great job, and not only does she get those 39 points, but she does it on 17-21 shooting," Vogel said. "She only missed four shots all night."
Not only did Brown surpass the previous record by two points, but the women defeated St. Mary's University by 14 points.
The Rattlers held their own during the first quarter as they took the lead with a 21-15 start.
"Yeah, I mean I think, not only does our team know, but all of our opponents know that she's going to be our first look," Vogel said. "So I think the stats she put up tonight are even that much more impressive knowing that the other team knows we're throwing it in there and she's still scoring 39 points."
TAMIU would go on an 8-0 in the middle second quarter to help take a 37-34 lead going into halftime.

At the start of the fourth quarter, St. Mary's would use the first half of the quarter to cut the Dustdevils lead to 63-58 with only 4:22 remaining in the game; however, the Dustdevils would score the final 9 points of the game to secure the win.

As for the rest of the game, the Dustdevils shot nearly 60% from the floor, and 2-for-12 from the three-point range, but at the free-throw line the Dustdevils dropped in 14 of 19 attempts.

The Rattlers shot 20 of 52 from the field, 6 for 20 behind the arc and made 8 out of 12 at the line.

"So proud of Rai," Director of Athletics Griz Zimmerman said. "Always working hard, always taking that extra shot and just an incredible young lady on and off the court."

During Brown's record-setting night, she went 17-for-21 from the floor on her way to 39 points alongside a team-high 7 rebounds.

Barbara Turkalj was the only other player who put up double digits with an accumulative 11 points, 5 rebounds and 4 assists in the win.
"I thought we played really, really hard," Vogel said. "Sometimes things don't go your way, sometimes they do, but if we play hard that's really all I can ask for and I think we did that."