CAMPUS: Welcome Day event opens campus doors for Fall 2022
By David Gomez Jr.
Editor-in-chief
Published Tuesday, Sept. 27, 2022
Each year, TAMIU holds a Welcome Day to introduce new students and welcome back existing students to kick off the new school year.
On Saturday, Aug. 20, new and returning students took advantage of late registration with the  Unfinished Business: A TAMIU Open House and Welcome Day event at the Sen. Judith Zaffirini Student Success Center.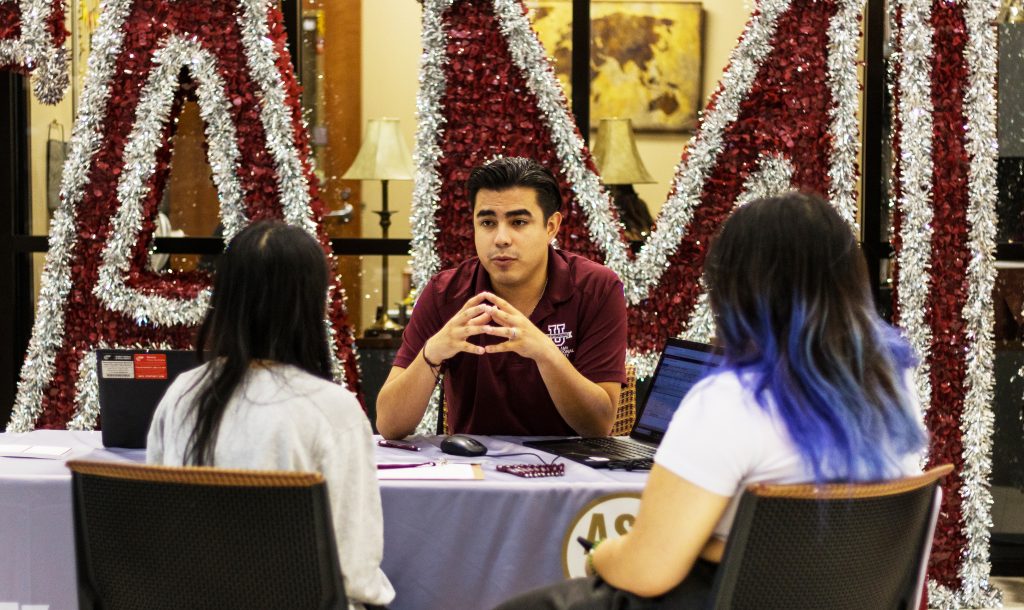 Office of Recruitment Director Jessica Treviño worked there on and off since 2010 in different positions before earning the director title.
"It's like a three-in-one, and ideally, takes place the Saturday before class day because we want to make sure everybody who is ready to come back to school or new to the University has everything ready and good to go," Treviño said. "This is why all our offices are fully operational."
Treviño goes on to consider the building as a one-stop shop for new and returning students as it offers open doors to admissions, advising, registration and bursars all under one roof—ready to assist.
A refreshment table with tacos, popcorn, water and an assortment of cookies was available for anyone looking to catch a break going from office to office.
"The food is provided to any student, or staff, [who] wants to grab a quick snack," student success mentor Jose Alvarez said. "Also, because we're up and down all day, anybody's welcome to grab anything on the table."
Alvarez recruits at local high schools. He also mentors first-time freshmen, transfer and international students who want to pursue higher education at the University.
"Again, it's the Saturday before the first class day, with the idea that we do it in conjunction with our housing facilities because people are already moving into housing and we want to make sure we're available to assist should they need anything," Treviño said.
Treviño adds that this is an event they hope to see annually.
"This has been something we've been trying to do for several years," Treviño said. "Obviously because of the pandemic, it was a bit on and off, but we did have it last year and we're having it again this year and we hope it continues to be an annual thing."
Most of the time, the office of recruitment hosts Saturday events throughout the summer and tries to host at least one Unfinished Business event per month. Due to housing simultaneously holding Move In Day, they bundled it together with Welcome Day.
Office of Admissions Associate Director Arianna Perez has been in that office for more than 20 years.
"We love all these events and I think it's a good turnout," Perez said. "It's also two of the last events we host to prepare students for the start of the semester."
Perez says her office is the first step to everything at the University.
"They must make sure they apply, submit their transcripts, test scores and once they're admitted, they meet the catalog's University requirements, and then they can go in for registration," she said.