Esports: Not just for guys
By Glenys Maldonado
Sports Editor
Published Tuesday, May 10, 2022
While some might think video games rot people's brains, the TAMIU esports team demolishes competition nationwide.
Esports at Texas A&M International University, through the Rec Center, includes teams for Rocket League, League of Legends, Valorant and Call of Duty. Additionally, there is a Super Smash Bros. team operated through the Smash Club organization.
TAMIU student Celeste Herrera, the only female currently playing esports on campus, plays on the League of Legends team.
"I just feel like this is an opportunity for everyone to understand that just because we are sitting down on a computer doesn't mean it isn't competitive," Herrera said. "We are not here just wasting time. Video games have always just been discouraged.
"For example, my parents would get mad at me for always spending time [on] my computer. Well, here I am, I work for esports. I get paid to play games now. Not only do I compete for the league of legends team, but I also stream here for the rec. I stream twice a week playing my games. So maybe they can see and maybe understand and maybe even get into it."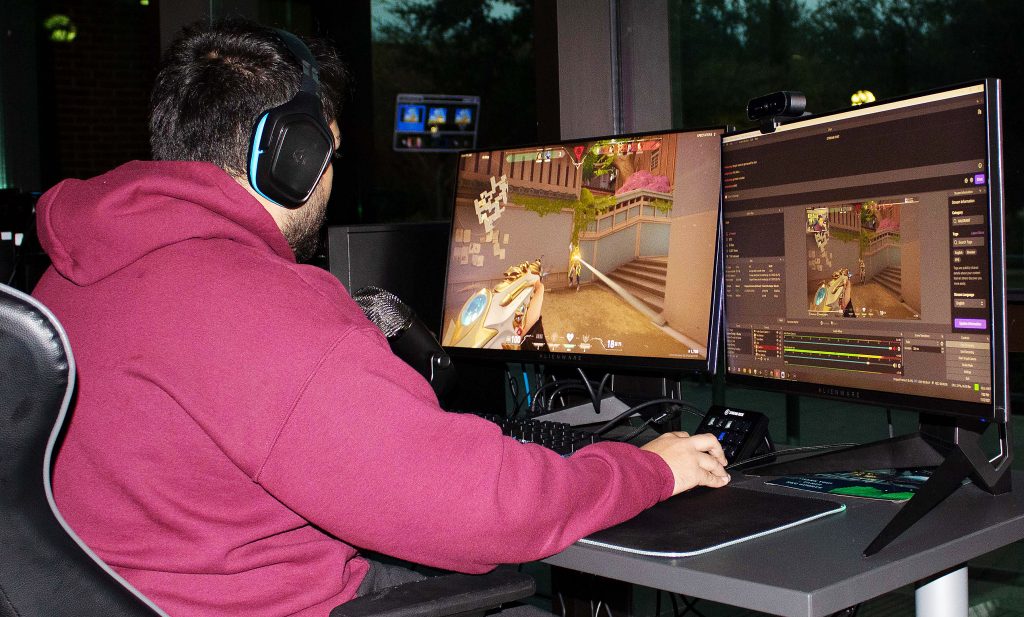 Esports involves a lot more than others might see at first glance. Like other sports, teammates need to make sure they continuously grow and improve overall.
"We do put [in] a lot of time and dedication," Herrera said. "Let's say we are eating; we will watch videos about the game so we can improve our skills."
Just like other sports, esports features competition, which requires long and hard hours. This also applies to Rocket League, managed by Ethan Garcia.
"Honestly, the culture, the energy, long practices–literally everything any other athlete does to train for any other sport is what we have to do," Garcia said. "My players tell me the most difficult thing is the time and being able to have the mental capacity and mental state to be able to play for long periods of hours because it's very difficult to do that."
The TAMIU esports program thrives in its recent performances and remains determined through a tight bond and resilience.
"Esports is a brand new system we just started having," Garcia said. "It's going to be here forever. It is just the start of it and although we don't get enough recognition, we don't need it though, because we are still going to keep going."
The competitors manage their own practices and continuously work to improve. Their coordinators help things run smoothly and keep the team alive through growth.
"He's very helpful, super supportive with my ideas, but any of my coworkers' ideas," Garcia said. "He's always pushing for us, always fighting for us and that is what I really respect about [Rec Center Assistant Director Ivan] Cano."
Aside from his time as a former soccer player at TAMIU, Cano currently serves as esports coordinator with many experiences to understand the type of values and priorities needed to be held first as a competitor. He tries to use the core values of the Rec Center in the esports program as well.
"I understand that gaming and esports, as a whole, has a stereotype: 'Oh, it's the people [who] never like to do anything,'" Cano said. "And if you look at the people [who] we have for esports, these individuals are not only doing esports, but they're doing their classes. They are working at the Rec, they are in organizations, they are streaming, they're learning.
"I want to really work as a collective to try to get away from the stereotype that gaming is lazy and they're not going to do anything. All of the esports guys were just here on Tuesday playing basketball."
Esports competitors continuously remain active and don't let the stereotypes get to them. Proving themselves through successful seasons, they keep a tight bond that takes them far.
"It is not just gaming," Cano said. "We are putting the name of TAMIU up high. Last semester, we were No. 2 in the nation for Call of Duty. This semester in our JV team, we were third place in the country. We just beat the University of Oregon, the Oregon Ducks. We have already beaten big names."
With many victories carrying TAMIU into high rankings, they continue to work and hold strong core values.
"You need to be a graceful loser and if you win," Cano said. "Then you need to be humble, as well, so it's like understanding both aspects of it."
Spectators and gamers can be on the lookout for their upcoming season Fall 2022, starting in late August.