City continues courts complex construction
By Silvia Blanco
Bridge contributing writer
Published Tuesday, Nov. 15, 2022
[Editor's Note: This is ongoing coverage of the tennis courts construction, which The Bridge began reporting on in 2019 by David Gomez Jr. and continued with a story by Leslie Villafana Martinez on April 3, 2021. Our most recent story was by Cristian Alardin on Nov. 19, 2021.]
Despite delays, construction continues on the city's new tennis courts located at TAMIU.
In an effort to bring a new tennis facility to Laredo, the city and Texas A&M International University partnered to make the complex a reality. The completed City of Laredo Tennis Complex at TAMIU is expected to include 18 courts, concession stands and locker rooms.
The courts were originally slated for a summer 2022 debut, according to the April 3, 2021, article by Martinez in The Bridge. Back in July 2022, KGNS reported on its website that the Laredo Tennis Association was looking into construction delays for the courts and its leadership members were basically unhappy with the slow rate of progress. The current completion date is now expected in late 2023.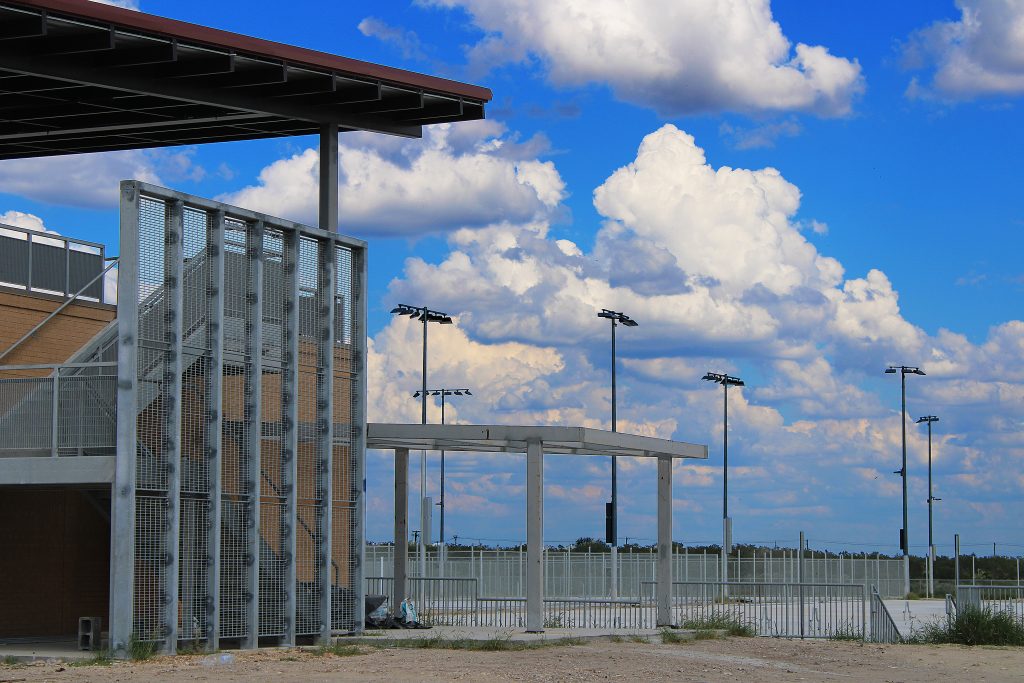 TAMIU Athletics Director Griz Zimmermann works alongside the city on this project and brought further insight on how plans for the facility came about.
"[City officials were] looking for a way of using city money to create some kind of sports complex," Zimmermann said. "The discussion carried on for a few years until they decided they would be tennis courts, and the city and TAMIU would go into a partnership."
City officials came to TAMIU in search of a prominent tennis facility, since the University holds a sizable quantity of property and lacked tennis teams and courts. Doubts about this partnership exist in some of the population's minds, regarding how TAMIU's future varsity team schedules will leave time for Laredoans to access the facility.
Zimmermann said the complex expects to feature nine courts for TAMIU use and another nine for students, staff or the public on a regular basis, which allows diverse access.
While the new facility should fill a need for both TAMIU and the city, possibly bringing these two communities together more often, some locals displayed mixed feelings over the project.
"It sounds like an opportunity for the school to attract more people and to give more visibility to the Athletics Department," Clara Fernández said. "As well as it will bring the Laredo community closer, since they will be more around the school."
Through this union, a positive impact could occur allowing high school tennis players to continue their careers while staying closer to home.
"It is far from everywhere and I doubt how it will work for both the University and the city," José Rivera said. "With all the time that is taking, everybody [in Laredo] will think that is property of the school and for the future tennis program."
On the other hand, this project does not seem to please everyone; it is seen as an opportunity for the school and not for the city. A big part of that is the location; the school is not as accessible to the general public as it would be having tennis courts in other areas of Laredo.