RESEARCH: Improved intergenerational communication key to preventing misinformation, local study shows
By Mireilly Gonzalez
Bridge Staff Intern
Published Thursday, May 5, 2022
Two TAMIU professors discovered a possible key to battle local misinformation.
Texas A&M International University Assistant Professor of communication Arthur Soto-Vásquez and Assistant Professor of social sciences Wanzhu Shi worked together on a research article on COVID-19 misinformation.
"We found a lot of interesting stuff," Soto-Vásquez recalled of their joint research.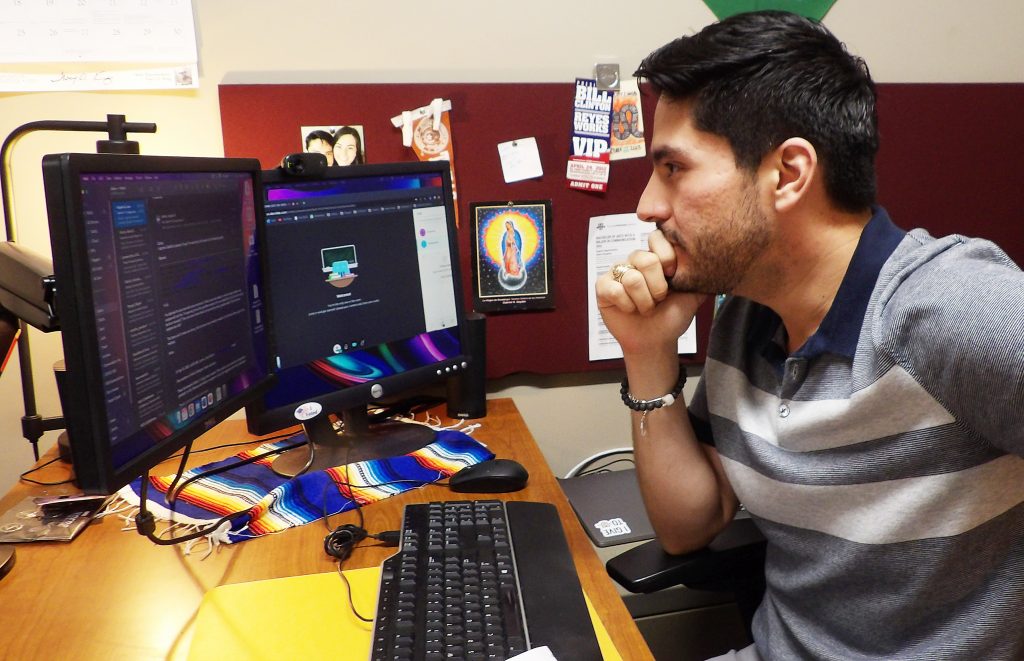 One of their key findings revolves around the idea of preventing misinformation through better intergenerational communication.
A couple of Soto-Vásquez's most recent studies include: "'Not A Monolith!' Media Narratives of the Latina/o/x Vote after the 2020 U.S. Election" and "Coup with a Q: Misinformation, the U.S. Capitol Insurrection, and Perspectives from the Field of Communication."
A couple of Shi's most recent publications include: "Implementing Social Media: Practical Reflections from Country Governments During Hurricane Matthew" and "Block the COVID-19 Transmission, but not the Global Intellectual Flow."
Both professors previously conducted qualitative research on COVID-19 misinformation together. Their first study, "COVID-19: Contextualizing Misinformation Flows in a U.S. Latinx Border Community (Media and Communication During COVID-19)" focused on intimate interviews with their subjects. Unlike their previous research, however, their current work is a quantitative study focusing more specifically on subject demographics.
"People here are generally hesitant to do it online, but they are willing to do it in some circumstances with family members," Soto-Vásquez said about correcting others when misinformation occurs.
Shi said their research also revealed two more things: younger generations were more likely to break the "pattern of misinformation" and that, when it comes to younger people correcting older people, a softer voice was preferred. This might be due to Hispanic households' greater respect for elders.
But in the U.S., research suggests that older people may be more likely to spread misinformation. According to a recent study published in the journal "Science" regarding misinformation during the 2016 election, shows that, while the spread of fake news articles on Facebook was much less than some may think, people older than 65 were seven times more likely to spread news than people that were 18 to 29 years old.
Experts suggest that older age groups may share more misinformation due to their diminished ability to recollect information, while others suggest it could be a digital literacy skills concern.
But aside from challenges with intergenerational communication, Shi and Soto-Vásquez also mentioned other possible factors for misinformation in Laredo.
Shi suggested that another significant contributor to misinformation is the language barrier.
"Official accounts like the local government or the … hospital … barely publish their social media information in Spanish," Shi said.
This might be a problem, because more than 90% of Laredo's population is Hispanic.
"That's why when we conduct our surveys here, or even when we do the focus groups, we always try [to offer] bilingual … Because in our community, or any community with a lot of minorities, you have to figure out a way to speak the local language, which I think a lot of public sectors—government or experts—[do] not realize that," Shi said.
Interested students may find the survey, sent out by Shi, in their school emails.