NEWS: Women's rally held in honor of International Women's Day
By Carolina Cruz
Bridge Staff Writer
Published Thursday, April 14, 2022
March was Women's History Month—a time to honor and celebrate women's achievements in history. Throughout the globe, people celebrate and rally for women's rights, including a march in March.
Texas A&M International University's Campus Activities Board hosted its women's rally in commemoration of International Women's Day on March 8.
"That women's rally was basically so that we can kind of spread the word because not a lot of people know there's an International Women's Day," CAB Vice President Mayela Villarreal said.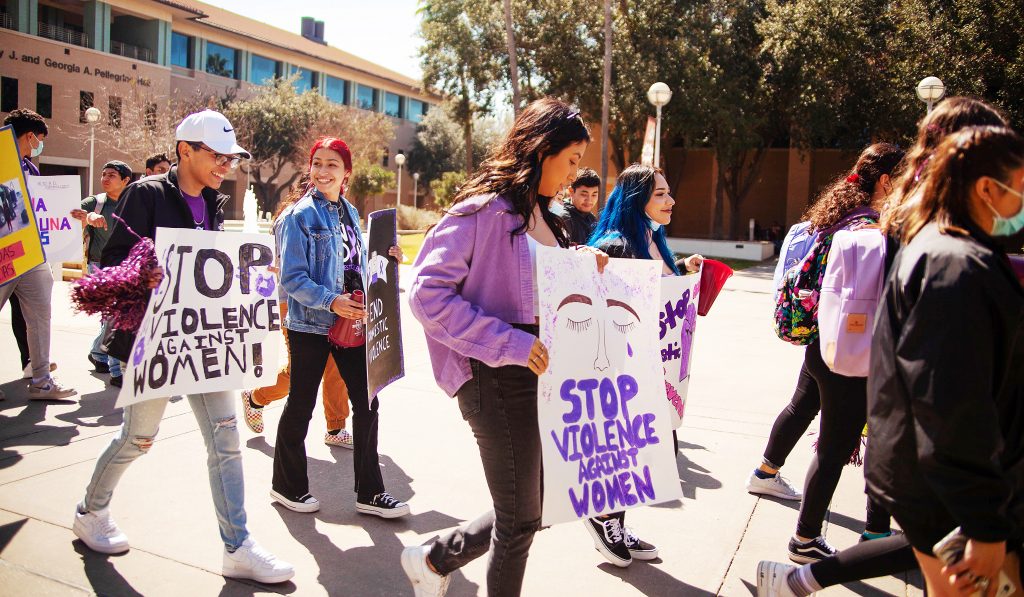 Throughout the week, CAB hosted several activities to honor this special day. From free women's care packages to the showing of the 2002 movie Frida about Frida Kahlo and conducting an information booth to inform students about the rally.
"We even had a lot of women and men leave prints on this huge banner that we used the next day for the women's rally," Villarreal said. "It was basically to show leaving their mark here, and there were so many handprints that we had to get another banner—it was awesome."
The rally was open to anyone who wanted to participate. Several social sororities and female-based campus organizations were invited to participate.
During the march, the group yelled out chants speaking out against "machismo," which is misogyny heavily present in Hispanic-based populations, such as Laredo. The group also chanted about women's empowerment, female body rights and women's social justice.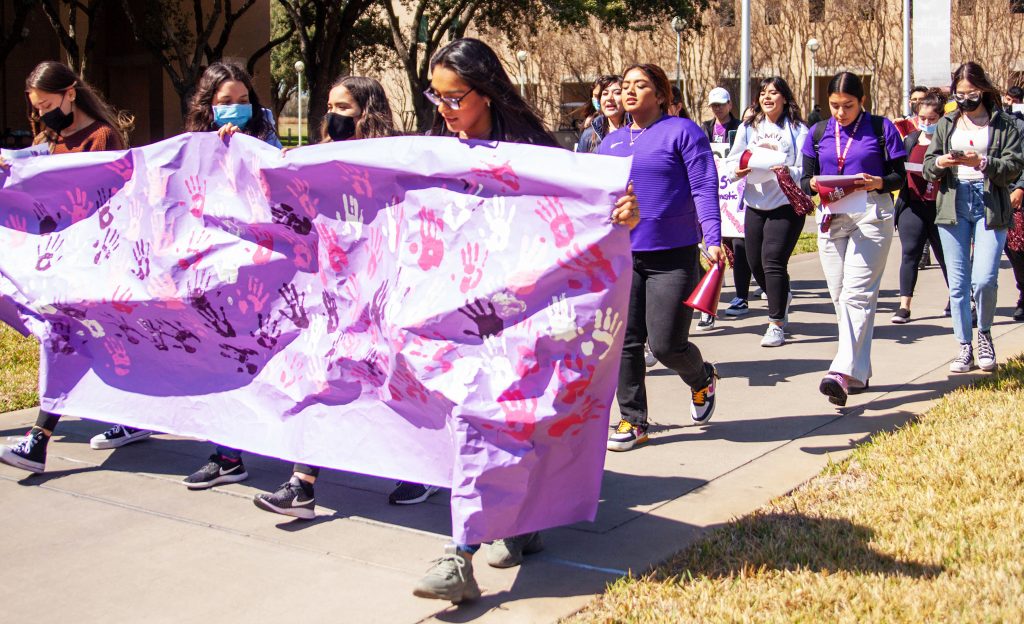 Even some UNIV students working on a project for domestic violence marched in the rally, wearing purple shirts to stand in solidarity with survivors of domestic violence.
Junior nursing major Fatima Garza said acknowledging women's history month is vital.
"It is important to acknowledge the courage from those women throughout history that have fought for our rights," Garza said. "The roles of women in society have evolved and have set outside the traditional housewife role. Because of that, women now have the ability to become whatever they please."
Similarly, senior biology major Amanda Arce said it's important to have campus events that honor International Women's Day.
"Having campus events like the rally are important because they inform all of us and bring us together," Arce said. "This rally was not just for women; it was for everyone. Bringing us together as a whole with events like this will allow us to move toward a positive direction and provide change."
Villarreal said these events are meant to promote education and inclusion.
"These events, that have to do with social justice or cultural awareness, have to do with more than just the University," Villarreal said. "It's more than just lotteria, more than just participating in events, Maroon Madness … we want all students to feel included."
The CAB vice president said the importance of supporting events like the women's rally gives voice to groups who faced oppression and advocates for their rights.
"I think it's very important to attend these types of events because it shows that TAMIU has a lot of activists here on campus and it shows that we, as students, are powerful, and we can make a change here," Villarreal said. "We could be more progressive and get away from that stigma of 'We are a close-minded university' because we're not, a lot of us are actually really open minded."