SPORTS: Dustdevils dominate at 5-0 for weekend
By Glenys Maldonado
Sports Editor
Published Thursday, April 14, 2022
Dustdevils softball won all five games, leaving sun-kissed and nothing behind.
Texas A&M International University faced a long weekend March 25-27 at the Dustdevils Softball Field with the first three games against Western New Mexico and the last two games against University of Texas-Permian Basin. The Dustdevils dominated the field. With tunnel vision for a successful weekend, the Dustdevils had the final scores, respectively: 8-3, 5-3, 9-1, 5-2 and 8-4.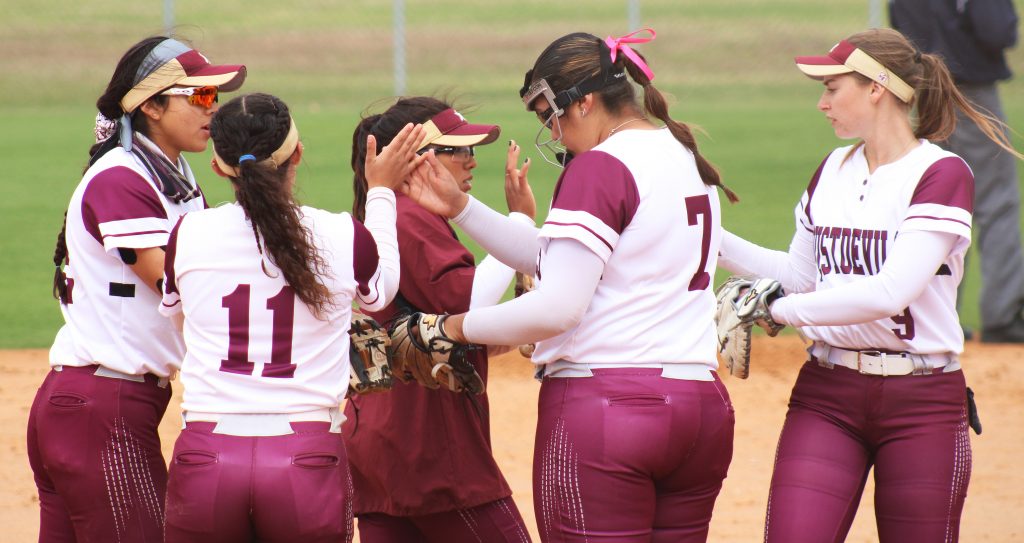 Several overall weekend leaders made their presence known:
Briana Arredondo: 4 home runs, 1 double, 5 RBIs and 5 runs
Victoria Gonzalez: 2 home runs, 1 double, 3 RBIs and 3 runs
Alex Hernandez: 1 double, 3 RBIs and 7 runs
Victoria Maldonado: 1 double, 3 RBIs, 3 sacrifice bunts and 2 runs
TAMIU had an impactful weekend toward its record, but that is not the only way this team measures success after a victorious triumph.
"We needed to win all weekend, but if we see our team improving and—from where we were on day one to where we are now—that's a measure of success," coach Scott Libby said. "A lot of times people just look at the wins and losses or they look at if somebody gets a hit or if they get out, but we're not always result-oriented. A lot of it is the process and if we see that we're going through the right process to reach our goals, then that's success."
Although they make it look easy, it has not always been smooth sailing.
"We've been hit," Libby said. "We've lost our No. 1 pitcher due to [COVID-19], she's been out all season. The young lady [Maldonado who] was catching, she missed 25 games due to a fractured finger. We had nine players a couple weeks ago with the flu and strep throat and all that. So it's been very challenging, but also it's given opportunities for everyone to participate."
Through their bumps in the road, they continued to persevere and remain focused on their season goals.
"I tell the girls, 'Don't worry about the win-loss record right now,'" Libby said. "Look at our standings instead, we have to finish in the top 10. There's 16 teams [to qualify for the Lone Star Conference Tournament]. Top 10 make the tournament. With [the] tournament, everybody [is] 0-0 and it's anybody's tournament."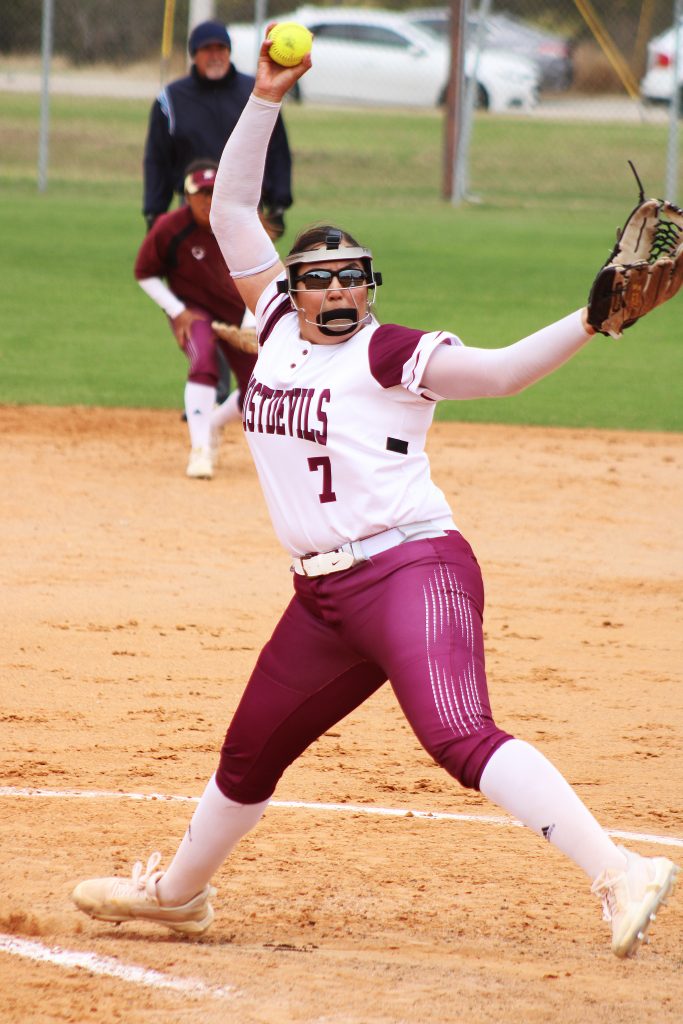 The Dustdevils recently flipped the script and now enter the field ready to intimidate. Maldonado serves as the team's catcher and third baseman.
"TAMIU has not really gotten the 'Oh my God, we are playing TAMIU—like they're an awesome school.' It's always like we were the underdogs. So last year when we started turning heads, now we walk onto the field and now it's like 'Oh shoot—like they are not the underdogs anymore—like they can actually pull off the win,'" Maldonado said.
TAMIU continues to surprise and keep the rest of the Lone Star teams on their toes. Arredondo serves as the team's catcher and designated hitter.
"We always have to make adjustments because they've seen most of our lineup," Arredondo said. "They're like 'Well, we know this player and we know what they can or can't do.' So we have to make adjustments and do what we need to do."
Gonzalez serves as the team's pitcher and first baseman.
"It also gives us a certain push because they already know what we have, so we have to show up and be better than how we were last year," Gonzalez said.
This huge change in record resulted from driven mentalities and team goals.
"Our goals are just play and have fun and win," Arredondo said. "We have to find a way to win, being a team player all the time, being ready when your number's called all the time. That's something we emphasize a lot: when it's your time, it's your time to go."
Maldonado added, "What I really like is one of our goals is 'One game at a time,' because there's so many games. So of course like this week, we went 5-0, which is awesome. That was the goal for this week. So, we set little goals in order to get the big goals, which obviously is to make the conference tournament."
It is not always business, the Dustdevils like to make sure to keep their chemistry flowing and continuously bond on and off the field. One of the team-building events is an annual ping pong tournament.
"It brings us all together and it gets super competitive," Hernandez said.
Through many goals in mind and playing in a very competitive conference, the Dustdevils have their eye on one specific upcoming game.
"I think we're looking forward to Kingsville," Arredondo said.
Gonzalez agreed, "Kingsville is our last game, and it is Senior Day."
"We are going to have home-field advantage and get revenge [for last season's loss]," Hernandez explained.
This upcoming rival game is scheduled for April 30 at the Dustdevils Softball Field. The women expect the stands to be filled with family and fans.