GREEK LIFE: Greeks support Dusty's Food Pantry
By Elis Reyes-Sanchez
Bridge Staff Intern
Published Wednesday, April 13, 2022
Food insecurity is a problem some students face during their collegiate studies. Research shows that students who suffer from food insecurities are more likely to have attention problems and be poorly prepared.
Many schools created a student pantry to help prevent hunger. In October 2017, Dusty's Food Pantry was created, with the help of the Division of Student Success, to eliminate hunger among Texas A&M International University students.
In order to achieve this goal, TAMIU's Greeks launched a food drive to benefit Dusty's Food Pantry during Greek Week. On March 30, various Greeks gathered from 10 a.m. to 5 p.m. at the Student Center Rotunda to accept non-perishable food and toiletries from TAMIU students, faculty and staff.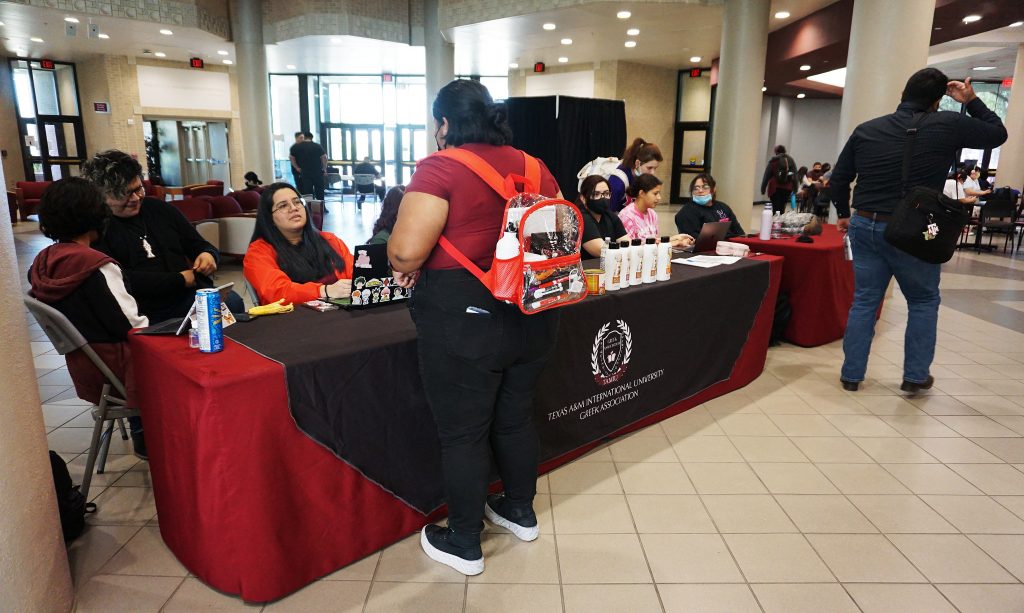 Greek Council President and Alpha Psi Lambda member Ana Christina Alvarado said it is important to help the campus community by giving back.
"This goes back to [Dusty's Food] Pantry, [which] we have here on campus," Alvarado said. "This is a way for the Greek community to give back and help other students. This kind of shows what we stand for, so every organization has its own philanthropy—their own thing to give back."
For Delta Xi Nu member Dora Guerrero, not only was this an opportunity to get donations, but it was also a way for students to see the Greek community in action and recruit members.
"The Greek donation drive is basically a way for the community to get to know all Greek organizations and get involved next semester and try to rush," Guerrero said.
At the end of the drive, Greeks helped restock the school's pantry with needed non-perishable food and toiletries.
Interested persons may find the two pantry locations: 8 a.m. to 5 p.m. Mondays through Fridays at the Student Center, Room 226, and 9 a.m. to 6 p.m. Mondays through Fridays and noon to 3 p.m. Saturdays at the University Village.