CAMPUS: 'Tree of Luck' joins campus 
By Alexia Rodriguez
Bridge contributing writer
Published Sunday, April 3, 2022
One of the newest campus features, a maple tree-shaped fountain, trickles water down its leaves onto the rock-covered ground.
In late Fall 2021, students walking near the Western Hemisphere Trade Center saw the fountain just before winter break. Installation took nine months.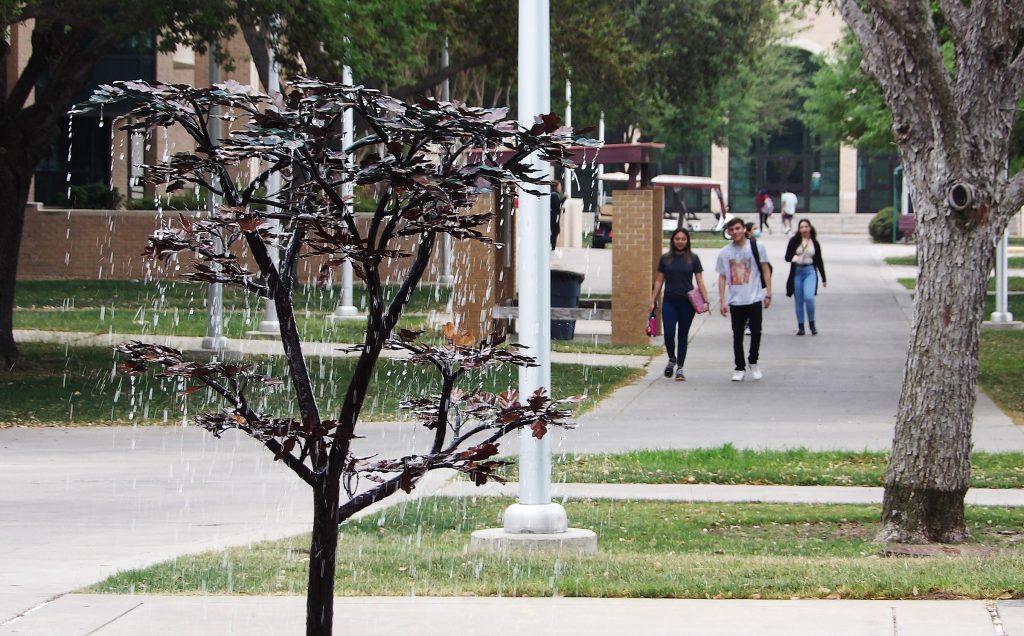 Senior Director of Campus Safety and Planning Trevor C. Liddle, who helped choose the fountain's design, shared the deeper meaning behind it.
"[The] maple tree represents what we do," Liddle said. "It's a slow grower. It's strong. It can resist a lot, and then it reveals its beauty."
It was also custom-built and designed in the U.K., which speaks to Texas A&M International University's international mission.
Students also believe the maple tree fountain can grant good luck, like the Acequia Fountain in front of the Sue and Radcliffe Killam Library.
"I like [the urban legend of the Tree of Luck], because it is clear the students have embraced [the fountain]," Liddle said.
The "public functional art piece," as Liddle describes it, helps with campus beautification. But it also creates a more relaxing environment outside the WTH.
"I think it's very pretty and it kinda adds a relaxation vibe," TAMIU student Evelyn Medina said. "I look at it and it is very relaxing."
Like Medina, fellow student Isai Cardenas enjoys the structure.
"When you sit near it, the water is nice to listen to while doing work or just chilling there," Cardenas said.
But as the lengthy time for installation suggested, adding the fountain to campus was not easy. The fountain consists of many different parts to make it work; each part was considerably expensive.
"The tree and all of its functional parts were several thousand dollars," Liddle said. "Not a lot of colleges are able to do what [Vice President for Finance and Administration Juan] Castillo and I have been able to do here. And that is a gift. That is a gift that our community doesn't necessarily come and say 'Thank you,' but they give us their thanks by enjoying the space."
Students can visit the Maple Tree Fountain at any time, since it operates every day and hour during the regular semesters. For the preservation of the motors, the fountain turns off during breaks.
Looking forward, this shows the potential for public art pieces in TAMIU's outdoor space, which students might enjoy.
"It would be very cool if there were more art pieces like that around campus," Medina said. "It just adds more character and life to the campus."