SPORTS: Midwestern State defeats TAMIU
Glenys Maldonado
Sports Editor
Published Friday, March 18, 2022
The TAMIU men's basketball team fell short against Midwestern State University, 66-61, at season's end but flipped the entire program this season for a better tomorrow.
Low scoring dominated early in the first half of the Feb. 19 game with the board reading just 2-2 before the 16-minute media timeout, and 14-10 with the Mustangs leading at the 12-minute media timeout that came at the 9:08 remaining mark.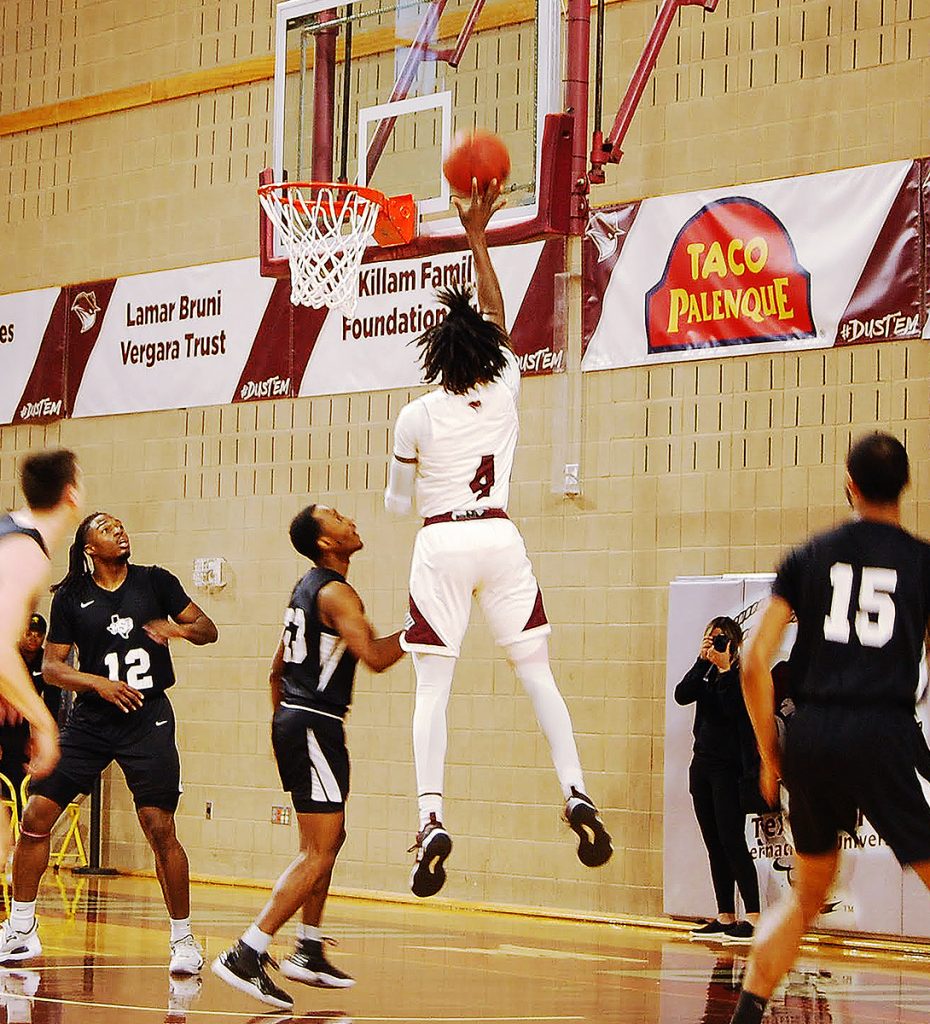 The gap grew after the break, with the Mustangs running another nine points to their score, but the Dustdevils came back quick on the scoreboard with a 12-2 run. This led to a 22-22 tie in the game with 3:14 remaining on the clock.
The Mustangs used that bit of time to break the tie with a small lead, leaving the first half with the score of 28-25.
Leaving the locker room and out of halftime, the Mustangs carried their momentum through the first four minutes and grew their lead another seven points. The Dustdevils played catchup and were successful to do so. They once again tied the game back up at 43-43, with 9:29 remaining.
With both teams landing basket after basket, they continued to put an increase to the scoreboard. The Mustangs, however, took the lead and put a six-point wedge leaving the score at 57-51, with 5:30 remaining,
The Dustdevils, battling for that tie again, scored another 8 points. The Mustangs escaped with just a couple of baskets, leaving the Dustdevils to fall short for the game.
TAMIU's scoreboard leaders included: freshman Journee Phillips with 16 points; junior La-Quiem "Q" Walker with 12 points and four rebounds; senior Greg Bowie II with 11 points; and junior Daniel Kiely with 7 points.
"Every coach is different, so the players have to fit the style that the coaches want to have," coach Rodney "Mac" McConnel said. "So, we were able to come out and get that this year. We started off hot then COVID came around again and put us in quarantine. We kind of lost our rhythm and we are trying to get it back."
Aside from the importance of winning, other variables come into play as well.
"It also depends on how hard we play, how smart we played," McConnell said. "Then almost always the final score, but sometimes we can't get the win. Then it's on: Did we do the things we worked on in practice? Did we execute what needed to be executed? Or, are we getting better game by game?"
With plenty of new faces, comes long-term expectations.
"Realistically, you know you're not going to get 13 brand new players and go off [and] win a national championship," McConnel said. "What we want to do is build off of it, the foundation of it and have something to continue to build.
"When the guys are all locked in, we play together. I do believe that each kid gets along with each other, and we try to pick each other up. There's no animosity, there's no disliking, there's no cliques … everybody is one."
Their performance has not solely improved through execution, but through the help of their team chemistry, as well.
"Like today[, Feb. 19,] after the game we will come in the gym, or watch a movie together or watch TV shows together, just to keep the bond going," Walker said.
"We are doing really [well]. There were some games that we lost; we really could have rounded it out more. We had a lot of close games."
With just a couple of missed wins, their performance, and their record this season, remarkably improved from previous seasons.
"This season alone, we have won more games than the past four years combined," Walker said.
This huge change to the Dustdevils program did not come easy; they consistently worked hard to make this happen.
"We've been going really hard in pre-season, before [the] season even [started], we go hard to prepare us for games," Kiely said. "During practice, we go over plays and do drills over and over again. We try to put it in our heads, so it can become routine. Outside of practice, the gym is always open so there is always time for us to work on our game on our own, like one-on-one."
Through many hours of hard work and many battles faced, they remain united.
"We are all invested, and we all want the same thing, the same goal," Kiely said. "Sometimes it doesn't work out like today, but we all want the same thing for each other. We all care about each other a lot."
With the team in a building phase and with determined mindsets, there's a bright future ahead for the program.
"[TAMIU] is a smooth, cool drink of tea on a summer's day," McConnell said.