SPORTS: Team chemistry dents scoreboard
By Glenys Maldonado
Sports Editor
Published Thursday, March 17, 2022
The stands filled with excited fans, the TAMIU women's basketball team dominated at 79-53 over Midwestern State, securing a spot in the Lone Star Conference Tournament.
The Dustdevils concluded the first quarter with a 20-18 lead on Feb. 19 in the Texas A&M International University Kinesiology and Convocation Building's gymnasium.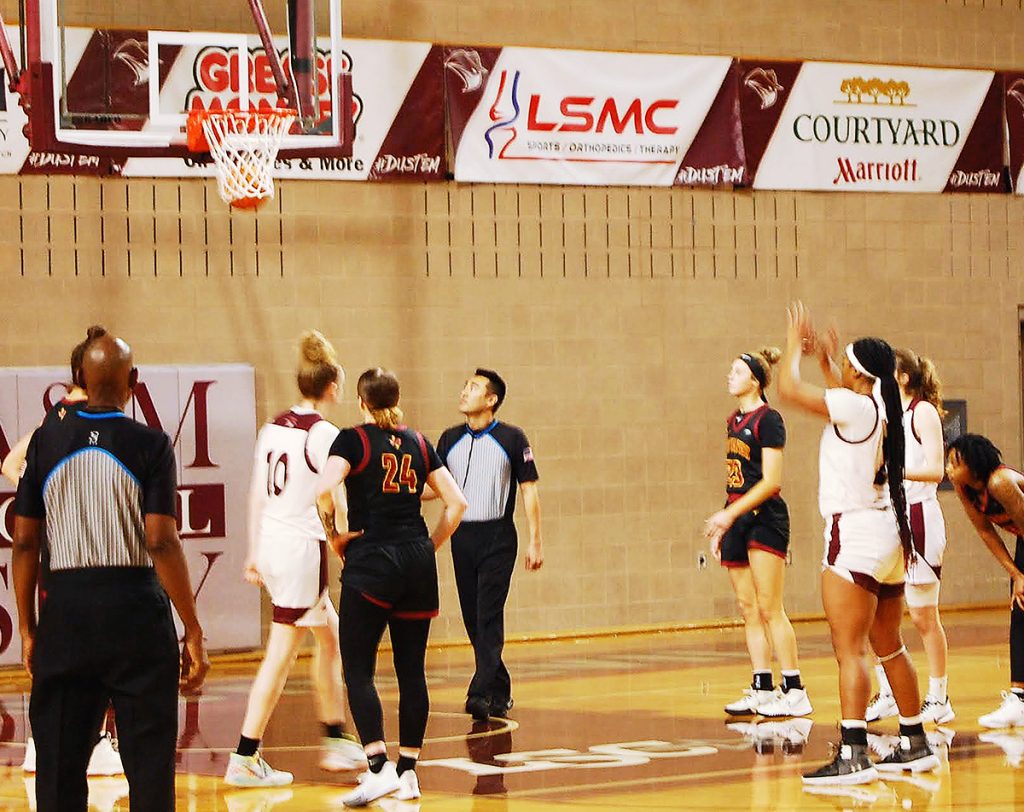 In the second quarter, the Dustdevils almost doubled their score, going up to 39 points with the Mustangs trailing behind at 27 points. The Mustangs rolled with another 6 points, concluding the half with a score of 39-33.
TAMIU outscored Midwestern, adding an additional 27 points to the scoreboard, leaving the Mustangs only scoring 10. This left the third quarter at 66-43.
Low scoring filled the last quarter and its conclusion. The Dustdevils still took the lead.
Scoreboard leaders for the Dustdevils included: sophomore forward Raiana "Rai" Brown with 28 points, nine rebounds, a block and three steals; freshman guard Evelyn Quiroz with 19 points and six rebounds; freshman wing MiLinda "Mimi" Arguellez with 12 points, two rebounds and two assists.
The team's performance is no surprise, as their chemistry can be seen throughout the game by spectators and fans.
"Our team players are the tightest group of players I've ever known," coach Nate Vogel said. "They love each other to death. If you are in the cafeteria, they are always in a pack. That's a big reason why we have been so successful … Our biggest strength is our team's chemistry."
Hailing from Opunake, New Zealand, senior wing Eva Langton spent two years at Western Nebraska Community College before transferring to TAMIU for the 2019-2020 season.
"I've never been in a team where every single person has my back, off the court as well," Langton said. "There is a lot of love off the court and on the court. I feel that's what has helped us get to where we are at."
Langton's and Vogel's viewpoints paralleled Brown's.
"I've never been at a college where I connected so fast to a team," Brown said. "It's not even bonding … we can just be going to Walmart, and we all go together or ask who wants to come."
With this season beginning with a couple of COVID-19 mishaps, the Dustdevils ended up looking forward to the LSC Tournament.
"Now we are where we need to be," Langton said prior to the tournament. "To get us where we were before. Now we are just looking forward."
TAMIU ended up with an 18-11 overall record for the season, including two Lone Star Conference Tournament appearances. In the first game of the tournament, March 1, they defeated Texas A&M University-Kingsville 66-64. They fell in the second round of the playoffs on March 4 to West Texas A&M University, 56-75, at the Comerica Center in Frisco, Texas.
"We're getting really good at the end of the season and that's what every coach hopes to happen," Vogel said prior to their tournament appearances. "We are doing pretty good, but we are trying to win the conference."
Along with the late-season victory, the Dustdevils celebrated Langton on Senior Night, concluding their 2021-2022 season's home games.
"[My TAMIU experience] was up and down, but [Vogel] has definitely turned this program around," Langton said. "I came here in his first year. So, we have stuck with this together. It's been an experience and obviously good and bad. Overall, I cannot say anything bad or complain.
"Training, I have to give it to Sarai and Kayla and Chelsea. I go in every day, and they get me right. I've never had a coaching staff that has worked this hard. The girls too, we come in and we grind every day. The professors are always understanding [with travel schedules]. Overall, I cannot say anything bad. We've come out and done it. Thank you to my family and to TAMIU athletics for giving me this opportunity to become the player I am now."