Baseball team off to strong start
By Glenys Maldonado
Sports Editor
Published Saturday, Feb. 12, 2022
Sunflower seeds at hand, students filled the stands this past weekend at TAMIU's Jorge Haynes Field for the official baseball opener. Kicking off the 2022 season, the Dustdevils faced off against the University of Texas–Permian Basin's Falcons.
With new faces and big expectations, the Dustdevils had a quick first three innings with an empty scoreboard as neither team was able to score.
"I was anxious at first because I am a freshman and knew I was going to have to get up on that mound and be ready," starting pitcher Christopher Sauceda said.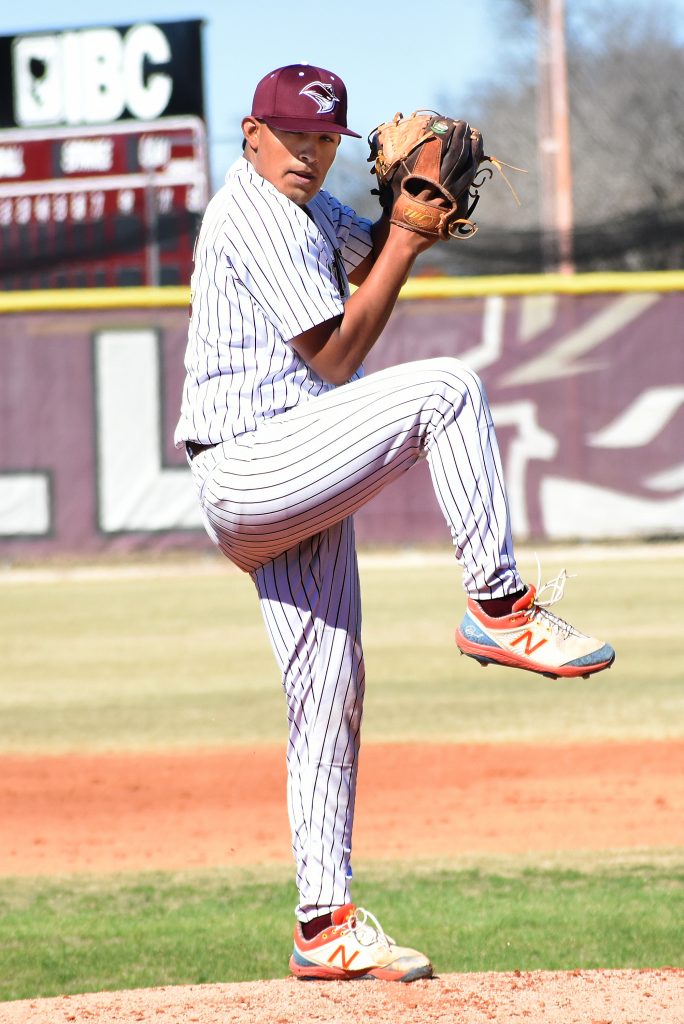 After taking the mound Saturday, Feb. 5, he swept Falcon batters one after another. Sauceda pitched the first three innings, allowing only two hits, two walks and striking out five.
In the fourth inning the Dustdevils let in a run, leaving them at 0-1. It wasn't until junior outfielder Cameron Yeldell tied the game and senior infielder Ariben Gutierrez drew a bases-loaded walk, giving a lead of 2-1. The gap grew 3-1 when junior Beto Cervantes singled in senior catcher Ronnie Bailey at the bottom of the fifth.
The Dustdevils headed into the sixth inning with a lead, but just like Bailey said, "Baseball is a weird game." Permian Basin brought in six runs, giving them a 7-3 lead.
In the bottom of the ninth, the home team didn't go out without a fight and brought in two runs off an RBI single by Bailey. However, leaving two runners still on base, that was the end of game 1 with the Dustdevils falling short and the Falcons taking the win at 7-5.
"We didn't get the result we wanted, but we are going to try and come back tomorrow to reverse that a little bit," Bailey said after the game.
They flipped the script as they took both wins of the double header this past Sunday, Feb. 6, with final scores of 15-6 in game 1 and 9-1 in game 2.
"We try to compete every day–to every last out," Bailey said. "I think that really helps us play the full game."
With that hungry and competitive mentality, the Dustdevils held a lead for the series at 2-1 going into their last game on Monday and then took it all with a final score of 9-3.
"Wins [are] our main measure of success after a weekend of playing," coach Philip Middleton said.
After a successful weekend and a series win in their pocket, the Dustdevils started off strong, creating bigger and attainable goals for this season.
"I expect us to compete in every single game," Middleton said. "This team has set some very strong goals for themselves and making the conference tournament is probably our biggest goal."
The team is one-of-a-kind, having a diverse roster with individuals who bring many different talents and skills to the table.
"I think we have an outstanding culture," Middleton said. "I think it all starts with our work ethic and our attention to detail, but our culture is our single-most important thing about our team. Come support us. These guys have worked very hard and deserve our support. We are going to be playing extremely hard."
With the great start, the Dustdevils can expect a lot of support from fans this coming season.