TAMIU students create ceramics with guest artist
By Mireilly Gonzalez
Bridge Staff Intern
Published Saturday, Feb. 12, 2022
A diverse group of TAMIU students, from young adults to senior citizens, participated in a recent ceramic workshop. A guest artist shared her expertise with the full room of students.
The workshop was held Jan. 31 and Feb. 2 at the Center for the Fine and Performing Arts. Guest artist Gabriela Martinez, or "Gabo Martini," worked with a group pursuing various paths, including a bachelor's majoring or minoring in art, as well as other majors like nursing or biology.
Senior art major Oracio Rodriguez, 77, returned to university education to pursue his bachelor's. He attended the workshop.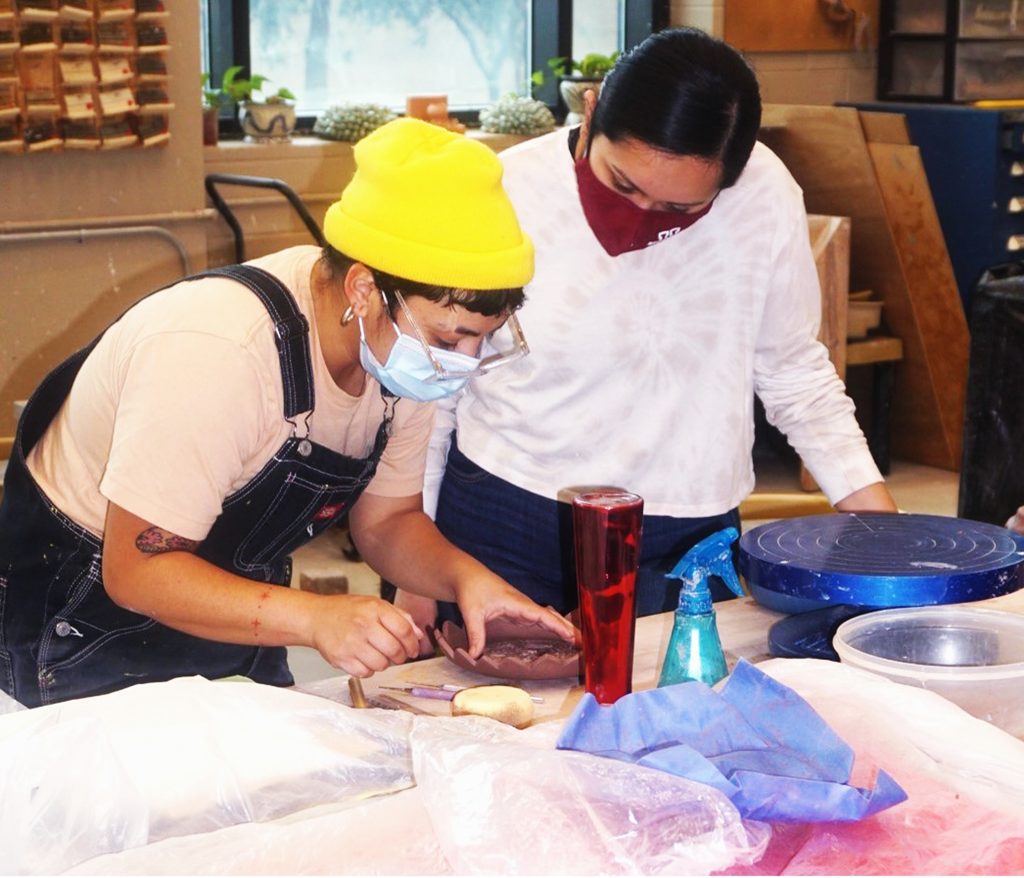 "I started taking all the required courses, and it got to me," Rodriguez said. "It was very stressful … taking the courses. And I stopped and about three or four years went by, and I decided to come to TAMIU to finish–get the degree. And with all of the hours that I have right now, when I transferred here they considered me a senior.
"I like everything [about art]. Especially in oil paintings, I like to express [myself]. I like for my pictures to talk and I love it."
Another workshop participant, Teresa Castillo, taught civics for years; currently, she finds herself determined to learn art. For her, art helps continue bonding with her family.
"I [am teaching] my three grandchildren and my daughter," Castillo said. "After school … I have a little school waiting for me at home."
Her ceramics projects from the workshop now sit on her tables back home.

She joked that her grandchildren would constantly nag her about any new art she created at school.
"[And] my oldest daughter, she's 52, and she's like, 'Mom, when are you gonna make me a macetita?' [I tell her,] 'I don't know, mijita, but maybe I can [bring you] a surprise."
A couple of tables away, Jessica Rullan and Salwa Omar, worked on their own set of dishware. Rullan, on one hand, was creating a ramen bowl, while Omar made a bowl with curved, almost flower-like edges, as well as a plate.
Omar took the ceramics class to complete her semester hours, yet does not have a minor in art. However, she said she enjoys art.
"I have two other biology classes I'm taking this semester," Omar said. "And I'm treating this one as my therapy class."
Another concern for artist Gabo Martinez includes the importance of mental health in art.
According to her online art portfolio, two of her pieces that stand out include a couple of big vases with colorful Spanish phrases on them.
The vases display traditional Mexican art influenced by Martinez's artwork and her artistic choice to include Spanish phrases and to step out of traditional art.
She said it is her own poetry.
"The process of carving it was kinda therapeutic for me," Martinez said. "And the [pieces are] really colorful, so people can't see how dark [they are]."
Like Rodriguez, the guest artist also emphasized the importance of self-expression.
"Self-expression is self-healing," Martinez said. "It actually connects me with my emotions and [to] kinda check in with myself."