National Girls and Women in Sports Day reaches TAMIU
Elis Regina Reyes-Sanchez
Bridge Staff Intern
Published Sunday, Feb. 12, 2022
As National Girls and Women in Sports Day celebrates its 36th anniversary, female athletes organized a meet-and-greet to celebrate at TAMIU.
On Friday, Feb. 4, senior business administration major Glenys Maldonado, also a Texas A&M International University volleyball outside hitter and defensive specialist, organized the noon event in TAMIU's Breezeway. Due to inclement weather, the location was changed from the Breezeway to the Student Center Rotunda.
Maldonado created the event in hope of getting female athletes more recognition from their classmates.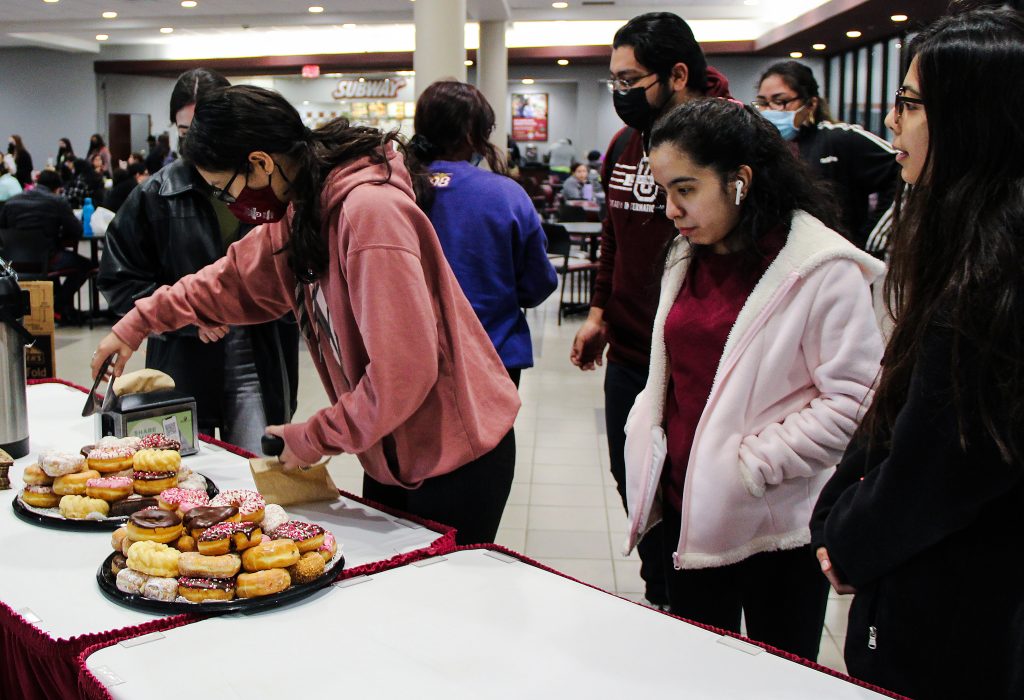 "We don't really get a lot of recognition," Maldonado said. "I feel like a lot of people don't know us and that's something that had already been in my head since last semester. Especially like with Maroon Madness. It's more toward basketball in general, but I feel like it was more toward the guys."
Although the meet-and-greet was dedicated to female athletes, non-athletic students participated to help Maldonado's cause.
Senior biology major Monserrat Garza, who also serves with the Student Government Association, took part in the event to help promote female athletes and get more recognition for female sports and games.
"We noticed that people here [don't] really know about the games or the dates," Garza said. "So we decided to create this event, so you know about them. We hope people attend more games and support them."
Maldonado plans on future events to promote female sports on campus. She already has ideas she plans to implement in the upcoming months this semester.
"The obvious goal would be something like Maroon Madness," Maldonado said. "What I mean is maybe we can do several little booths where each sport can talk about their sport. Or for example, in the soccer booth, the [women] would teach the students pointers or teach them how to pass. Something like that would be the goal. But I think at first, I am going to start small."