Dustdevils outjoust Knights
By Orlando Gonzalez
Bridge contributing writer
Originally published in the print edition on Friday, Nov. 19, 2021
After three consecutive wins in the regular season, the Dustdevils keep their momentum going with a 3-0 record. Coach Rodney "Mac" McConnell's men's basketball team defeated Chadron State University, South Dakota Mines University and stomped all over Southwestern Adventist University.
Following Monday night's 79-41 victory romp, Nov. 15, at home against SWAU, Texas A&M International University's men showed they are a force to be reckoned with. This followed a 52-48 win on Nov. 13 over SDMU at Rapid City, South Dakota, and an 82-73 win on Nov. 12 over Chadron State at Chadron, Nebraska.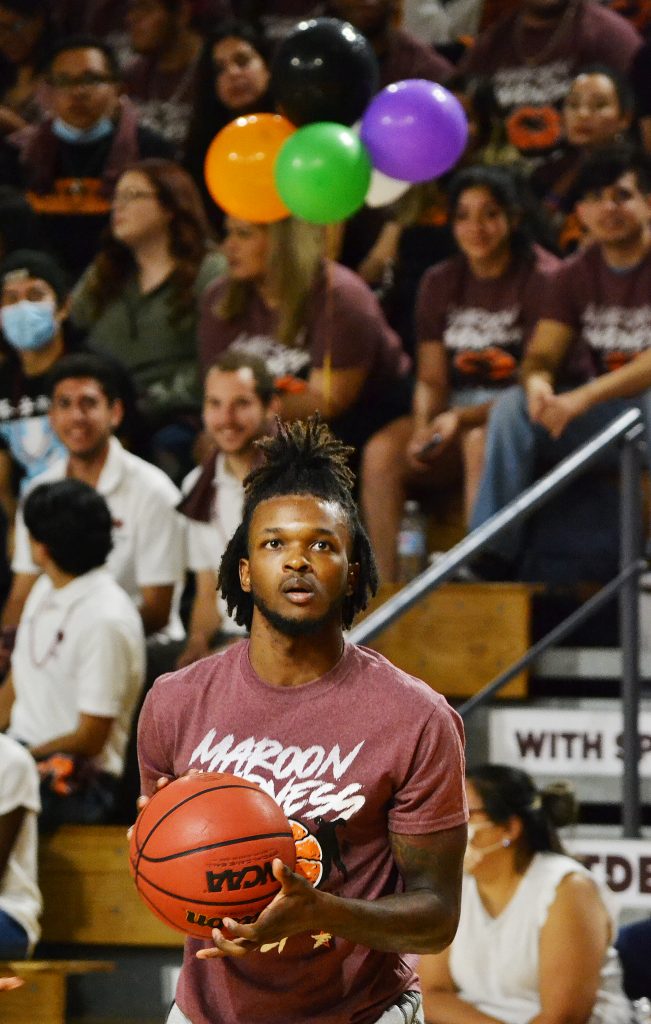 Freshman business major Anthony Scott, of Waco, joins TAMIU as a point guard and one of its newer recruits—hailing from Midway High School.
"We have been working so hard, training every day and giving it our all for this new season," the point guard said. "We are ready to leave our sweat, blood and tears on the court."
The way the Dustdevils did that was by sandblasting the Knights' armor, proving that dust is truly mightier than the sword.
"The guys have been pushing themselves and striving for their best version," McConnell said. "They come to every practice with their mind set on the win. I keep pushing them harder every day; I expect nothing but the best from them, and they know it."
With three consecutive wins and an undefeated record in the regular season, as of Nov. 13, it appears this tactic may have paid off.
"We are looking forward to seeing the bleachers filled with screaming fans," Scott said. "Games during [COVID-19] were not the same. We really missed the fans. They give us that extra push we need to get that win."
During the Nov. 15 game, Scott played for 11 minutes and brought home 2 defensive rebounds, 3 assists and a steal.
McConnell joined the Dustdevils in March 2020 as the team's seventh coach and is backed up by assistant coach Rob Yeatts. McConnell is no stranger to coaching excellence in basketball; 12 of his former players have gone on to play professionally, 27 reached all-conference level and two were All-Americans.
This season began on Tuesday, Nov. 9, with an exhibition game against University of Texas-Rio Grande Valley in Edinburg. TAMIU did lose that exhibition game 59-74.