Records-breaking Dustdevils rally past Rattlers
By David Gomez Jr.
Editor-in-chief
Originally published in the print edition on Friday, Nov. 19, 2021
The Dustdevils triumphed in a dramatic win over the Rattlers on Friday and broke records on Saturday.
Texas A&M International University gets past St. Mary's University on Nov. 5, inside the Kinesiology and Convocation Building, in a close, nail-biting victory.
Many kills, aces and blocks took place as the Dustdevils would win the first set and then trail the following two.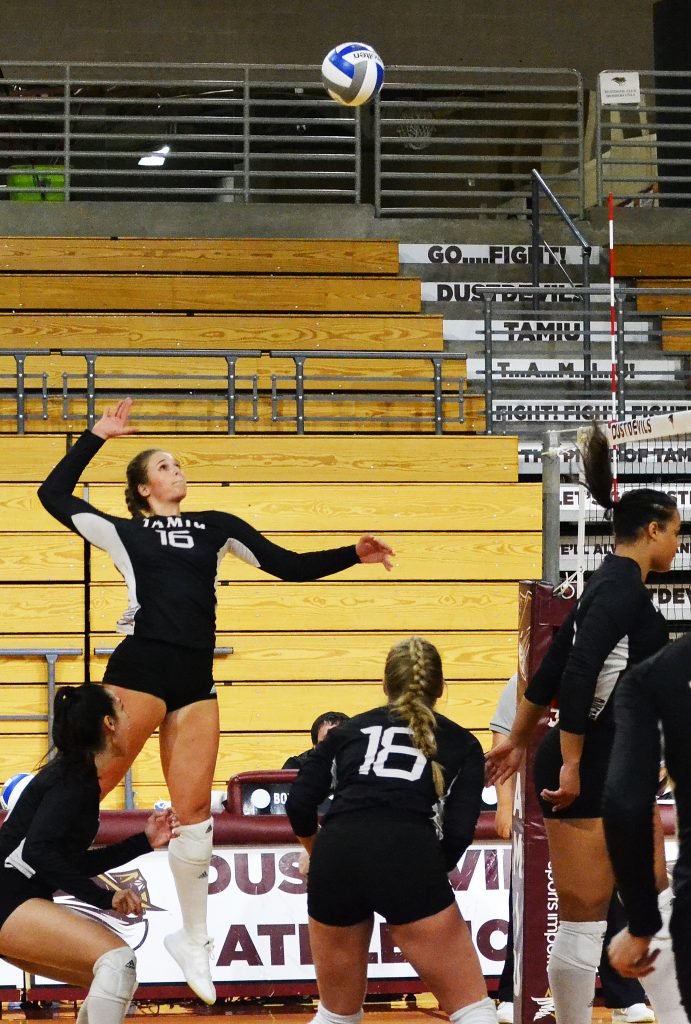 Fans in attendance believed this to be the end of the game and left two sets early. Still, half remained in the bleachers to provide just as much in support. The gym echoed from the roars of those who remained, to see what the Dustdevils were capable of in the zone.
Senior Mackenzie Catalina placed herself in sole position of second place in TAMIU's all-time history for kills with 23. The following day, she would break the record and earn first place all-time in kills against St. Edward's University. This broke a 13-year record.
Another record breaker, Maison Kosse, became the fourth Dustdevil in program history to amass 2,000 career assists during the same Hilltopper game.
They closed out the season with two more away game losses against the University of Arkansas at Fort Smith and Oklahoma Christian University.
Catalina broke yet another school record, finishing the contest with 32 kills—the most in a single game by a Dustdevil in a five-set match against the Lions.
They closed out the season with an overall record of 4-20 and 4-13 in the Lone Star Conference.