Nearly $31 million in federal funds go to TAMIU
By Gabrielle Prather
Assistant Editor
Published Tuesday, Oct. 12, 2021
Rep. Henry Cuellar, D-Texas, TAMIU alumnus, visited campus to present an about $30.8 million grant pool. The American Rescue Plan makes up the primary funding source with the U.S. Department of Health and Human Services and others adding to the pool.
The total funding award included $29.2 million in ARP funds; Texas A&M International University's Advanced Nurse Education-Sexual Assault Nurse Examiner program received $1.4 million. The total also included $249,297 for open educational resources through the Sue and Radcliffe Killam Library.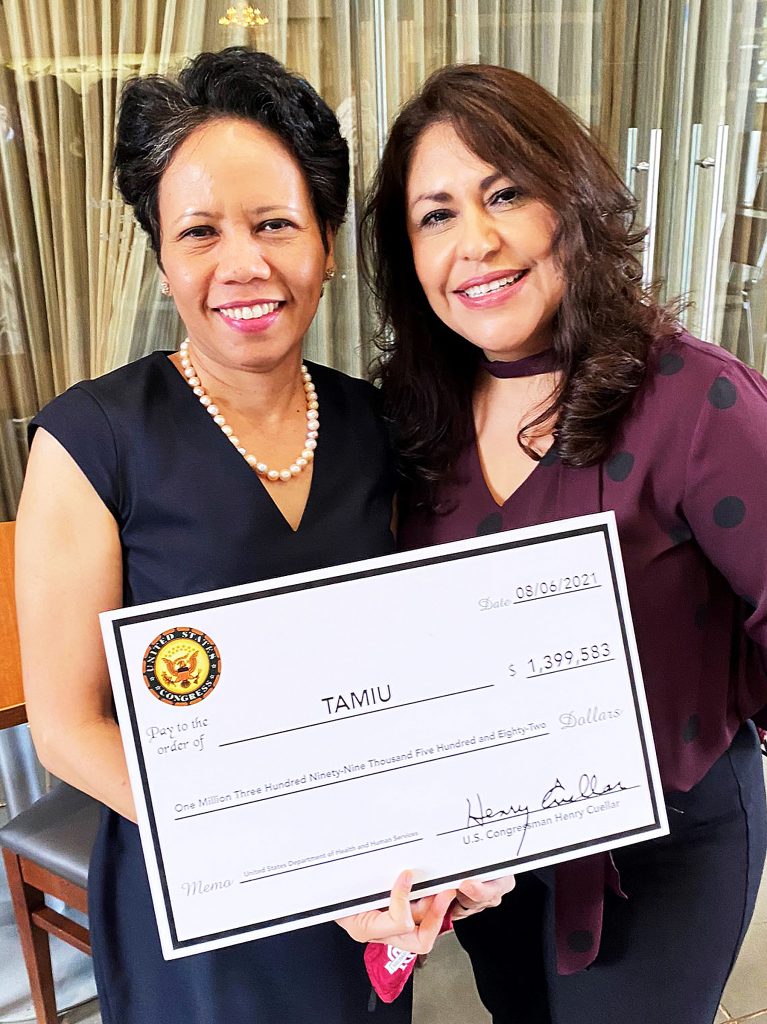 "TAMIU is an exceptional university that deserves the utmost support from the federal government," Cuellar said during the presentation of funds on Aug. 6. "This funding, awarded today, is proof that all students and researchers have the opportunity to receive a world-class education with the appropriate resources."
Administrators expect these new funds to assist students with emergency aid grants, such as CARES, and with TAMIU's free course material pilot program, TAMIU Books IncludED. During the pandemic, many students struggled with personal and educational finance. The administration decided this would be an opportunity to help students financially this semester in the wake of the novel coronavirus pandemic.
"We are deeply appreciative of the assistance, guidance and partnership that Congressman Cuellar always provides this University and all of higher education," TAMIU President Pablo Arenaz said during the presentation. "He has a real vision and personal commitment to the power of higher education. Most importantly, he is committed to ensuring that power is strengthened right here at home."
TAMIU Vice President of Finance and Administration Juan Castillo said the past year created a struggle for everyone, including students. Despite all this, Castillo said the infusion of federal funds through the CARES, CRRSA and ARP Acts, just more than $7 million this semester alone, helped students facing financial difficulties related to the pandemic.
Castillo said any student impacted by the pandemic qualifies for the student emergency aid grant, but they must complete the application on the TAMIU CARES website. The impact of these federal supports changed TAMIU to help put students back on course to receive their degrees.
"Since Spring 2020, TAMIU has received [more than] $24 million to award in student emergency aid grants," Castillo told The Bridge in an email. "We also forgave [more than] $1 million in student balances through our Fresh Start Program so that students impacted by the pandemic could return to their studies. And, of course, our top-rated TAMIU Books IncludED program—which provides required course materials at no cost to students—is helping student retention by overcoming barriers arising from the pandemic."
Cuellar graduated from TAMIU with a Master of Business Administration in 1982.
Castillo also wrote in the email about Cuellar's support for TAMIU, "… Congressman Cuellar is a TAMIU alum, so he is always happy to help secure federal funding for the University and our students. This is just one of many examples over the years of federal funds the congressman has helped bring to TAMIU."
There are student and institutional impacts, Castillo noted. The student funds created a profound impact on student success in helping overcome difficulties brought on by the pandemic, he said; students who might otherwise have stopped their education were able to continue their academic journey.
The institutional funds helped the University provide a safe environment for students to return to campus, Castillo wrote in an email, by funding enhanced cleaning services and HVAC filtration, along with on-site testing and Books IncludED.