By Danny Zaragoza
A procession filled the stage with college and university delegates, faculty and student representatives in full regalia at the TAMIU Center for the Fine and Performing Arts auditorium on April 13, 2017 for an Investiture Ceremony held to install TAMIU's 6th president.

In November 2016 Texas A&M University System Board of Regents officially appointed Dr. Pablo Arenaz as the next TAMIU president.
The Investiture Ceremony is one of academia's longest lasting traditions. Similar to a commencement ceremony, it is performed to install a new president at a university.
Arenaz follows the 15-year tenure of 5th TAMIU President, Dr. Ray M. Keck III, who was named Interim President at Texas A&M University-Commerce in May 2016.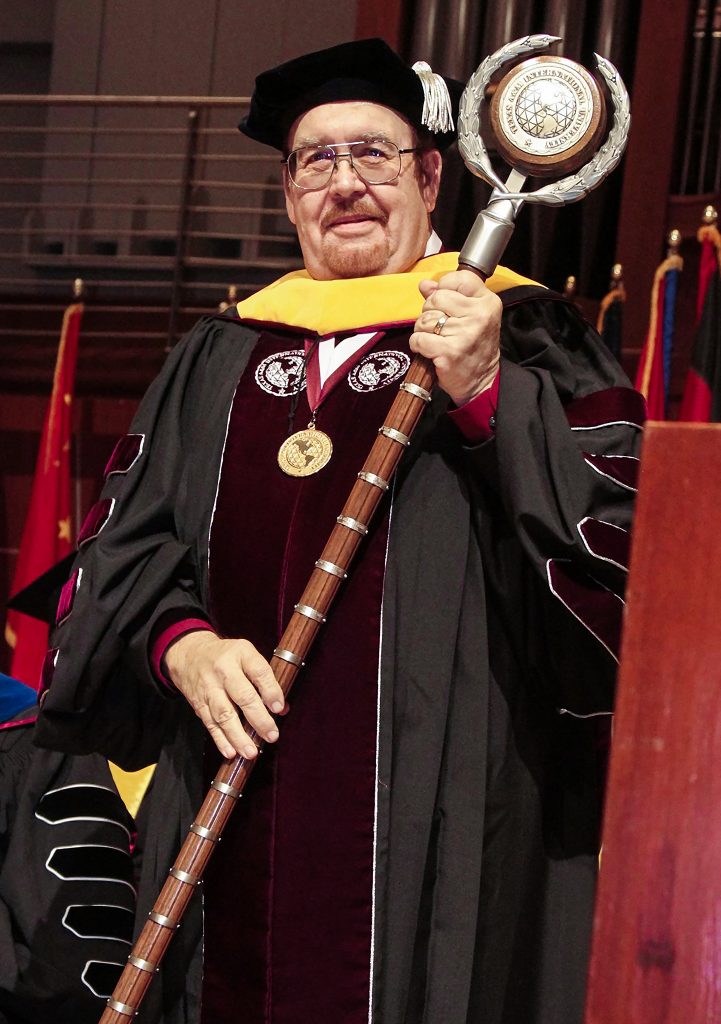 Chancellor of the Texas A&M University System John Sharp praised Dr. Arenaz' successes as he conducted the ceremony.
Dr. Pablo Arenaz stood before the stage party dressed in full academic regalia as Chancellor Sharp placed the Medallion of Office on Dr. Arenaz.
After some more words from Sharp, Dr. Arenaz approached the podium with the University Mace in hand and the Medallion of Office reflecting the stage lights.
"I was both honored and humbled to have been named the sixth President of Texas A&M International University last November," Arenaz began.
He went on to thank the TAMIU students, staff and faculty, as well as the Laredo community. Dr. Arenaz  was overwhelmed with emotion as he thanked his wife Norma and their children, Jonathan, Cristina, Rebekah and Pablo.      Dr. Arenaz then spoke about his plan for TAMIU.  He intends to "develop a stronger , tighter relationship with Laredo Community College as well as other community colleges."
Dr. Arenaz set a goal for 10,000 students within the next 5 years. Dr. Arenaz also wants to increase TAMIU's presence in the Western Hemisphere by establishing partnerships with Queretaro, Haiti and the Dominican Republic to name a few.
Economic uncertainties in the state and nation will make these ideas difficult to fund, but Arenaz calls out to the Laredo community to invest in endowments and scholarships for the students.
"We will truly go beyond,"  concludes Arenaz before leading the procession out of the CFPA.