NEWS: Spring commencement ceremonies catapult students into future
By David Gomez Jr.
Editor-in-chief
Published Wednesday, May 18, 2022
Once again, TAMIU graduation candidates stepped across the stage of the Sames Auto Arena during one of two commencement ceremonies on May 12.
Texas A&M International University's graduating class of 2022 experienced a shorter, cautious ceremony for attendees, while still holding onto the same message.
"A job well done today," Rep. Henry Cuellar, D-Texas, said about the ceremony and graduates. "We have a very unique graduation today with well [more than] 800 grads in total.
"What also makes this very unique is that [more than] 500 of the graduates today are women. Congratulations."
The first ceremony took place at 11 a.m. for the A.R. Sanchez, Jr. School of Business, College of Education, College of Nursing and Health Sciences, and University College candidates for undergraduate and graduate degrees with a total of 432 graduates.
The second commencement ceremony was held at 4 p.m. for the undergraduate and graduate degrees of the College of Arts and Sciences with 438 graduates.
Cuellar also told an inspirational anecdote about the 1968 Olympics runner who finished last.
"He said, I come from a very small African country," Cuellar paraphrased. "My country sacrificed a lot to send me here.
"'And they sent me here not to start the race, but to finish it."
The runner, named John Akhwari of Tanzania, actually said, "My country did not send me 5,000 miles away to start the race. They sent me 5,000 miles to finish it."
PNC Bank's Regional President and Head of Commercial Banking for the Texas Border Market Susana Melendez-Valencia took the podium to say a few words, as the commencement speaker.
"Because you are the top minds [who] will lead the charge of this city and the state's success down the road," Melendez-Valencia addressed the graduates. "And we are invested in your journey every step of the way.
"There are many things people can take away from you in life, but one thing they can never take away is your education."
Melendez-Valencia had many things to say, including advice along the lines of juggling and trying new things, and to do those things with the importance of teamwork.
"To be successful, nowadays, you need to be able to work with others [so] you may be able to grow and meet your goals," Melendez-Valencia said. "Participate in anything that you can, volunteer on new projects and have something unique that some other people don't have."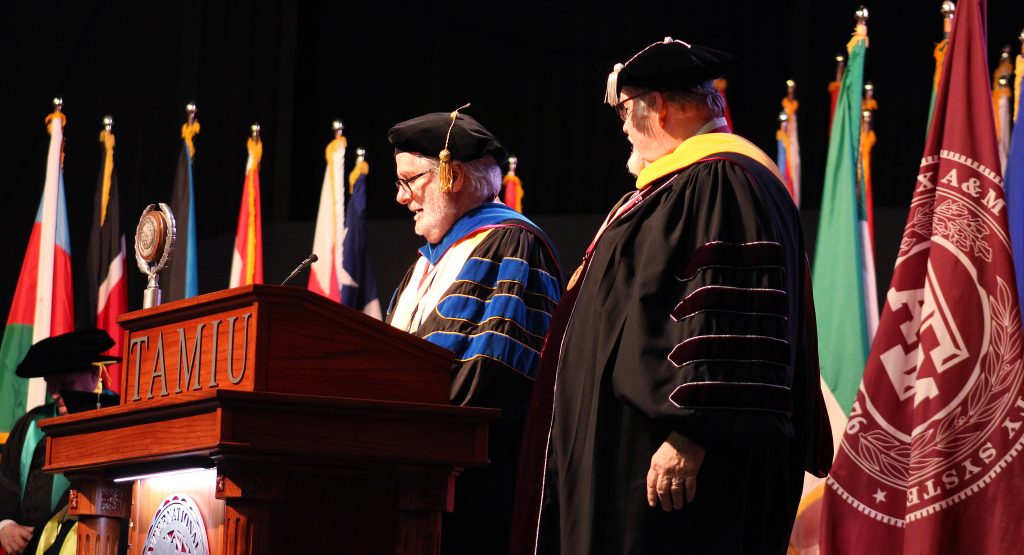 Student respondent Maritza Y. Garcia, representing the College of Arts and Sciences, spoke to the graduates as well. She offered a student perspective rather than the administrative and keynote speakers. Her words may have been what some graduates needed; a few grins turned into smiles when she made a few light-hearted jokes.
"I know I'm not the only one who has spent countless hours crying over assignments, grades and wondering 'Perhaps this isn't for me,'" Garcia said. "Nonetheless, we persevered, and our struggles in and out of the classroom have helped shape us into the individuals we are today."
Garcia made sure to honor a late actor with their words of wisdom that fit the ceremony.
"As the late actor, Chadwick Boseman said, 'Whatever you choose as a career path, remember the struggles along the way are only meant to shape you for your purpose,'" Garcia said.