FEATURE: President Arenaz advises students about careers
By Mireilly Gonzalez
Managing Editor
Published Thursday, March 9, 2023
TAMIU President Pablo Arenaz spoke to students at the Office of Career Services about his career journey. The Office of Career Services staff welcomed students into the breakroom. Coffee, cookies, and brownies were provided on a table at the back during the Feb. 1 event.
This is Arenaz's seventh year at TAMIU and his job experiences include being an assistant, associate, and full professor of biology.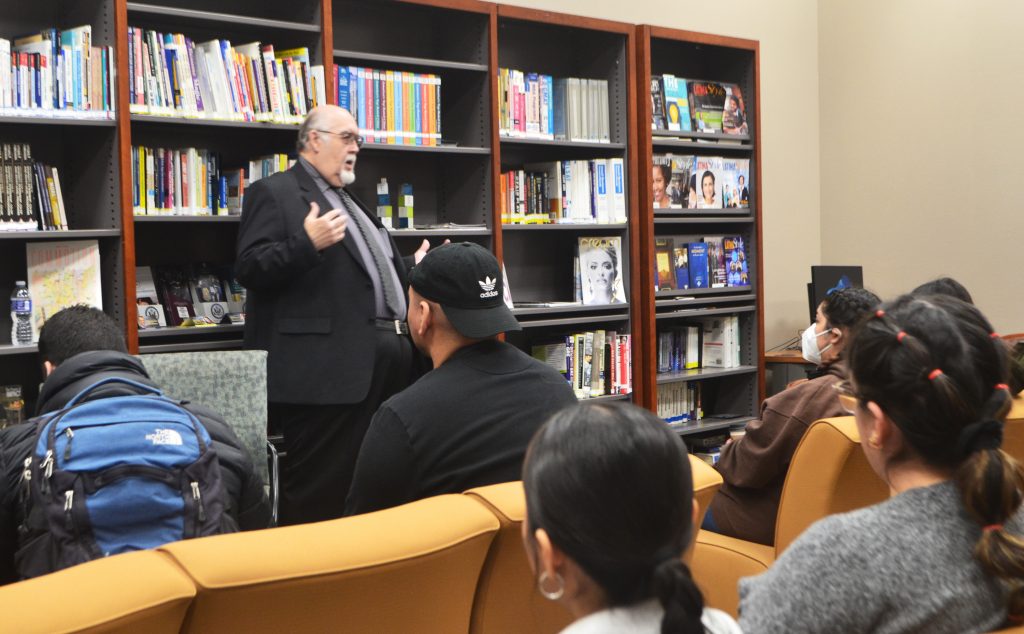 "In high school, I fell in love with biology," Arenaz said of the start of his career path.
"So when I went away to college, I knew exactly what I was gonna do," Arenaz said. "I knew what I was gonna be. I was gonna major in biology and then I was going to travel back to Las Vegas where I grew up … and teach high school."
After that, Arenaz earned his master's at the University of Nevada at Reno, then his doctorate at Washington State University. Somewhere along the way, he also taught middle school.
"I went back [to Las Vegas] and taught middle school," Arenaz recalled. "Now, if you've ever taught seventh-grade students, you move and you do other things with your life," he added with a laugh.
Even though he valued his own passion for biology as he advanced in his career, Arenaz also emphasized the importance of having a mentor. He urged students to find a mentor.
"I am trying to say that you need to find great mentors in your life," he told the attendees. "If you want to be successful, look for a mentor [who] will help you. A mentor could be anybody.
"It's someone who will help you, you know, focus, and help you believe that you can do what you want to do. And I've always had that, I've always had people who were there for me, who believed [in] me and believed in what I do."
Arenaz is passionate about making TAMIU a place for opportunities and mentorship.
"[TAMIU] as an institution, as a people, the faculty and staff in this institution, we are committed to the mission of this university," Arenaz said. "It's almost to a person. Faculty members who have come and left … [did so] because they haven't bought into the mission of this university and really don't fit in well because we believe in you all."
Another characteristic that made the president stand out throughout his career and progress was going beyond expectations.
"All of my career … I saw a gap that needed something to be done and I just jumped in and did it," he told The Bridge.