ARTS: Art professor helps curate 'Dreaming at the Border' exhibit
By Esteban Mendiola
and Cris Cordova
Bridge Staff Writers
Published Tuesday, Oct. 17, 2023
With a title inspired by a TAMIU art professor's character, the "Dreaming at the Border" exhibit featured a narrative about friendship, community and dreams.
Texas A&M International University Assistant Professor of art Josias Figueiredo and TAMIU alumnus and Washington, D.C., artist Julio Obscura united to curate an art exhibit titled "Dreaming at the Border: Digital, Imaginary and Real." It featured a narrative, chronicling the tales of "Piri the Dreamer" and "Flying Coyote" as they embark on a journey of friendship, community and the pursuit of one's dreams. The open-to-the-public event occurred from Sept. 1 to Oct. 20.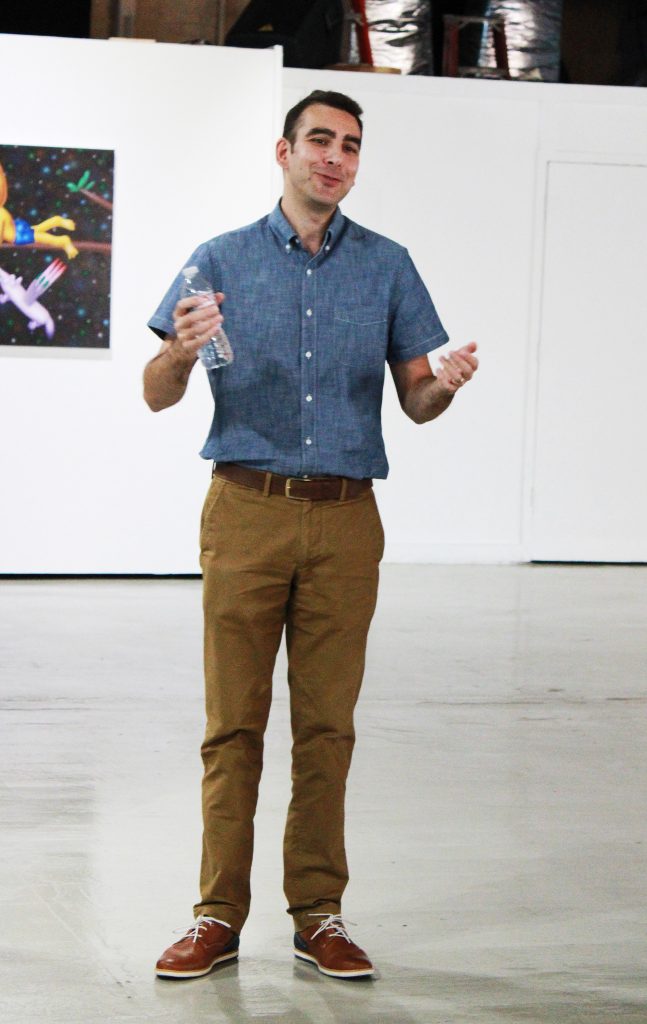 The title, "Dreaming at the Border," drew its inspiration from Figueiredo's character, "Piri the Dreamer," and the "Julio Border project," Figueiredo explained.
The concept of Piri's odyssey germinated for three years, marking the debut of Figueiredo's gallery in Laredo. This marked a momentous occasion for the artist who previously exhibited his works in various countries spanning Europe, Australia and Asia. Originating from Spain, Figueiredo traversed the globe, residing in London before finding his way to the U.S., with a brief sojourn in Philadelphia. His preferred medium of artistic expression remains the venerable art of oil painting.
Figueiredo said orchestration of the installation presented formidable challenges. The integration of digital media with open spaces, where patrons could employ their smartphones to engage with the artwork, proved to be a taxing endeavor, compelling the artist to think innovatively and transcend conventional constraints.
"Dreaming at the Border" beckons the community to embark on a journey of dreams and aspirations, celebrating the symbiosis of technology, imagination and tangible reality. Through this exhibition, Figueiredo and Obscura illuminated the path for fellow dreamers, inviting others to partake in the beauty and intricacies of their narrative at the border of possibility.