CAMPUS: Aramark makes menu changes, new Mexican place in food court
By Natxo Faus
Bridge contributing writer
Published Monday, April 11, 2022
In order to change and improve its offerings, Aramark Food Service switches things up from time to time. This semester is no different.
The food service contractor introduced a new Mexican place in the food court on Thursdays. The cultural cuisine of Mexico is featured in a place where students congregate on campus, said Aramark's local Food Service Director Carlos J. Rodriguez.
Aramark, a company based on providing food to schools, serves Texas A&M International University right on the border between the U.S. and Mexico; Laredo is about 95.4% Hispanic or Latino according to the U.S. Census Bureau numbers.
"TAMIU is the border between two countries, and why not the union between cultures?" Rodriguez asked.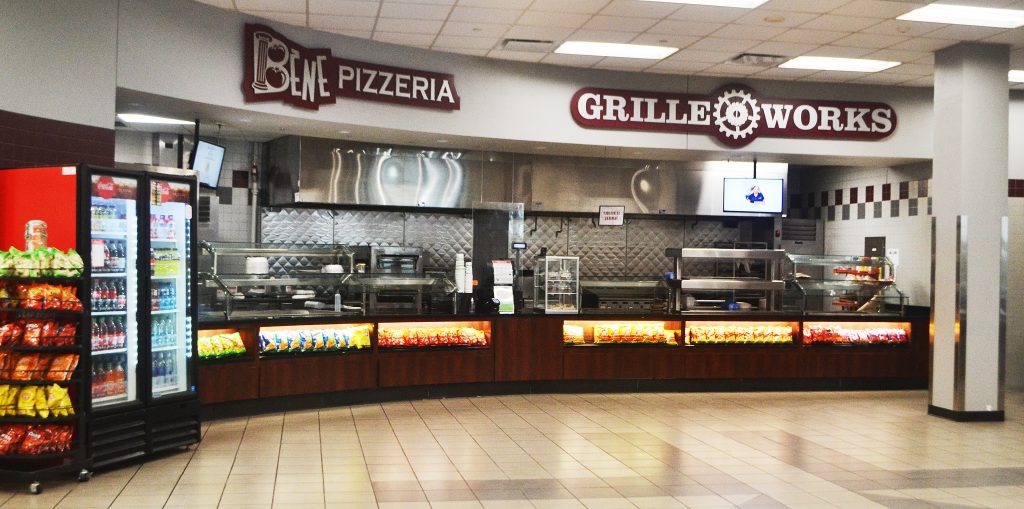 Dusty's Diner, one of the Aramark restaurants on campus, in the month of October, usually celebrates Hispanic Heritage Month with Mexican or other Hispanic cuisine. For this inspiration, Rodriguez decided to include this type of cuisine in the food court options.
"Every Thursday of this Spring 2022 semester, the food court [has] a place for Mexican food," he said.
Food Court employees expect to offer Mexican food regularly starting in the summer in the same location. Aramark's director said he wants to provide the types of food the customers ask for.
"This is a place to leave aside the school cafeteria service routine and provide what people want on the spot," the director said. "We serve you, we are for you."
The Mexican menu features variety. Consumers may have a combo of four tacos, which they can choose between pork, chicken and beef, plus a side of either beans or noodles and a drink.
"We are contemplating the vegetarian and the vegan menu option," Rodriguez said.
The kitchen staff of about seven people work toward flexibility in food options.
"Even though our food is served quickly, we are not a fast-food place," Rodriguez said to explain its place in the restaurant pantheon. "And all this for a total of $8.99."
Food services offer flexibility to consumers when it comes to payment options.
"Both cash and credit card payments [are] feasible, even Dusty Dollars, which can be held on each person's TAMIU ID card, are possible to pay," he said.
With this innovation by Aramark and TAMIU, it also opens the doors to the discovery of cultural cuisine to international students.
"I really enjoyed the food," Magid Salah said, an international student from France who had never tried Mexican food before.
Magid said it is a good place to get together with friends and enjoy good quality food.
David Haunschmied, an international student from Austria, commented that apart from the climate, the food is also different in this other part of the world.
"Finding Mexican food at the University itself is great, since we are always used to seeing American cuisine and American fast food," he said about his experiences in cultural cuisine.