CAMPUS: SOLE offers 'Black Experiences' event for Black History Month
By Mireilly Gonzalez
Bridge Staff Intern
Published Friday, March 25, 2022
In respect to Black History Month, SOLE offered a panel discussion on "Black Experiences at TAMIU."
As part of their Social Justice Leadership Series, the panel–which featured professors and a student–occurred on Feb. 23.
Sitting in front as guests were Texas A&M International University Professor Peter Haruna, Assistant Professor Varaidzo Zvobgo and business major Simileoluwa Odunuga. Each offered a different campus perspective.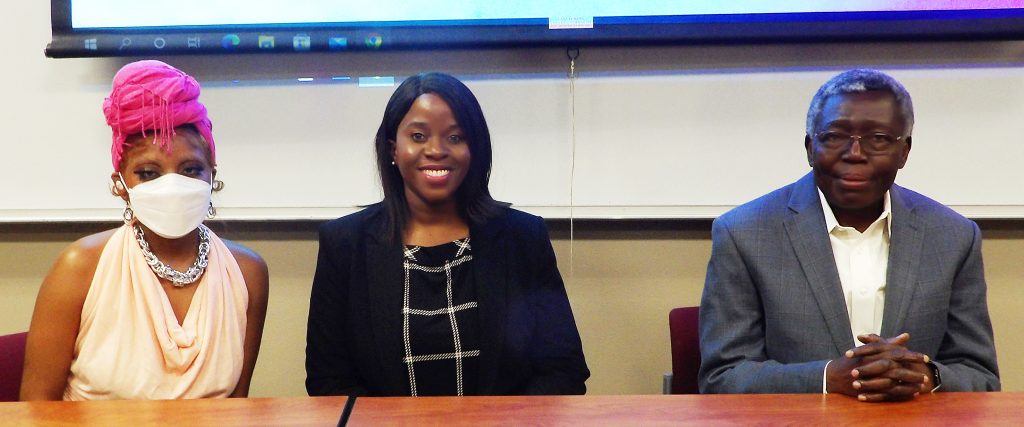 After the guests' introductions, they discussed a few challenges they faced in Laredo.
Haruna lived in both Ghana and the U.S. He earned a bachelor's at the University of Ghana and a master's in public administration and doctorate at the University of Akron–Ohio.
Zvobgo lived in Dallas and Laredo. She earned her doctorate at the University of Texas–Dallas and master's in public administration at Kennesaw State University in Georgia.
Zvobgo said a main challenge she faces daily relates to her African heritage, which complicates grocery shopping. Since there are no African stores in Laredo, she just buys everything whenever she visits Dallas.
Odunuga lived in Africa and the U.S. She went to high school in Houston, then moved to Laredo to study at TAMIU.
Odunuga talked about the negative connotation around her African heritage.
"I was so embarrassed to say … that [I came] from Africa," she explained.
She added that she's aware that Africa itself isn't all bad, but it's just the connotation around it that's bad.
"It took me a while to get out of that," she admitted.
Afterward, the discussion opened up to the public. An unidentified student wondered about the panelists' opinions on Laredo based on their African heritage and asked, "What are some changes you would like to make in TAMIU?"
Zvobgo responded, "I think … putting in place measures that make sure that all students are respected. Help students really assimilate into the culture."
She added that TAMIU's student population could become more diverse. And indeed, in Fall 2021, Hispanics made up 92.97% of the student body. But the percentage is not too shocking, considering Laredo is 95.5% Hispanic or Latino, according to the 2021 U.S. Census.
"Start talking about TAMIU," Zvobgo suggested. "Because I know a lot of people from Africa who definitely want to come and study in the United States."
Meanwhile, Odunuga reflected on her 22 years of experience.
"When I first came here, [there were about] 3,500 students," she recalled.
Now more than two decades later, TAMIU reports an 8,457 student enrollment for the Fall semester.
"So there is physical change in Laredo, in the period that I've been here," Odunuga said. "… and the physical change is going to translate into sociocultural change."