Feed the need
Dusty's Food Pantry helps students
By Cristina Ramirez
Bridge contributing writer
Published Thursday, Feb. 17, 2022
The food must flow.
Students in need or in a tight spot financially, can depend on Dusty's Food Pantry in the Texas A&M International University Student Center to provide food and other necessary items. This aid can help students make it through times of difficult finances.
The coordinators' and workers' mission is to help keep students supplied with food items. Karina Gonzalez serves as the pantry's coordinator.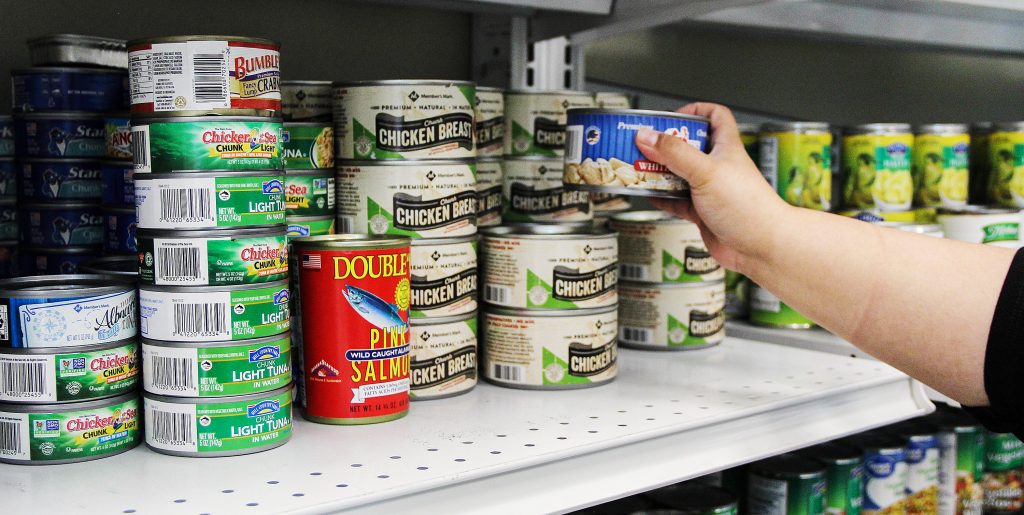 "I really love to have people come in and really make use of it," Gonzalez said. "We have a refrigerator in our lounge and we allow students to go in and pick out the items they may need. We have options from frozen meals to apples, eggs and cold water and much more.
"I really love providing students with that, especially when students don't have money in their pocket because they paid for school supplies or tuition and they [went] without money for food. They can always come in here and we can provide for them."
In addition to its primary service, it also serves as a place for students to volunteer. Dusty's Food Pantry staff members encourage TAMIU students to earn community hours. They may submit online applications or stop by and donate food or other necessary items monthly.
"Students don't only receive hours by the donation drive events that we have," Gonzalez said. "We have a list of items every month of food that are needed and we upload that list to the Trailblazers website and students can always go and check the list, and for those donations we go ahead and give them hours in return. All students from freshmen to seniors are eligible to donate. They can receive up to 10 hours a month, every month."
The University encourages students to participate by adding to the monthly food donations as well as not being afraid to pick up the necessary food items a student may need. The Dusty's Food Pantry offers a way of listing the amount of items students can grab per trip. For example, a student could choose from six eggs, three water bottles and two frozen meals and other items. The coordinators even add the expiration date, which makes it even more helpful to let students know the remaining time on perishable items.
Senior EC-6 certification and an early language emphasis major Alejandra Valdez said she likes to help the pantry.
"When I donate to the Dusty Food Pantry, I know I will be helping fellow students who might be having hardships," Valdez said. "I donate twice a semester, every semester, and I enjoy doing it since I know the items will be used by people in need."
Students not only participate for the community hours, but it helps them join in the events where they can help out by donating.
"I think our University does such an amazing job with donation drives in general," Valdez said. "It really does bring students together. I also love that I am able to help out by donating and I get to know that I'm helping those in need."
Junior kinesiology major Sergio Daniel Gutierrez admires the program.
"I haven't had the chance to sign up for the monthly donations for the Dusty's Food Pantry," Gutierrez said, "but I think it's such a great action the University is doing by helping … students receive food donations. It means a lot that they are willing to help the students out as much as possible."