Entrepreneurs share rags-to-riches stories at TAMIU
By Juan Reyes
Social Media Reporter
and
By David Gomez Jr.
Editor-in-chief
Published Wednesday, Oct. 13, 2021
A collaboration of TAMIU's LULAC and SOLE held a panel with two of Mexico's successful entrepreneurs.
Empresarios Hispanos TAMIU 2021 took place in the Student Center in the auditorium, Room 236, where a pair of successful entrepreneurs, Palos Garza Group CEO Mario Palos Garza, and Pollo Loco and Taco Palenque founder Juan "Don Pancho" Francisco Ochoa.
"Without respect, everything falls apart," Ochoa says. These are words he lives his life by, leading to prosperous results.

He sold the rights to the Mexican chain of grilled chicken restaurants, Pollo Loco, in 1983. With the profits, the first Taco Palenque was born July 1, 1987, on the U.S. side in Laredo.
Though, his start was not an easy one. The fourth of 12 children, Ochoa's father moved them from a small village, with a population of 200 residents in the Mexican state of Sinaloa, to an urban environment where his father would open an unsuccessful furniture store.
The unfortunate event forced him to drop out of school and work for the family so they could avoid financial ruin. The rest of his younger siblings ended up pursuing an education while he worked and saved enough to open up his own successful shoe store.
Eventually, he sold that shoe store and established the first-ever Pollo Loco restaurant. The restaurant became a huge success and led to the opening of more restaurants in Mexico.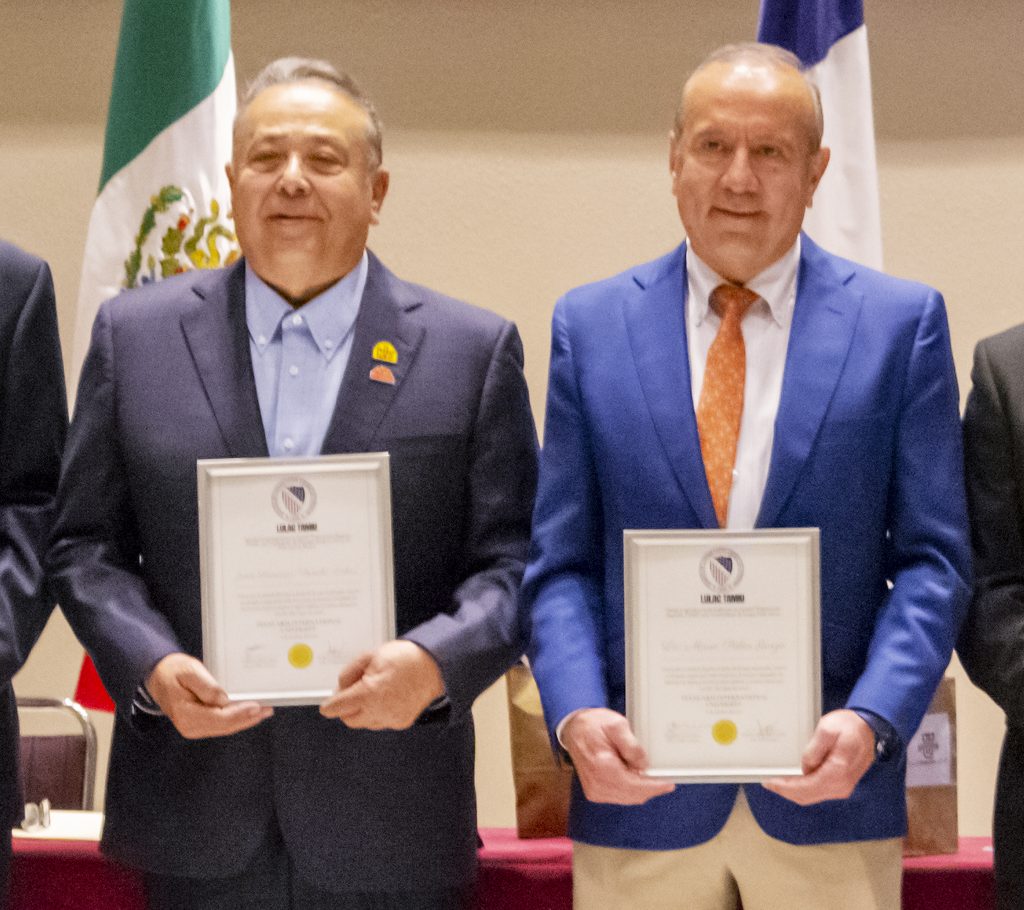 The Pollo Loco chain ended up going international, opening the first Pollo Loco restaurant in California and opening multiple restaurants before selling the chain in 1983 to a U.S. buyer.
"Opportunities in life are like a bowling ball," Ochoa told the TAMIU audience. "You need to hold onto them with both hands." He emphasized a need for keeping faith in one's endeavors. "If you don't go after the opportunities offered in your life, someone else will."
The second of the guests on the panel featured native Laredoan Garza. Upon graduating high school, he registered for college without knowing much English. Graduating from secondary education without knowing English is more common in a border town. Struggling in college, he lacked the drive to pursue anything.
Next, he began school in Nuevo Laredo, Tamaulipas, Mexico. While in college across the Rio Grande, he found direction in a book: "El Milagro más Grande del Mundo."
The title translates to "The World's Biggest Miracle" and he addressed the audience with the four pieces of advice he lives his life by from said book.
"The first is to count all the blessings that you have in your life," Garza told the crowd. "The blessing of being able to see, walk, think, speak and listen. Next, is to acknowledge how unique you are and to be grateful that there is no one like you and no one who will ever be like you. Third, is to use the power of choice to choose to live your life in positive manners, choose to laugh, learn and what paths are best for us."
Garza closed the panel with the piece that changed his perspective the most.
"Always go above and beyond in whatever task you take on," Garza said.