Dungeons & Dragons delves into campus
By Alejandro Carbajal
Illustrator
And
By David Gomez Jr.
Editor-in-chief
Published Wednesday, Oct. 13, 2021
The Dungeons & Dragons Organization on campus conjures up, as if by magical means, a way for students to try something new and communicate with fellow roleplayers.
Also known as D&D Club for short, the organization began just before the start of the novel coronavirus pandemic. Before it could even get going, the club stuttered as if down to a single hit point and almost ceased its existence. In October, the club found a proverbial potion of healing and its status with SOLE resumed as an official campus club.
Due to the pandemic, the organization's presence primarily existed and also continues online. Though in-person events now occur too.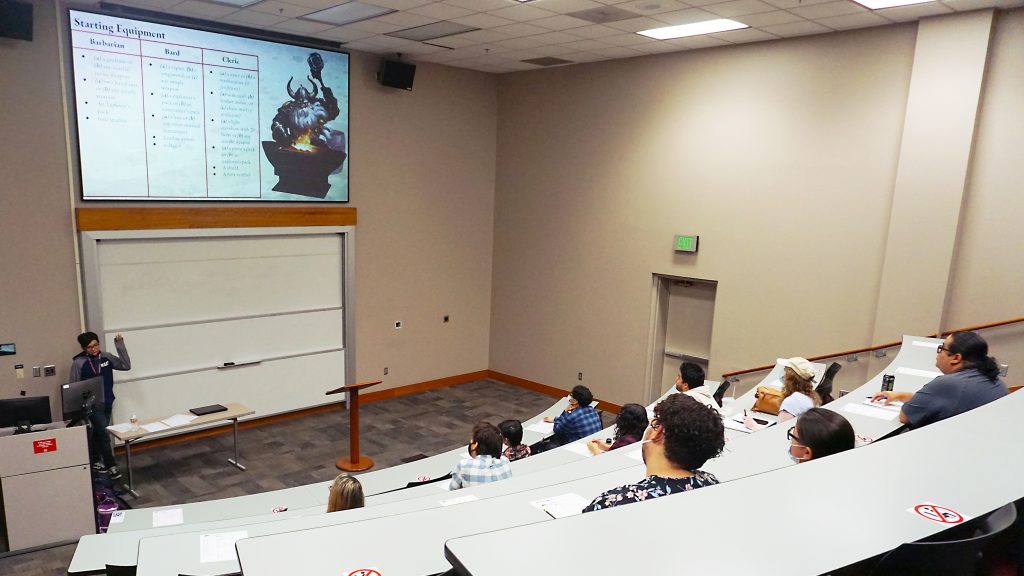 "We're on Discord and do campaigns in there and try to keep it active virtually and physically," D&D Organization President Mario Carreon said.
"It didn't really have the time to develop, but now that we're back on campus we can say, 'Hey, our organization is open to everyone,' and it's a great way to start a way of communicating with others."
Dungeons & Dragons, the world's original roleplaying game created by Dave Arneson and Gary Gygax, is a form of interactive storytelling using imagination, creating narratives individuals can get lost in—not unlike the caverns and dungeons of the various D&D worlds—where players take on the role of their paper characters and roll various dice, or polyhedrals, to determine the outcome of combat, skills and character interactions.
As for newcomers, the thought of joining the club may include the stigma, or stereotype, that D&D is for so-called nerds like famous D&D player and Star Trek the Next Generation actor Wil Wheaton, but that is hardly the case. A few famous names who roleplay are 10-time Emmy winner Stephen Colbert, blockbuster movie star Vin Diesel, and three-time cover of "Muscle & Fitness" model and actor Joe Manganiello.
"We have a Discord and banners and links," Carreon said. "People who know D&D and people who don't know—who are new to the game—can talk to us and start a conversation.
"Join the workshops if you have some interest."
Hesitation persists on campus with reminders of the Curative kiosk in the breezeway, mask and sanitizing stations, and randomized emails sent to students to receive a quick COVID-19 test.
"This is the first year coming together," Dungeons & Dragons Organization Vice President Ashley Niño said. "[COVID-19] is still around and [we] still have roadblocks before we can really make it as safe as possible for other players."
Dungeons & Dragons is a property of Wizards of the Coast, a division of Hasbro. D&D was originally published by Tactical Studies Rules Inc. in 1974. In addition to tabletop game products, D&D is known for a lengthy series of novels, comic books, three live-action movies, one animated film in the DragonLance setting, an '80s cartoon series, video games and more. It was even the subject of a recent release of Magic: the Gathering the collectible card game, also published by Wizards of the Coast.