College students deal with stress creatively
By Evenlyn Gomez
Bridge contributing writer
Published Wednesday, Oct. 13, 2021
Some students find college extremely stressful. Alleviating that stress may involve a variety of hobbies.
About 80% of U.S. students report feeling stressed at least part of the time, according to a study by the Anxiety and Depression Association of America. About 34% felt depression.
With these levels, students try a variety of options to lower their stress but not all are successful. Some develop suicidal thoughts or other suicide-related outcomes; this number increased 47% from 2008 to 2017 and now 10.3% of students are at risk.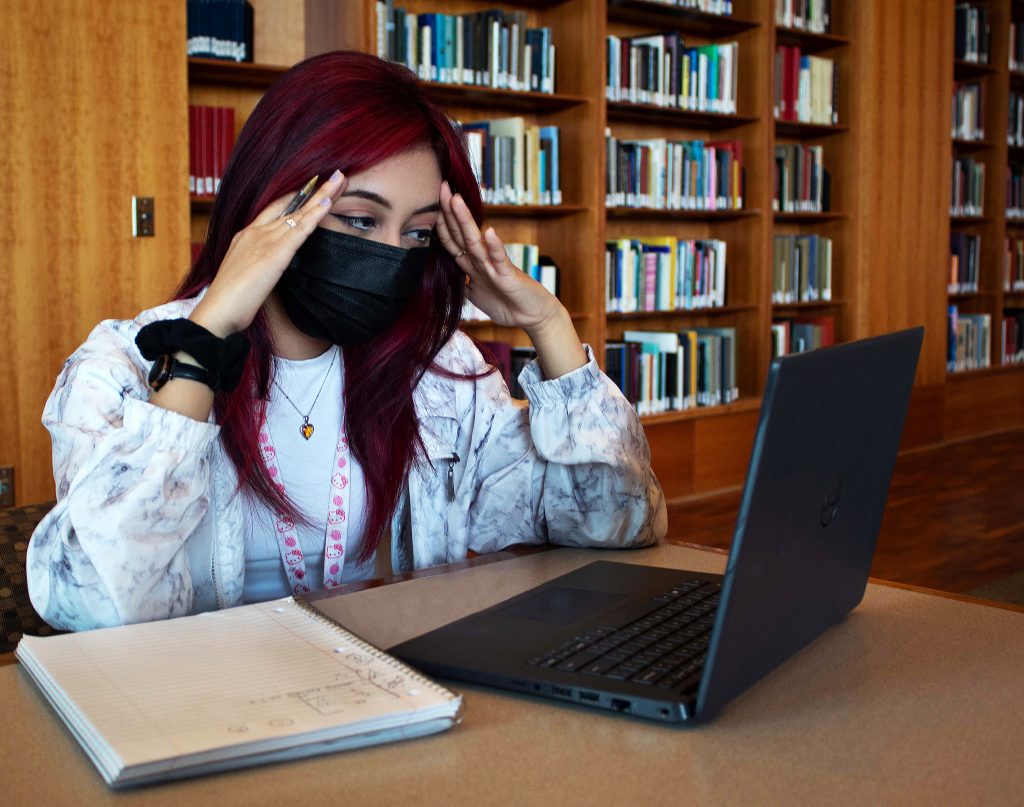 In further studies at UNESCO in 2020, researchers discovered nine out of 10 students felt the effect of school closures due to the pandemic. This number represents more than 1.5 billion learners in 165 countries.
Some of the reasons students get stressed revolve around the amount of homework, studying for several exams, paying for school, etc.
Also, stress elevated in some students due to the novel coronavirus pandemic. This affects some students due to decreased financial support.
TAMIU business administration major Alexandra Ovalle and mathematics major, with grades 7-12 certification, Jazlyn Gomez said stress affects them both but they found some activities to help control it.
"It all depends on the situation," Ovalle said. "If it's my homework, I would become stressed easily but if it's something else, I usually have no problem letting it happen or go. Stress affects me differently every time but it usually makes me not do anything and I cannot focus."
Students tend to undergo the most pressure around finals.
"A time when I was very stressed was when I had finals for every single class and how I dealt with it was by doing at least one test day at a time, so I wouldn't over stress myself in one day," she said.
On the other hand, Gomez said, "If I'm prepared for a test, then I am fine, but when I don't, I stress too much and overthink my answers."
Participating in hobbies unrelated to school can help students alleviate stress.
"I usually ignore it or I go to sleep because that relaxes me," Ovalle said. "Some hobbies that help me avoid stress are watching some of my favorite shows or using my phone."
Gomez said, "When I am under a lot of stress, I like to paint, watch old movies or listen to music. When I am stressed, I get impatient; everything bothers me and I get headaches."
As well as that, stress can affect students mentally and physically. Some students sleep less when they are stressed out or because they stay up all night studying.
"I usually try not to stress before a test because then I get all worked up and I end up forgetting everything I studied," Ovalle said. "I usually cannot go to sleep at night and I get [a] headache."
Moreover, students recognize stress when they are showing physical symptoms, such as headaches, low energy, feeling anxious and appetite changes.
"How I recognize my stress is when I start to get anxious about everything," Ovalle said. "I get nervous and worried and stress easily about small things that I usually don't stress about."
Alternately, Gomez said, "I recognize stress when I have a constant headache, I feel tired and I'm not productive. I also feel anxious and every little thing bothers me.
"When I had too much homework and everything was due the same day, the way I dealt with it was by asking classmates for help on things I couldn't understand."
Too much stress can make people more susceptible to disease. Even though stress can be harmful, it is not always bad. Stress can increase memory function, metabolism and blood sugar. Stress can be a motivator to get your work done, too. This may help students achieve more goals, such as decision making, and boosting motivation.