Freshman soccer player takes conference honor
From Staff Reports
with content from David J. Garcia Jr. 
Bridge Staff Intern
Published Sunday, March 28, 2021
Despite her status as a newer member of the team, one Dustdevil freshman received conference recognition in part due to her nature as a team player.
Achieving recognition from the Lone Star Conference, Texas A&M International University women's soccer goalkeeper Alicia Huerta, of Laredo, said she was taken by surprise when it was announced. In her first collegiate start, she received the LSC Goalkeeper of the Week honor.
"It took me by surprise," she recalled. "It has always been one of my goals to be recognized. It was especially shocking because it was my first debut. Overall, I'm very grateful because the team and the coaching staff helped me prepare for that day. I felt confident throughout the game—the communication with my defense line was there."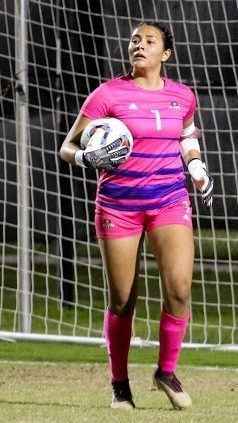 Huerta in her own words and perhaps those who haven't paid attention to her local soccer history found surprise. But looking back on her time at Lyndon B. Johnson High School, she earned All-City Goalkeeper, All-District Goalkeeper Honorable Mention and First-Team All-District honors. These honors show a dedicated player with a strong sense of competition.
"Well, a lot of people consider me outgoing," Huerta said. "But, at first, I am a very shy person. It takes me time to get out of my shell. I'm also a very active person; I like to help out a lot in the community. I'm actually a part of an organization called Adelante Americas that helps entrepreneurship around the world."
That organization, according to its website adelanteamericas.org, focuses on three core strengths: education, entrepreneurship and entertainment. Through these strengths, they hope to help future leaders locally and globally.
In addition, the criminal justice major said she wants to be a forensic psychologist. That's where her minor in psychology comes in.
"I took interest in this field because my aunt is a role model to me," she said. "She's studied criminal justice and is currently getting her master's in public administration right now. She has always guided me through this field."
When she's not hitting the criminal justice and psychology books, Huerta finds herself involved in athletics. Even though her successes indicate soccer is her sport, it wasn't her first foray into athletics.
"My very first sport was basketball," she said. "I was always into basketball. During the summer I was at home and my aunt was actually in a league. She invited me into one of her practices and at first, I didn't like soccer."
Huerta confesses that early on she didn't even know how to kick a soccer ball.
"My whole family was into [soccer] and it was funny because I didn't even know how to kick a ball," she recalled. "I didn't know anything about it, so the [high school] coach decided to put me as a goalkeeper because he figured my skill sets in basketball and volleyball would go well with that position."
As a Laredoan, Huerta was already familiar with TAMIU. Family ties, its proximity to home and the quality of education were three of the factors she said influenced her to join the Dustdevils.
"I've always been close to TAMIU since my mom is an [alumna] here," she said. "Most of my family is actually. I wanted to go out and explore, but coach Jon [Hussak] gave me an opportunity here."
Hussak joined TAMIU in January 2020, just prior to the pandemic, and now leads the women's soccer team during one of its most difficult times.
"We understand the importance of goalkeeping," he said, referring back on his own time as a goalkeeper. "Not just one—but you need to have a good crew. Usually we'd prefer three, just in case of injuries. Alica granted a situation where another goalkeeper got injured and she answered the call."
He said her success is "a testament to how hard she works" during practice.
"She's pushing the envelope there in terms of what she does, what her abilities are, how she gets better everyday and what her attitude is," Hussak said. "That's just the culture we've instilled in our coaches and to our team; it's kind of across the board, 'How can you be better than you are?' This, in turn, prepares the team for the games they step into."
Huerta said she and her teammates work hard each day, waking up at 6 a.m. to get to practice by 7 a.m.
"Everything in practice is go-go-go—it's fast paced," she said. "The team is very good at keeping that energy, especially in the mornings. I remember before the game, the girls were talking to me and, as a freshman, my nerves were attacking me. The girls really brought that confidence in me and they trusted me. That really helped the team and I to get that win. Our communication was there and the chemistry was there."