Spring, fall commencements canceled
By Niurka Rocha
Bridge Staff Writer
Published Monday, Sept. 21, 2020
For possibly the first time in its history, TAMIU canceled commencement exercises two regular semesters in a row. After an initial Spring 2020 commencement delay due to the pandemic, Texas A&M International University canceled its planned August makeup for spring along with its fall ceremony.
"In light of the recent spike in COVID-19 cases in the City, continuing closure of the Sames Auto Arena and our City's prohibitions on gatherings of more than six people, the University regretfully has no choice but to cancel our planned Aug. 13, 2020, Commencement Ceremony," TAMIU President Pablo Arenaz wrote in a web site letter addressed to all TAMIU 2020 graduates and candidates for graduation at http://tamiu.edu/commencement. "We know this is a source of profound disappointment and we share that disappointment. As members of the University's historic 50th Anniversary Class of 2020, you endured remarkable challenges in order to complete your degree. You did so with grit and determination. You persevered."
While Thursday, Dec. 10, is the official graduation day for the Fall 2020 graduates, those commencement exercises are also canceled. Additionally, the Summer 2020 commencement was canceled as its tamiu.edu web page still shows, "Please check back for updates," as of Sept. 20.
Last spring, students and staff transitioned from face-to-face classes to online virtual classes due to the March spike in local COVID-19 cases. This sudden change also put the spring commencement into jeopardy.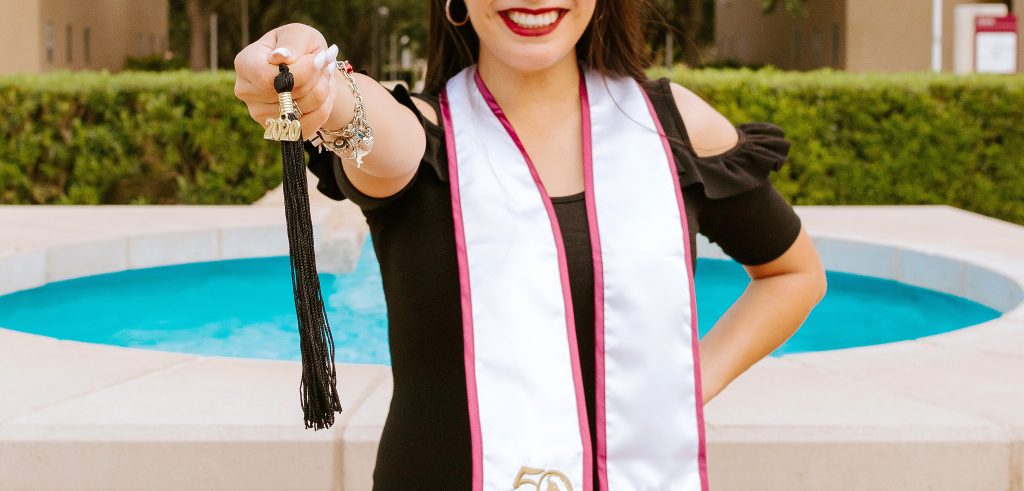 On March 12, TAMIU posted a COVID-19 response announcement on its website where Arenaz informed the public that an additional week of spring break was given to prepare faculty for the new class changes.
"Texas A&M International University will join 11 other Texas A&M University System campuses in suspending face-to-face classes for an additional week after spring break so that TAMIU faculty and staff can prepare for a possible transition to online course delivery," Arenaz informed via the website.
A month later, on April 17, TAMIU posted an announcement video on its YouTube channel: TAMIU Commencement 2020 Update. There, Arenaz announced the postponement of spring commencement until 4 p.m. Aug. 13 at Sames Auto arena.
Many students, like Pablo Coronado, 25, spring criminal justice graduate, bought the cap and gown with hope of attending a graduation ceremony.
"I did purchase my cap and gown … a couple weeks later is when they canceled graduation," Coronado said.
Omar Mendez, 20, spring finance graduate, encountered the same scenario.
"When I first heard that we weren't going to have our graduation … I was kinda upset," Mendez said. "I think mainly it was because I had bought my cap and gown in May after it had been postponed."
Both Coronado and Mendez said they wished an outdoor ceremony took place, like the LISD and UISD school districts did for high school seniors.
"For a second, I believed they were going to do it outdoors," Coronado said, "kinda like how UISD and pretty much how TAMIU would do it years before."
Mendez added, "I looked at some of the high school graduations…It was pretty good everyone was social distancing. I think something like that could have been planned."
On the other hand, Arturo Arriaga, 24, accounting graduate, believes cancelling commencement was the best choice.
"Yo pienso que hicieron bien en cancelarla [la graduacion] por que no sabemos el efecto que tendria," [I think they did right in cancelling graduation because we don't know the effect it would of had.] Arriaga said.
For the most part, Coronado, Mendez and Arriaga still feel happy and accomplished to have graduated but feel as though something is missing.
"It does feel a little bit incomplete," Mendez said. "It's just that final piece of the puzzle being able to walk the stage."
Diploma and transcripts were scheduled to be available on May 18 for Spring 2020 graduates.