ARTS: FPA presents Music on the Menu
By Mireilly Gonzalez
Assistant Editor
Published Sunday, Sept. 25, 2022
Four TAMIU faculty jazzed up the place to demonstrate and inspire students with a love for an improvisational genre of music—and all that jazz.
The Department of Fine and Performing Arts presented Music on the Menu with a jazz ensemble including Senior Lecturer Jerry Quintero on the piano, Department Chair and Associate Professor James Moyer on the drums, Professor Gilberto Soto on the bass, and Assistant Professor Nicole Gillotti on the trumpet.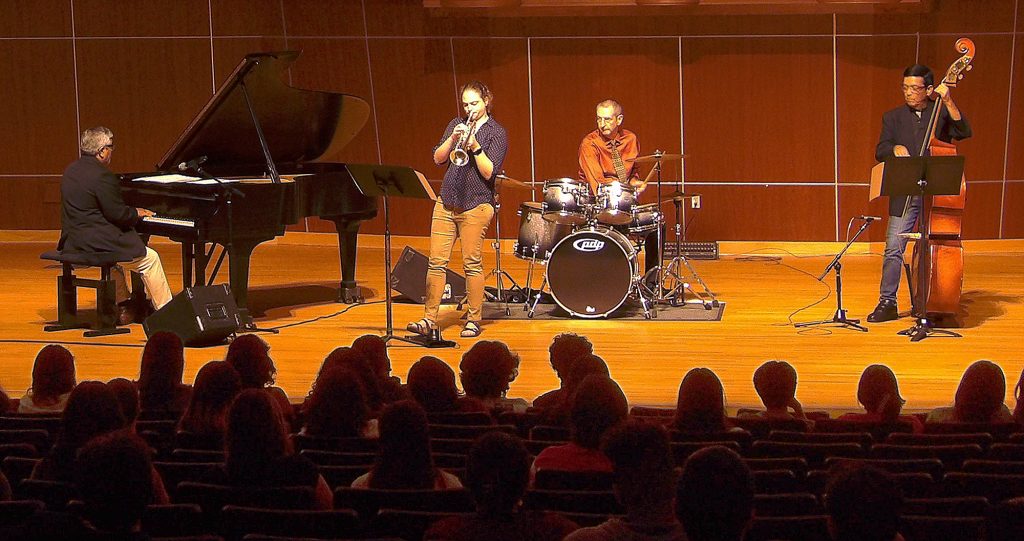 The front rows of the Recital Hall in the Center for the Fine and Performing Arts filled up quickly with students on Aug. 31 and a soft applause welcomed the four musicians as they took the stage. Soon, the students embarked on a journey of jazz's many shapes and forms—among them an upbeat walk in New York with "Take the A-train," a hopeful tune with a crisp piano-led timbre with "What a Wonderful World," and the Latin hit "Black Orpheus." Like dishes in a multi-cultural restaurant, each one represented a different flavor of jazz.
Though the music seemed to flow seamlessly to the untrained observer, it takes much effort for an ensemble to collaborate, as ensemble members Quintero and Gillotti confirmed after the event.
"It takes time to develop an ear," Quintero said. "To say, 'You know what? Let's play as a group, let's hear each other.'"
In Quintero's case, his passion for group ensembles began in high school, after an introduction to music as a 6-year-old. His parents gave him a piano; he was able to quickly pick up the notes by ear and play it.
After some years of 50-cent piano lessons in a school of nuns, Quintero picked up the saxophone and practiced playing with other musicians. That is when he realized his passion for group ensembles.
"First, find the music that you like," Quintero recommends. "If you're going into a group, make sure that everyone has the same mental idea of what you're gonna do. Because you don't wanna have someone [who] wants to play jazz and another one wants rap … No, everyone has to be locked into the same [thing]."
Gillotti started playing piano at age 6 and the trumpet at 12.
Although she long preferred playing in groups, her preference solidified when the COVID-19 pandemic happened.
"There's a certain satisfaction to playing with other people and being on the same wavelength," Gillotti said. "Figuratively and literally."
The main advice Gillotti offers for ensembles is to do as much of it as they can. And, when opinions do not align, "work together to create a sort of compromise."