Dustdevils fall to Rattlers
Espinoza: 'It's all about heart'
By Angela Carranza
Bridge Staff Writer
Published March 30, 2020
The Dustdevils men's basketball team came up short against the Rattlers on Feb. 8, after losing 70-77 in overtime. Despite losing, the team holds optimism.
Texas A&M International University started the game on a high note against St. Mary's University. The first half of the game was undeniably close with neither team obtaining a two-possession lead.
After the intermission, the score between both teams stayed close. Shortly after, the Dustdevils began to build points and took their first lead since the early half with the scoreboard at 43-41 and 12 minutes left in the game. Slowly, they began to build the lead to 60-53 with only 6:44 left to spare.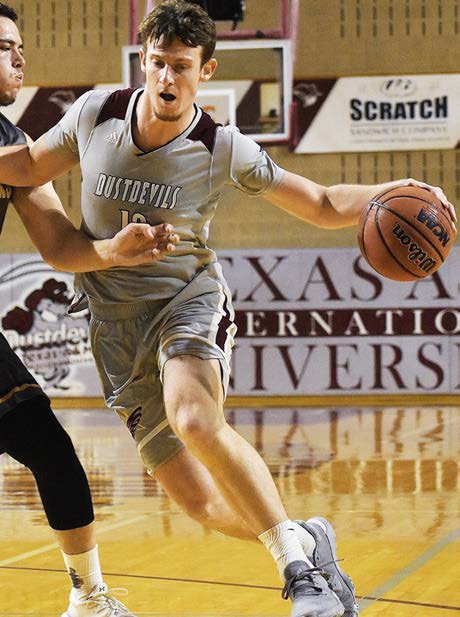 St. Mary's rebuked the thought of losing, so they tied the game at 65-65 with 25 seconds to spare, causing the game to go into overtime.
In overtime the Rattlers scored 7, which placed them in the lead at 72-65. The Dustdevils refused to fall without a fight, which proved difficult because foul trouble and free throws kept them from advancing points.
St. Mary's ultimately took the win with a final score of 77-70.
After the game, there was a sense of defeat in the TAMIU bleachers and the basketball team, but assistant coach Jeremy Espinoza looked optimistic while talking about future games and about how he felt overall about the game.
"I'm just really proud of our guys overall," Espinoza said. "…we're going to focus on a lot of team building, team bonding and building chemistry [between] each other. At this point of the season, X's and O's don't really matter. At the end of the day, it's all about heart, it's all about sacrifice and it's all about mentality."
Since that game, TAMIU athletics announced the new coach for 2020 to 2021: Rodney "Mac" McConnell.
McConnell will bring in almost two decades of experience to the basketball program next season.
TAMIU's scoring leaders, tied with 14 points each, included: Tom Higgins, Jorge Mejias-Sanchez and Caleb Highley.