Creating rainbows from Laredo to Philadelphia
By Alejandra PeÑa
Bridge contributing writer
Published March 30, 2020
With a couple of solutions, the formation of a rainbow was expected to lead the TAMIU Chemistry Club to victory in its visit to the American Chemical Society National Meeting.
This Philadelphia conference ended up being cancelled due to the SARS-CoV-2 cornoavirus pandemic, which causes the disease known as COVID-19.
"As the Chemistry Club, our mission is to make the students aware that chemistry isn't as hard or scary as they think," Chemistry Club Vice President Kathia Gloria said.
The conference was scheduled from March 22 to 26. It would have been the third consecutive year for the University's organization. They expected to bring back an award.
"The Chemistry Club students have presented research at the ACS National Conference going on five years, but this [would have been] the second time they [would have presented] a student chapter success poster and a chemistry demonstration during the conference," Associate Professor and ACS student chapter's faculty adviser Kameron Jorgensen said.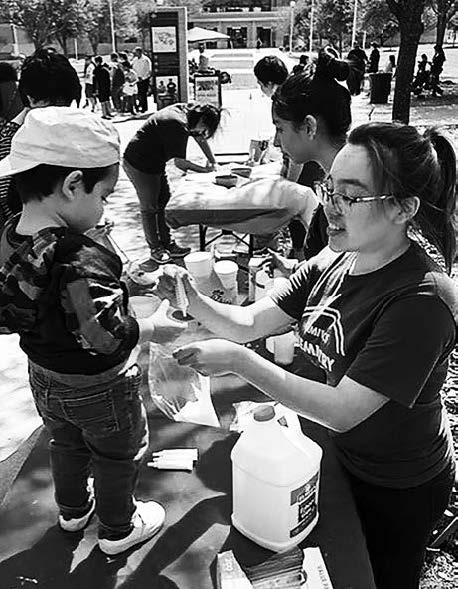 There are two parts to the organization's presentation. There is the student chapter success poster and the chemistry demonstration. The poster consists of what the organization has done around the community as well as in the University.
"The ACS Student Chapter officers [would have presented] a poster to discuss the success of the TAMIU student chapter and how they have done outreach and promoted chemistry on the U.S.-Mexico border," Jorgensen said.
The chemistry demonstration is a "short chemistry experiment that showcases a specific concept in chemistry in a quick-and-easy manner," Gloria said.
This year's demonstration consists of an activity intended to keep the audience interested, as well as show the importance chemistry plays in people's lives.
"The demo we [have been] conducting this year is called 'Rainbow Papers.' We [dip] black construction paper onto water with a few drops of clear nail polish. The nail polish will form a thin film on the paper that, once dried, will reflect light, causing it to appear as a sort-of-rainbow," Gloria said.
The club performs demonstrations throughout the year on campus and in different locations to generate interest.