CAMPUS: TAMIU hosts annual El Grito event in celebration of Mexican independence
By Juan Carlos Puente
Social Media Manager
Published Tuesday, Oct. 10, 2023
The campus's annual El Grito event showcased Mexican cuisine, decorations and a vibrant display of music and dance by TAMIU's Mariachi Internacional and Ballet Folklórico. The El Grito celebration commemorates Mexican independence from Spain.
The holiday also serves as a tribute to Mexican heritage and culture, as part of Hispanic Heritage Month. The Sept. 14 event treated attendees to complimentary traditional dishes, immersed the area in colorful Mexican banners and saw the Mariachi and Ballet Folklorico donning exquisite, brightly colored attire, including authentic Mexican mariachi outfits for performances. The festivities also included various activities and contests, including a grito competition, where volunteers showcased their best "grito," a traditional Mexican shout, akin to Mexican celebrations.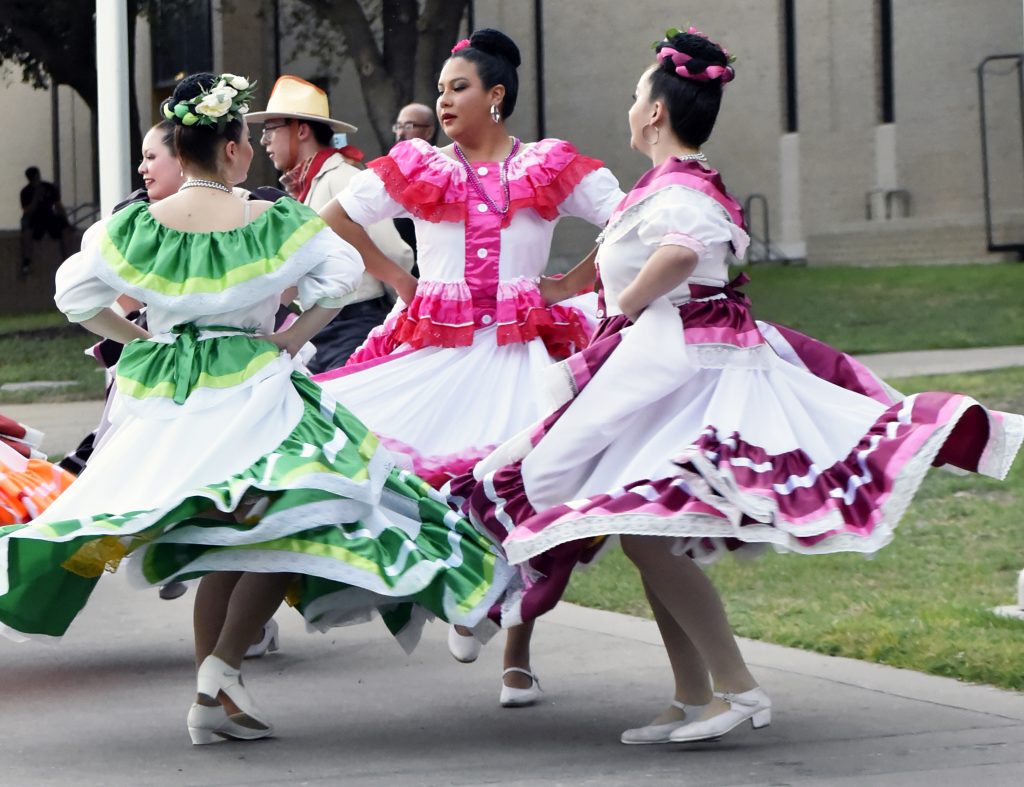 Adding depth to the celebration, each song and dance performed by TAMIU's mariachi and folkloric dancers had specific cultural significance. Faculty member Nayeli Lopez, director of TAMIU Ballet Folklórico, said the first piece, "Ay Mi Jalisco," was chosen to represent the beauty, culture and history of the state of Jalisco.
The second piece, "La Charreada," highlighted the Mexican national sport of Charreria, featuring Mexican cowboys on horseback with lassos.
Regarding the third piece, "Colima," Lopez said, "For many years, we had only one path to go in or out of the state of Colima, so that is what they are representing."
As for the final piece, "Son De La Negra," often perceived as a love piece, it was directed more as a dance of celebration and admiration for both Mexico and ballet folklórico.
Each performance was a fusion of music and color, made even more impressive because the musicians and dancers had just two weeks to prepare.
"Keep in mind, the Ballet Folklórico is a class; we have courses," Lopez said. "And so we only meet during class time, so we just started the semester and went right into it."
Lopez and the rest of the groups showed their appreciation for Mexican culture.
Dora Guerrero, TAMIU Ballet Folklórico member since 2021, said she was enthusiastic for the event.
"I love it," Guerrero said. "I hope everybody comes and enjoys the event and gets to see us in our beautiful dresses."
Guerrero also said this marked the first time performing with the mariachi since the COVID-19 pandemic, reuniting Ballet Folklórico and Mariachi Internacional, to create a fusion of colors and sounds embodying Mexican culture.
Another noteworthy event is the occasional visit of Ballet Nepantla, a professional Ballet Folklórico based in New York, to TAMIU for a showcase. While they did not visit this year, interested persons may keep an eye out for next year's El Grito celebration. For updates on future Mexican celebrations such as Loteria, Dia De Los Muertos and more, interested persons may visit the TAMIU Campus Activities Board website. Additionally, people can follow them on Instagram at txamiucab1 and on Facebook at TAMIU Campus Activities Board.